Pussycat Theaters - a comprehensive history of a California dynasty
When 'Cathouses Ruled California, Deep Throat and the Mafia, rare photo gallery, and more.
Intro: After this article was posted in 2009, we received so many emails and photos that we decided to rebuild the Pussycat history, with all the new material added and spread out over multiple pages, for easier loading and browsing. Many of the old theater photos (and theater background info) come courtesy www.cinematreasures.org -- Most of the vintage movie ads from local newspapers come courtesy www.myspace.com/sandiegocinerama
PUSSYCAT THEATERS – WHEN 'CATHOUSES RULED CALIFORNIA
 Vincent Paul Miranda helped shape downtown for much of the '70s and '80s, back when the district still clung to its Wild West, sailors-on-shore-leave legacy. His company Walnut Properties ran a string of movie houses south of Broadway. For a time, he also owned a legitimate stage theater downtown (Off Broadway), as well as several local hotels, including the Hotel San Diego, where he maintained a posh part-time residence.
In the '70s, the bright, flashing marquees of his Cabrillo Theater and Plaza Theater faced Broadway from the south side of Horton Plaza.
 
 
The Aztec, Casino, and Bijou were also part of the chain, operating just as colorfully and tirelessly on Fifth Avenue.
 
Films were grinded out almost nonstop, from 9:30 a.m. through 5:30 a.m. (hence the term "grindhouse"), with action, horror, and soft-core sexploitation movies, usually paired alongside two older films and screened for 99 cents.
This sort of triple-feature billing still packed a lot of movie houses back in the days before cable and satellite TV, VCRs, DVDs, DSL, HDTV, DVR, and whatever the newest BFD is.
 
Downtown's old grindhouse row now exists only in the memory of cinemaniacs old enough to recall a time when Jaws made you afraid of the water, Friday the 13th made you afraid of hockey masks, and Star Trek: The Motion Picture made you afraid of sequels.
 ("Erotica" & Road Runner cartoon?!)
Even the storied Balboa Theatre on Fourth Avenue was run by Miranda's company during its final operational decade, right up until the city acquired it via eminent domain and confiscated the keys in 1986, leaving the majestic building to rot for the next 20 years.
At that time, Walnut was running several dozen movie houses in California, offering the same sort of lowbrow fare proliferating at drive-ins and urban grindhouse districts.
(Miranda cruising 1964)
Vincent Miranda was the son of a Portuguese fisherman. Growing up in Palo Alto, he was a dancer and singer in school, earning the nickname The Voice of Paly High. He worked as a soda jerk, busboy and waiter until, by his 21st birthday, he'd saved enough money to buy 21 acres of land in his hometown of Los Banos.
After serving as a Coast Guard cook in Hawaii, Miranda purchased a Huntington Park restaurant.
(Miranda in his eatery Sept. 1964)
In 1961, hoping to boost business, he bought an adjacent movie theater. His first screening - Cat on a Hot Tin Roof and The World of Suzie Wong – only brought in $70. On a Saturday night, no less.
So Miranda instead screened The Nudist Story. That did the trick – soon, lines were forming even before the box office opened for business, with devotees anxious to see the so-called "nudie cuties."
He began eyeing other moviehouses, after he discovered that it cost no more to advertise multiple theaters than it does to advertise one.
Miranda took on a partner in this endeavor, a man known as George Tate. Physically, Tate appeared almost the opposite of Miranda, of solid girth and with the aggressive posture of a junkyard bulldog, whether standing or seated. He was known for wearing finely made executive suits, hand tailored to fit his monolithic frame.
"Tate used to be a movie extra," recalls former Walnut head projectionist Dan Whitehead, who worked for the company from the early '70s into the '90s. "They supposedly met after getting into a car accident with each other. The story goes that Tate had a theater and Miranda had a restaurant, and they had no money to cover the auto damage, so they just went into business together."
Miranda and Tate were both considered the bosses at Walnut, though Miranda was seen less by most employees. "It was usually Mr. Tate who made inspection tours," says Whitehead, "and for years he delivered the San Diego payroll personally. Mr. Miranda, for some reason, didn't come around that often. He preferred to stay in Hollywood, or at the Hotel San Diego."
Whitehead got to know Tate while training at the Cabrillo. "He had a silver tongue and could probably sell anything to anybody, almost like a snake-oil salesman. He probably could have made millions in religion. My feelings for Mr. Tate soured many years later, when the company was shutting down and Mr. Miranda was dead."
Miranda acted as Walnut's public face, frequently mentioned and quoted in the local press by theater critic Welton Jones (a close friend), while Tate was rarely seen or referenced. According to Whitehead, "Tate liked to stay in the shadows. He was always so secretive. There were those of us who wondered if it wasn't really Tate who actually owned the company, and Miranda was just a figurehead."
"The rumor was that Tate's real name was George Munton and he'd been in some serious trouble having to do with child molestation and couldn't legally own those X-rated houses. That rumor never went away and was told to me by two people who'd known him for many years."
Though not generally known, Miranda and Tate were live-in lovers. For over a decade, they shared a house they purchased together from Mickey Rooney, in Encino, at 17340 Magnolia Boulevard.
The duo shared a love for motion-picture exhibition, seeing an opportunity to gain a foothold in San Diego by buying or leasing downtown theaters in decline, beginning with the Cabrillo (leased) and then the Plaza (purchased), and later the Aztec, the Casino, the Savoy/Bijou, the Balboa, and others.
Miranda's personal pet project was a legitimate stage theater hall that had formerly been the Hollywood Burlesque nightclub, renamed by Miranda the Off Broadway.
The theatre at 316 – 316 F Street (Third and F) earned Miranda much civic praise and social recognition in San Diego, for bringing heavyweight Hollywood talent downtown in a series of high-caliber productions.
Built in 1913, the venue was originally known as the Lyceum, and then the Liberty, before becoming the Hollywood Burlesque in 1936. The 1948 film Hollywood Burlesque was shot in the bawdy hall -- once dubbed "San Diego's most famous dirty little secret" -- featuring well-known striptease dancers (including the iconic Lili St. Cyr) and various vaudeville acts.
Owner Bob Johnson had started at the Liberty as a concession clerk; he ended up with a house on Fort Stockton Drive, a Cadillac, a box at the Del Mar racetrack, and his own thoroughbred Hollywood Theatre Stables, plus he ran the popular downtown hangout Bob Johnson's Sports Palace. Business at the Burlesque died down as porn became more prolific, and the theater closed in February 1970.
Vincent Miranda negotiated a $3 million deal to purchase around two square blocks downtown, including two hotel spaces, several retail shops, and the old Hollywood Burlesque. He refurbished the theater exterior and interior, spending around $250,000 to remodel and install red carpeting and wallpaper.
The resultant 417-seat playhouse was renamed the Off Broadway Theatre and reopened March 16, 1971, a day officially declared by the City "Off Broadway Day." The debut production was Anything Goes, featuring movie star Dorothy Lamour and Sterling Holloway (best known as the voice of Winnie the Pooh).
The opening was attended by Miranda's parents, flown in from Palo Alto. From there, he hired various producers to stage ambitious musicals like Guys and Dolls, as well as hosting touring productions of shows like You're a Good Man, Charlie Brown.
Around 1972, Miranda began turning up around town -- and in L.A. and NYC -- arm in arm with actress Rose Marie, best known from The Dick Van Dyke Show. They'd met through her publicity girl, who was also working for Miranda when he offered to fly Marie and several others to San Diego to attend a production of Cactus Flower, being staged at Miranda's Off Broadway theater.
(Miranda & Rose Marie)
In her book Hold the Roses, Rose Marie describes their first encounter. "This man met me at the parking lot of the airport and hurried me to the gate," she says. "He was about five foot four, dark hair, kind of wiry, about 45 years old, kind of Italian looking. It turned out he wasn't Italian. Martha Raye was at the gate, Audrey Christy, Harry Guardino, and lots of actors. There were about 30 of us...He was very pleasant, charming, had a good sense of humor, and he was short! But I liked him."
She describes their growing relationship with mild allusions to her frequent date's homosexuality. "He was a great sport and, as I always said, the last of the big spenders," she says. "He was great to talk to, and he loved the idea that we were going out together. He took me home and we said good night. No kiss, no nothing. I relaxed."
"We became very good friends. No romance, and I was grateful for that. We liked being together, and he loved the idea that everybody knew me and came over for autographs. He was out with a celebrity. Best of all, we went to all of the big affairs, the $1000-ticket dinners, like the annual Thalians Ball affair and the St. Jude Hospital affair that Danny Thomas always did."
Miranda had a photo in his office, of him at the wedding of Rose Marie's daughter (held in his L.A. back yard). The photo shows him with Rose Marie and Richard Deacon (of the Van Dyke show), Peter Marshall, and Paul Lynde.
The photo was signed by Marie "Love, your fag hag," an apparent reference to the quartet of Hollywood homosexuals flanking her.
Rose Marie also appeared in stage productions at Miranda's Off Broadway theater. "We were getting to be known as a couple. Little did everybody know that we were like brother and sister, but we had fun. Once in a while, a kiss on the cheek, but that's all...and again, I was grateful. I didn't have to worry about a thing."
Marie was photographed on Miranda's arm at the Off Broadway's first-anniversary luncheon in March 1972, sponsored by the San Diego Downtown Association and held at the U.S. Grant Hotel. Former mayor Frank Curran presented Miranda with a plaque from the association, while Deputy Mayor Floyd Morrow gave him a plaque from the city, in recognition of the theater revitalizing downtown.
A photo appeared with an article in the next day's San Diego Union. "His publicity man, Don Haley, kept our names in the columns," recalls Marie.
Miranda was reportedly thrilled at this mention in a 1972 issue of L.A.'s Daytime TV Magazine: "Rosie's back and Vince has got her! Yep, after bidding boyfriend Vince Miranda bye-bye, Rose Marie must have decided it's worse to have loved and lost, because she didn't waste much time before she went right back...now he's back to playing 'Ring Around the Rosie' and the not-so-new twosome are cozying up again in their favorite hang-out, the elegant, very 'in' La Scala restaurant."
Miranda's sterling civic and social rep seemed unassailable -- for a while, anyway -- even after it became common knowledge that he was buying an increasingly large stake in the Pussycat Theatre chain of adult movie houses.
The chain was founded by longtime film exhibitor Dan Sonney and sexploitation filmmaker Dave Friedman. The duo bought an abandoned 40-year-old, 400-seat theater at 444 South Hill Street, on Fifth and Hill in L.A.
 
 The locale was formerly known as Bard's Hill Street Theatre (1920s) and then the Town Theatre (1930s). 
 Friedman and Sonney remodeled it and opened the doors as the first Pussycat Theatre in March 1966.
Friedman has at various times said the name "Pussycat" was inspired by the film title What's New Pussycat, which Sonney had just seen, and by the longtime L.A. landmark Pink Pussycat nightclub at 7969 Santa Monica Boulevard, just down the street from the Monica Theater (a future Pussycat at 7734 Santa Monica, but we'll hear more about that shortly).
 
 Open since 1961 and operated by the mother of comedian Lenny Bruce, Sally Marr, the Pink Pussycat was a burlesque club as well as a "College of Striptease," famously attended by actress Joan Collins while preparing for her sexy role in the film Seven Thieves.
Check out below LA Times movie ad page from 4-23-66, one of the very first ads for Friedman and Sonney's first Pussycat on Hill Street, with the original short-lived Pussycat kitty logo - you can see how similar the "Pussycat" lettering is to the Pink Pussycat's logo seen above.
Interesting that the "newly beautiful" Paris at 8161 Santa Monica was also advertising adult movies, though "only for adult males." And why was "the whole town talking about" the Paris cashiers??? ----
 For "Adults Only," the Hill Street Pussycat was open 10 a.m. until midnight, advertised as "The new intimate place in LA!" The theater screened nudie and sexploitation movies, as well as early X-rated features like Mona The Virgin Nymph and Sexual Freedom in Denmark. Though business was booming from day one, certain civic and municipal factions were VERY displeased about the perceived incursion of "smut" into such a visible part of town.
The city bus stop directly in front of the Pussycat sat in the middle of one of L.A.'s most high traffic locales, being located across the street from Pershing Square. As such, the Pussycat marquee – with its often-lurid film titles – was being seen by hundreds of thousands of people each week.
Young George Tate had run the theater in a previous all-age incarnation.
Filmmaker Friedman at first screened his own sexploitation movies at the Hill Street 'Cat, as well as other theaters operated by his company, later shooting films in both R and X rated versions. He told one interviewer (Something Weird Video Blue Book) that sexploitation films cost from $25,000 to $75,000 to make, while a run in the California Pussycat chain would earn around $100,000. Thus a film would already be far in the profit mode, before its first out of state booking.
 However, the advent of more and more fully explicit hardcore movies went against Friedman's stated business motto of "Sell the sizzle, not the steak," on which he'd based his entire sexploitation empire.
The SECOND Pussycat Theatre to open was the Sunset Pussycat, near the intersection of Western and Sunset in LA. Unlike the Hill Street house, this locale KEPT the previous Sunset theater name intact out front, mainly to differentiate it in ads from Pussycat number one, but also as a concession to local merchants and civic groups who wanted to maintain the place's historical Hollywood pedigree.
However, the customized marque still managed to brazenly announce "THIS IS A PUSSYCAT THEATRE" to all passersby, a declaration later bolstered by a pair of lighted oval signs featuring the iconic leaping "Miss Pussycat" logo that would come to represent the very concept of publicly exhibited adults-only cinema.
"I said that [Pussycat Theater] was the most horrible name I ever heard," recalled Friedman in a 2009 interview at http://www.bwcitypaper.com, "but I designed the marquee for the Pussycat Theatre, which played adult fodder. There was a young man named Vince Miranda. He had two theaters in L.A. also playing adult films. He liked the name, so he bought a half-interest in our theater. I should've said, 'Vince, I want a nickel a head for every customer.' He developed a chain of 40 theaters in California."
Miranda's association with Friedman had begun in 1966, shortly after the Sunset Theater was converted to Pussycat number two (above photo is the Sunset marquee immediately after the conversion).
Miranda, having already run adult theaters, was hired as a consultant. One of his first recommendations involved glittering up the Sunset lobby with crimson carpeting and velveteen fixtures, along with ornately framed erotic paintings laid out art-gallery style – note banner beneath the marquee touting the "largest most fantastic collection of nude oil paintings."
The result of Miranda's Sunset conversion can be seen in the 1966 documentary freakshow film Mondo Bizarro, including footage of the redecorated lobby – below are stills from the film ---
 
 
 
Miranda had installed similar displays in two of his own adults-only L.A. theaters, but not to such an extent - it worked so well at the Sunset Theater that, very soon after this footage was shot, he began negotiating to purchase a stake in the Pussycats (having lost his bids to obtain a couple of other L.A. theaters that Friedman/Sonney snagged up instead). Here are a couple of composite shots I put together of the Sunset lobby, to show wider views ---
With Pussycat number two also immediately successful, Friedman and Sonney began to envision an entire chain of adult Pussycat Theaters.
(1983)
Miranda and Tate at Walnut had their own plans for an adult theater chain, and Miranda no doubt regretted having been so instrumental in their competitors' success at the Sunset --- then:
In January 1968, Vince Miranda (in partnership with George Tate and their company Walnut Properties) bought a 50 percent share of the California Pussycat theatre chain.
Almost immediately, Miranda began Sunset-like remodeling and redecoration at each theater, which then included around a half dozen California houses, as seen in below ad linked from a post at www.cinematreasures.org .
"He fixed them up so nice," marvels Friedman, "that almost nobody was ashamed to be seen walking into a Pussycat. Which was a big change from the old 'raincoat' crowd...I can't say [Miranda] and I ever got along well, but he was definitely a showman who knew how to bring in the rubes."
(Miranda "bringing in the rubes" ---- by riding an elephant!)
Though operated under the Walnut umbrella, Miranda took great personal interest in the Pussycats. He outfitted each theater with the aforementioned crimson carpeting and velveteen fixtures, as well as decorated walls (usually including selections from his own huge collection of painted nudes), beveled glass foyer partitions, and crystal chandeliers with golden fittings.
Unlike many - if not most - porn theaters to follow, Miranda instructed all his managers that "Theater marquees should never be offensive looking, because you have people going by on their way to church and we don't want to upset them." Of course, "offensive" is in the eye of the offended, and certainly some adult film TITLES on the marquee might qualify as such to some people.
However, what Miranda meant was that an aura of Hollywood glitz and mystique should always be maintained, in order to differentiate his operations from the old "raincoat" ratholes, AND in hopes of bringing in new clientele curious about porn, but who want to checkitout in a clean and respectable facility akin to "regular" theaters.
 If an X-movie's poster wasn't particularly attractive in the marquee showcase, he'd commission and produce his own colorful, relatively "classy" display posters, shipped to managers chainwide to use as their public face in communities increasingly -- surprisingly -- receptive to hosting an X-rated theater or drive-in.
He even took to custom-creating in-house stock items, like cups and popcorn tubs decorated with the Pussycat Bikini Girl (with "It's Cool Inside" logo inside the container).
In addition, there were Pussycat t-shirts (XTina was recently photographed wearing one!), and little marketing knick-knacks like Pussycat matchbooks (with a California map on the inside matchbook cover, marked with all the Pussycat locales), fountain pens, and playing cards.
(Playhouse matchbook is from a Chicago club using a Pussycat-style logo ripoff, and the Throat energy drink is actually a promo for the Inside Deep Throat documentary, but both look too cool to leave out, so here they are!)
According to Rose Marie, "He took pride in running the Pussycat Theatres. Although they were porno theaters, he ran them like a business. They were cute little theaters that were kept in shape. Sometimes when we were out, he would stop at one theater or another and make sure everything was being run right. I met everyone at the office, including his cousin Jimmie [Johnson, an eventual Walnut co-owner]."
Miranda later purchased a majority stake in the Pussycat chain, in a partnership with Johnson and Tate. At its peak in the late '70s, Pussycat operated around 40 California houses, most of them classical theaters that had faded.
 
 
(Huntington Park photo William Gabel)
The third Pussycat to open was in Huntington Park, at 7208 Pacific Boulevard. Once known as the Lyric Theater, it was a general release house in the '50s, evolving into an "art" theater to show adult (non-explicit) sexploitation features, beginning around 1956. It then began showing what are known as "nudie cuties," featuring frolicking nudists whose antics were considered "educational," at least by those who wanted to see and screen them…
"The flesh flashed on the Lyric's screens was accompanied by whispered rumors of raunchy stag films slipped in from Mexico and shown at midnight," according to an L.A. Times article about the theater (9-21-75). "Stories of a bookie joint in the same block heightened the area's unsavory reputation."
Dave Friedman could hardly worsen the Lyric's reputation when he converted it to a Pussycat in 1966. Shortly thereafter, when Vince Miranda bought into the chain, he sunk a fair amount of money into restoring the building to much of it's former glory, as well as adding a long mirrored wall and having custom murals painted on the other three walls of the foyer.
The Canoga Park Pussycat at 21622 Sherman Way was built in 1926, originally with a built-in Robert Morton pipe organ akin to the ones installed in downtown San Diego's Balboa Theater and Fox Theater. Later known as the Park Theater, it began showing nudie movies and so-called art films around 1966, earning the ire of neighboring residents, who lobbied to shut the moviehouse down, even before it became the fourth Pussycat Theater.
Friedman and Sonney had actually bid against Vince Miranda in 1967 to acquire the Canoga Park theater. Miranda was already screening softcore and nudie cuties at two Walnut houses in L.A. and was impressed with the increasing revenue. In addition, Miranda had overseen (as a paid consultant) the 1966 renovation of Friedman and Sonney's number two Pussycat, the Sunset, establishing the lush and ornate template he had in mind for his own adult theaters.
Miranda saw the Park theater as an ideal acquisition for Walnut's own third adult house, the Park locale having already weathered legal challenges over screening softcore. However, Friedman and Sonney outbid him for the property, instead christening it as their fourth Pussycat Theater.
Within a year, Miranda had purchased Walnut's initial stake in the Pussycat chain, and he was running the Canoga Park theater himself.
(May 1971 Park Pussycat ad, linked from cinematreasures.org)
During its Pussycat years, future Congressman (and then Judge) James E. Rogan was briefly employed at this locale. "My job involved walking up and down the aisles, shining my flashlight on customers I suspected of masturbating, and shouting at them 'Hey, no mas! Vamanos!' " he wrote in his book Rough Edges: My Unlikely Road From Welfare to Washington.
"At the end of the night, the manager collected the used popcorn and drink cups thrown on the floor. The next day, he reused them, cheating the owner out of concession stand receipts. (inventory was kept based on the number of containers used). Then he'd scrape hardened grease off unsold hot dogs from the night before and throw them back on the rotisserie the next day. When rats in the storage locker chewed open unsold candy boxes, he'd dump the remaining candy into used boxes and glue it closed. We got into an argument over it. I can't remember if I quit or he fired me."
By 1970, there were nine Pussycats in the chain. All were frequently advertised together, including the far-away San Diego Pussycats, with the promotional promise of "A New Pussycat Joy-Joy Girl on Every Show (Except Sunset Theatre)."
1 – Hill Street Pussycat (formerly the Town), L.A., 444 South Hill (Fifth and Hill)
2 – Sunset Pussycat, 1508 North Western Avenue (Sunset Blvd at Western - Walnut main office at 5445 West Sunset)
3 – Lyric Pussycat, Huntington Park (formerly the Lyric) 7208 Pacific Boulevard.
4 – Park Pussycat, 21522 Sherman Way, Canoga Park
5 – Movie, 345 East Ocean Blvd, Long Beach
6 - Garden Pussycat, 305 East Lincoln Avenue, Anaheim
7 – Torrance Pussycat, 1653 Craven, Torrance
8 – Paris Pussycat, 930 National City Boulevard, National City
9 – San Diego Pussycat, 4th Avenue downtown
Walnut's growing profile, however, also made them visible targets. Though Deep Throat would play Hollywood's Pussycat for around ten years and make Miranda millions, the film sparked dozens of legal battles and mired him in numerous public-relations snafus, police actions, criminal trials, and civil lawsuits.
Statewide, he faced obscenity charges over sixty times, in around two dozen municipalities. He was only convicted once, in San Bernardino circa 1977, of a reduced "public nuisance" charge relating to the film Sex Freaks.
(Above - San Bernardino 'Cat)
(Santa Monica Blvd theater, known as the Monica 'Cat, circa 1970)
The tenth California Pussycat Theater, added to the chain by Miranda and Tate in early 1970, was at 7734 Santa Monica Boulevard in West Hollywood. Built in 1940, it would eventually be known as the Monica 'Cat. The locale was having problems with so-called "dirty movies" as early as November 1967, while still the Monica Theater.
After a citizen complained to police about allegedly obscene photographs in an exterior showcase advertising the film Motel Confidential, a vice officer named Serio examined the photographs and a poster and viewed a performance of the film, as did Deputy District Attorney Hecht. Soon, the theater manager was arrested for "knowingly exhibiting or having in possession" obscene materials.
The case was still unresolved in 1969, even after the locale's name was changed to the Left Banke Theater and then the Pussycat, after being bought by Vince Miranda and added to the chain.
 Here an X-rated bill as seen in an April 1969 ad, when it was still the Left Banke -
And one from March 1970 -
The attorney who worked with the previous theater owners on the obscenity bust was a physically handicapped (from polio) young man named Stanley Fleishman. The headstrong lawyer stayed on to work for Miranda and Walnut, helping to develop the company's "Strike Back" methodology of handling obscenity busts and lawsuits.
Strike Back simply meant "Sue 'em" – any interference with Pussycat operations was met with a lawsuit, sometimes several lawsuits, intended to float arguments back and forth so long, in so many courtrooms, that many such battles could eventually be won simply by default.
Or by wearing out (or outspending, or even out-living) Pussycat opponents until there just wasn't any more (cat)fight left in them ----
Many municipalities simultaneously developed their own "Strike FIRST" strategy, going after any theater operator, owner, and/or even employee who dared to screen "dirty movies."
Attorney Fleishman would stay on the Pussycat payroll for many, many years, eventually representing Pussycat to the U.S. Supreme Court and becoming one of the country's leading authorities on obscenity litigation. More on him in a bit….
In 1972, California officials were using the "Red Light Abatement Act" as a toilet brush to clean out porn shops and theaters from the municipal landscape. In raids conducted all over the state, film prints were confiscated and arrestees included everyone from owners to managers, clerks, and even sometimes projectionists and janitors.
On November 17, 1972, Deep Throat opened at the Monica 'Cat. This was a brave endeavor at the time, given that theater owners all over the country being arrested for showing this particular film, the first widely-released hardcore to play actual factual neighborhood movie theaters.
The film had opened five months earlier in New York City at the World Theater (June 12), and was already mired in legal challenges.
On December 18, Deputy Sheriff Ralph Kenealy wrote the theater a citation for screening Throat, naming Vincent Miranda and theater manager Stephen Hagen. Soon, this Pussycat was the first in the chain to be raided and relieved of its Deep Throat prints, which were under contention as being obscene (and thus possibly illegal, given the federal ruling that individual communities could define for themselves what constituted actionable "obscenity").
 
The first warrant was issued following a viewing of the film by an Orange County Municipal Court judge. The same judge also issued the other three warrants, the third one after a viewing of the version of the film then showing.
 The other two warrants were issued on affidavits of police officers who had witnessed exhibition of the film. Each of the warrant affidavits other than the first one indicated that the film to be seized was in some respects different from the first print seized.
On September 17, 1973 (46 weeks into Throat's Monica 'Cat engagement, as seen in ad at left), the trial jury boarded a red fire truck and traveled to the Hollywood Pussycat, to view the film for themselves.
Trial Judge Leonard Wolf gave a press conference in the theater lobby.
 These two photos are taken from news footage showing the jurors walking toward the theater to take in some Throat. (Note the neighboring business sign "Wrestle a Nude Girl!")
In response to later claims of bad faith which Miranda/Walnut made against them, the four police officer appellants asserted that in October 1973, successive seizures of Deep Throat had been made under warrant in Riverside County, California.
 The theater involved in those seizures sought federal relief, which was denied, the seizures being upheld despite challenge under Heller v. New York, 413 U.S. 483 (1973).
(Miranda with Deep Throat star Linda Lovelace)
 
 
It was after this decision that Buena Park authorities sought warrants for the seizure of Deep Throat prints screening in that city as well.
The Buena Park Pussycat at 6177 Beach Boulevard (number twelve in the chain, for those keeping track) was formerly known as Valuskis Theater and the Grand Theater.
The locale earned a degree of infamy in May 1951, when a 10 year-old girl named Patty Jean Hull was abducted from the theater - she was later found to have been killed by a local sex offender. By the late '60s, it was running Spanish language films, until Walnut purchased the theater and began running it as a Pussycat in early 1971.
 
In September 1973, police raided the Buena Park Pussycat, which was showing Beyond the Commission's Report on Obscenity and Pornography, comprised of porn loops strung together with the binding "socially redeeming value" being the very report that officials were consulting as they were figuring out how to close down the adult cinemas. 
Here's the newspaper ad that ran the night before the raid - the 28 year-old Buena 'Cat manager Edward Lee Bailey was arrested, and cops seized the film print and all the ads and posters.
A few weeks later, the Buena 'Cat began screening Deep Throat - this resulted in another bust, initiating a case that went all the way to the U.S. Supreme Court, to be argued (and decided) in 1975.
Hicks v. Miranda (422 US 332) named Miranda as owner of the land the theater was on, with Pussycat and Walnut as DBAs, while Hicks was the Orange County District Attorney.
 
As stated in the Supreme Court summary, "On November 23 and 24, 1973, pursuant to four separate warrants issued seriatim, the police seized four copies of the film Deep Throat, each of which had been shown at the Pussycat Theatre in Buena Park, Orange County, CA.
On November 26, an eight-count criminal misdemeanor charge was filed in the Orange County Municipal Court against two employees of the theater, each film seized being the subject matter of two counts in the complaint."
The OC Superior Court held a hearing, viewed one of the many prints it had confiscated from Walnut, took evidence, and declared the movie to be obscene. Then, in June 1974, a three-judge court issued its judgment and opinion declaring the California obscenity statute to be unconstitutional.
Pussycat attorney Stanley Fleishman tried to invalidate the local prosecution by invoking federal law, and the case was scheduled to be presented to the U.S. Supreme Court in 1975, for a final decision on the matter. At first, the Justices sided with Walnut.
However, Deputy District Attorney Oretta Sears argued before the Supreme Court that federal law shouldn't intercede in a state's business in such matters until AFTER a conviction is secured. She won her point, but a jury later acquitted Pussycat owners of the pornography charges anyway.
Three of the Buena 'Cat's four Deep Throat prints were later returned. Miranda and his employees eventually beat the criminal charges.
 
Hicks v. Miranda inspired Oretta Sears to specialize in pornography cases throughout her subsequent career as a lawyer. She was later elected a Superior Court judge.
 
By the time this ad for the Buena 'Cat ran on 7-27-74, the Pussycat had augmented Deep with a second porn feature, the Devil in Miss Jones, a double-bill that Walnut would run in Hollywood, San Diego, and San Francisco for over ten years. Of course, screening twice the porn meant twice the civic annoyance. But, what the Hell, Miranda and Tate knew they were on a roll – for a time anyway, it didn't look like anything or anybody was going to ever be able to slow them down ------
Here's another ad from 7-27-74 – note the playful come-on about how "people are unable to withstand that certain sequence" in Memories Within Miss Aggie. And checkout the night's "hot preview" of Touch Me, said to be "breaking more boxoffice records at the Pussycat Buena Park prior to being seized. " The same movie was now playing in no less than ten Pussycat theaters.
Take THAT, Buena bitches!!
Miranda spent so much time in court, the desk in his office on Western Avenue in L.A. had a nameplate reading "Defendant Vincent Miranda." He told the L.A. times about being at a social function, and running into Sybil Brand, for whom Los Angeles County's Sybil Brand Institute for Women is named. Miranda told her "You know, Sybil, I've been in every jail in Southern California but yours."
Buena Park authorities also waged war against the Pussycat's neighboring competition, the Studio Adult Theater, itself the target of several busts and notable court cases involving Vince Miranda's California rivals in the porn theater biz, the Mitchell Brothers, who also produced films (Behind the Green Door, etc).
In 1974, between criminal indictments, the Buena Park Pussycat was SUED, by neighbor Donna Bagley, whose lawsuit against Miranda and Walnut demanded closure of the theater. Her suit claimed she was "significantly offended, outraged, and has suffered shame, embarrassment, and emotional distress as a result of the public scandal caused by the continuous and daily presence, advertisement, and public exhibition of patent hard-core pornography."
She also said the theater attracted "immoral persons," including "criminal elements, undesirables, deviates, and dropouts."
Little did Bagley know that her Battle of the Buena would be waged for over twenty grueling years!
Bagley organized FORCE – Friends Of Respectable Clean Entertainment (which later evolved into Mrs. Bagley's Night Riders) - though group membership dwindled after Walnut attorney Stanley Fleishman launched a "Strike Back" counteroffensive, suing her and the City for two million dollars for interfering with its operations.
(Buena 'Cat ads: 3-2-77 above and 9-10-76 below – the '76 ad was drawn by Mad Magazine/TV Guide art star Jack Davis! Note that it still manages to mention Deep Throat, and also notice how the newspaper whited out the artwork in the cartoon theater marquees, one of which showed buxom women in transparent clothing and the other an entwined nude couple – the same ad ran in Variety UNcensored)
It can be noted that Buena Park's major all-age tourist attraction, Knott's Berry Farm, actually screened porn films! In October 1978, the theme park's Independence Hall ran Deep Throat and the Devil in Miss Jones, as part of a two day porn fest put together for a judge and his staff who were considering an obscenity case involving a Mitchell Brothers theater in Santa Ana.
The thirteenth California Pussycat Theater, the Santa Monica Pussycat at 1442 2nd Street, Santa Monica, opened in the late '40s as the Hitching Post Theatre. After showing westerns for a number of years, it became an arthouse theater called the Riviera.
It was converted to a Pussycat at the end of 1970, one of five adult movie theaters in Santa Monica at the time (the others being the Vixen at 3007 Main Street, open since September 1969, the Ventura at 1454 5th Street, Sinema-X at 2814 Main Street, and the Yale at 2838 Wilshire Boulevard).
According to a January 1971 article in the L.A. Times, this 450-seat Pussycat was claiming around 1,500 customers per week at the time, and it was the only X-rated theater in the city advertising its features through photographs outside. "We feature drama and comedy that is spiced with sex," general manager Jay Fineberg told the paper, "rather than the so-called wall-to-wall sex. Rather than getting 'dirtier,' we're trying to get more erotic."
(9-28-73)
Above and below shots of the Hill Street 'Cat are circa 1973, from the blaxploitation movie Cleopatra Jones. Both the marquee and the building's verticle trim were laden with flashing chaser lights.
Note the triple feature is Throat, the Doctor and His Women, and something called Black Broad Jungle, which may well be the filmmaker's "inside" gag, as I haven't been able to confirm there ever WAS a porno by that name, from that era...besides, few Pussycats screened triple features until its theaters were desperate and all but defunct, and Throat was almost never shown with two backup features, especially in 1973, since Throat itself would fill the seats for years to come.
Also, two black characters in the film comment on the marquee, one of them reading the film titles aloud, but he only mentions Throat and Doctor/Women before ranting a bit about porno patrons –
If Black Broad Jungle had really been on the marquee when the dialogue was written, it almost surely would have earned comment from one of the characters. Also note the Jungle title atop the marquee itself looks hastily added, barely fitting above the other two feature titles - yeah, I notice weird sh-t.
 
 Note also the plush and ornate purple wall coverings, both in the box office and behind the snack bar, and the way the ticket booth not only faces the street sidewalk but also features the popcorn machine cooking up a fresh batch.
Vince Miranda made a specialty out of snack bars open to the sidewalk, believing (correctly) that the sight and smell of popcorn was itself an incentive to draw customers into the theater (the 4th Avenue San Diego 'Cat was also set up this way). OR, passersby could purchase from the snack bar, through the booth window, without having to buy a movie ticket, generating additional profits, as with the Aztec's sidewalk cafe on 5th Avenue in San Diego.
(3-2-77)
In June 1973, Deep Throat star Linda Lovelace was working directly with Miranda on a number of in-person promotions at the Pussycat Theaters. For instance, she appeared at the Hollywood 'Cat to accept an honorary membership award from the Western Sunbathers Association, immediately before a 10pm Throat performance for which tickets were discounted to only one dollar (usually $4).
 
On December 20, 1973, Lovelace put her handprints and footprints in cement outside the Pussycat Theater on Santa Monica Boulevard in West Hollywood (aka the Monica 'Cat, formerly a neighborhood moviehouse called the Monica), for a porn version of the cement shrines on the sidewalk near Grauman's Theater.
 Photos from the event appeared in hundreds of mainstream publications, all over the world. Around the same time, Lovelace introduced Elton John at the Hollywood Bowl, with members of the Beatles in the audience, no less! Having become the world's first "porn STAR," Lovelace's increasingly high profile resulted in even more media scrutiny of the underground-gone-aboveground movie genre that would soon be coined "Porno Chic."
 Suddenly, nearly everybody had heard of Pussycat Theaters, mainly by virtue of Deep Throat's meteoric rise in public awareness, and the titular talents of Ms. Lovelace herself.
 A brief aside - I have on tape an episode of Rowan and Martin's Laugh-In, with a Throat "gag" I still can't believe got onto the air across America. Dan says "Hey, Dick, did you know a Supreme Court Judge is viewing a copy of Deep Throat, to decide whether or not it qualifies as obscenity?"
Dick replies "Yow, here cum da judge!"
On the Tonight Show, Johnny Carson once made a comment about the Watergate tattletale who had adopted the nickname Deep Throat, and the audio tapes of President Nixon talking about Watergate that the White House was refusing to release to investigators. "It's amazing," said Carson. "Judges can WATCH Deep Throat, but they can't listen to those tapes!"
 It's also a fact that the Sears chain briefly carried - in its catalog! - a T-shirt reading "I choked Linda Lovelace," at least until someone spoiled the fun by telling them what it really meant -
 
Another aside showing how the Pussycats were seeping into pop culture prominence - I was watching back to back episodes of the old Norm Crosby's Comedy Shop, from the late '70s and early '80s, and two different episodes had jokes mentioning the Pussycats.
I didn't catch the first guy's name, but he said "I sent my dog to obedience school, but he liked it too much. I caught him coming out of a bondage movie at the Pussycat Theater!" There's a big laugh, and then he says "And my dog used to HATE Pussycats!"
Then the very next episode (possibly the same order they originally aired, judging from the Jimmy Carter/Reagan jokes), a guy named Brad Miller said something like "Isn't L.A. a crazy place to be? Have you been down to Hollywood? The other day, a guy who had enough just jumped off a tall building, he wanted to end it all. When the cops arrived, they asked him 'What Happened,' and he said 'I don't know, I just got here myself.'"
After some laughs, the comedian says "Then the reporters showed up and the guy tried to crawl away. The cop said 'Where are you going?' and the guy said 'My wife will kill me if she sees me in front of the Pussycat Theater!'"
(Famed movie poster artist Jack Davis drew many Pussycat ads that ran in Variety and elsewhere)
And of course there's the oft-televised Bob Hope quote – "I thought Deep Throat was about a giraffe!"
(Cartoon about porn theaters that ran in Mad Magazine number 212, in 1980, along with a scan of the original artwork-- )
The Hollywood Pussycat at 6656 Hollywood Boulevard, at the Boulevard and Cherokee, opened in 1939. Known as the News View Tele-View Newsreel Theatre (presumably screening newsreels), and then later as the Ritz, Walnut transformed it into a Pussycat in 1974.
Deep Throat played at the Hollywood Boulevard Pussycat for nearly ten years, earning (according to Variety) $11,000 weekly during peak seasons, until the theater's throat was finally cut on December 12, 1981.
 
(Parade in front of the Hollywood 'Cat, circa June 1977)
 
During some of this glory-dayz period, the Hollywood 'Cat leased out its basement for what became a legendary rock club, the Masque (opened August 1977, with a gig by with the Skulls and the Controllers). The club was founded by Scotsman Brendan Mullen, who moved to Los Angeles from London in 1973 to take a lease on the 10,000-square-foot, $850-a-month basement nuke shelter.
The story of the Masque was recounted in a 2007 book, Live at the Masque: Nightmare in Punk Alley (Gingko Press/R77 Publishing), written by Mullen and photographer Roger Gastman.
"Other Hollywood merchants hated me," he wrote. "I was perceived as street riff-raff contributing to the "decline of Hollywood Boulevard," as if that hadn't been going on for decades. I became Hollywood Boulevard's "anti-mayor," golden punk boy to the owner of a chain of porno theaters who happened to be the landlord. Since the Masque was the basement to one of the Pussycat theaters, these suspicious merchants assumed Vincent Miranda—the wicked dogfather of West Coast porn—was moving into something even freakier than jizz movies: punk rock."
(GezaX at Masque, photo by Michael Yampolsky)
Frequently raided by police, the 10,000 square foot venue hosted early gigs by Black Flag, the Ramones, Wall of Voodoo, the Go-Gos, the Weirdos, Screamers, the Alley Cats, Germs, X, the Dickies, the Avengers, the Dead Kennedys, Suburban Lawns, the Plugz, and Flyboys.
(GoGos at the Masque)
The Masque's entrance was in the alley south of Hollywood Boulevard, between Cherokee and Las Palmas Avenues.
 
"They [club operators] broke the old-fashioned elevator by trying to take a cow down in it," recalls Walnut projectionist Dan Whitehead. "Later, there was a murder in the place. They left the police chalk outline of the body on the floor and painted it Day-Glo orange, to make it permanent."
The Masque was shut down in 1978, though it surfaced again in 1979, at another locale, before vanishing for good. Mullen later opened Hollywood clubs like the Other Masque and Club Lingerie. He died of a stroke on October 12, 2009.
 
(Masque: L-R: Kristian Hoffman; John Denney - lead singer of the Weirdos; Darby Crash - lead singer of the Germs; Tomata DuPlenty - lead singer of the Screamers, photo by Douglas Cavanaugh).
(Above - Hollywood 'Cat circa July 1983)
Just east of the Hollywood 'Cat was a longstanding business called The Institute of Oral Love, whose operator also ran The Academy of Nude Wrestling, two doors west. "Around the corner," he posted at cinematreasures.org in 2006, "I owned The Church of Spiritual Sexuality, The Sybil Gland Institute, The 69 Club for Sexual Gourmets, and The Emerson School of Massage, where you could get educated by massaging a nude girl to tape recorded instruction."
"This was during the 1970s, when Deep Throat ran there exclusively. Every night, a busload of Japanese tourists would be dropped off in front of the theater."
A former Walnut clerk posted his own memories of working at the Hollywood 'Cat during the heyday of Deep Throat. "There were 666 seats, I counted them, and they were numbered. Tickets then were $5 each. The movie was barely 63 minutes long. Quite a haul per show, considering we filled every seat for every show even to 4am when we eventually closed. There were lines around the block most days."
"Jim Lytell was the area manager and Malcolm Thomas/Malcolm Hardy (depending on when you asked him) was the manager. In the beginning, at least once a week, the police would come into the theater and cart the print off. Malcom would convince the audience to stay in the theatre and within five or so minutes of the police leaving, someone would trot 'round the corner with a new print and the show would go on."
 
"Once, Linda Lovelace did make a promotional showing at the theater. She seemed nice. Then there was a scandal in which there was reputed to be a run of 100,000 duplicate tickets. We were all required to take lie detector tests. If they passed all those tickets at $5 a pop, (and I think they did) wow, someone made out! The place was lots of fun to work in, though it seemed like a circus sometimes. I have a one-sheet from Deep Throat that was used at the theatre, although it's a bit sun bleached, I'll cherish it forever."
(June 1974 ad)
Erotica writer and filmmaker Earl Kemp was living in San Diego in the '70s, working with Miranda on various projects, including a 1971 X-rated film financed by Miranda called Adultery For Fun and Profit.
"Miranda and I found ourselves thrown together from time to time socially and business wise," he says in an essay posted at efanzines.com. "Vince was gay, but you would never know it, he was such a specialist with hetero films. He was also one of the greatest hosts I've ever known, right up there with Hugh Hefner. His parties, lavishly produced-sumptuous buffets, ice sculptures, margarita fountains, musicians, dancing, endless open bars --and opulently arrayed, were legendary, complete with plane loads of recognizable Hollywood types flown in to San Diego just for whatever occasion pleased him at the moment."
 "As easy as that, Adultery for Fun and Profit was born." The movie remained a staple feature at the California 'Cats for several years.
(4-5-75)
The Los Angeles Times began refusing Pussycat ads in 1975, notwithstanding that Miranda had spent around a million dollars advertising Pussycats in their paper the previous year.
The lack of advertising outlets didn't do much to slow down Walnut's expansion plans. Figuring that theater marquees could serve as his community come-hithers, Miranda began plotting Pussycat locales like a franchise operation.
Multiple theaters were planted in and around SF and LA, staking out various neighborhoods chosen for strategic value factors such as who was running the nearest competition.
 
Among Walnut's biggest rivals were the Mitchell Brothers in San Francisco.
The Mitchells shot many of their own films to screen in their theaters, including the blockbuster Marilyn Chambers titles like Behind the Green Door. Their famous O'Farrell Theater in San Francisco remains open in 2010 (though one brother murdered the other, and is now out on parole) ---
(Miranda at the opening of the San Francisco Pussycat)
Around San Diego, Walnut came to operate four 'Cat-houses, in all four corners of the county: downtown, in National City, in El Cajon, and in Escondido. In addition, regular theaters in the chain were occasionally converted into temporary local 'Cats, including downtown's Aztec Theater, the Casino Theater, The Bijou (renamed Cinema XXX), the Plaza in Horton Plaza, Miranda's former legit stage theater the Off Broadway, and the Towne Theater in Oceanside.
(March 1975 ad)
Downtown's Pussycat on Fourth Avenue -- open from noon-5:30 a.m. daily -- was notorious for sidewalk posters featuring graphic (not quite explicit) images from triple-X features with titles like Talk Dirty to Me, Taboo, The Budding of Brie, and A Scent of Heather.
(4th Avenue Pussycat 1979)
Yeah, the marquee was a work of glowing art, in keeping with Miranda's mandate to "Keep it classy," but pedestrians found the sidewalks of '70s San Diego to be a walking tour of sexual excess and sinful indulgence.
The Pussycat's exterior decor was mildly seedy, if era-apropos: faded and cracked faux-bricks, twin poster marquees ringed with flashers and lined in crimson velveteen, lit by flashing red and purple lights, with its ticket booth taking up the outside corner of the entranceway, stationed right there on the precipice of colorful, crazy lower 4th.
 
(5-29-77 ads for the San Diego 'Cats, as well as the adult features then also screening at the Guild, the Fine Arts, and North Park's Academy Theater, where cult rock star Gary Wilson - famed for his DIY album You Think You Really Know Me - was working at the time)
Projectionist Dan Whitehead recalls opening Deep Throat at the downtown 'Cat, where the film would screen almost continuously over the next five years. "I worked for three days straight, because the day projectionist, Michael Knight, was a college student and afraid of getting busted; he later became management. Those were 18-hour shifts, back to back. After the third day, I literally couldn't go on any longer and went home and crashed."
"That was the night the vice squad came in and confiscated the print."
Walnut's head of public relations, Don Haley, was staying in town and prepared. "He brought a second print over from the St. James Hotel -- the cops could only take one print until a court decided if it was obscene -- and then he proceeded to call all the radio and TV stations in town."
"When I got to work the next night, people were lined up way down the street and around the block, and it stayed that way for a long time. It was so busy that we were answering the phone in the projection booth, because the concession stand and box office were literally too swamped to do it."
Walnut battled the city over this and other Pussycat matters for years.
 Singer/Model/drag queen RuPaul recalls at RuPaul.com "I saw the original film [Deep Throat] at the Pussycat Theater in San Diego when I turned 18. The only thing I remembered of the film was her driving my favorite car ever made, a 1969 Cadillac El Dorado, and Harry Reems...oh, and yes, I remember feeling really self-conscious as I sat down in a triple X-rated theater, surrounded by six older dudes in trench coats."
During this period, the 4th Avenue 'Cat wasn't Walnut's only downtown theater to screen Throat. "One night," recalls Whitehead, "Mr. Miranda was down at the Pussycat and, as each reel of Deep Throat came off the projector, he sent it down to the Cabrillo and they ran a sneak preview (I'm sure illegal) of it at the Cabrillo. Needless to say, there's no way I can prove this, but it really did happen. If I remember right, we sent the first two reels down and then sent reels 3 and 4 as they came off the projector. It was real close timing, I remember that."
 By 1977, next door to the Cabrillo, porn also briefly screened at the Plaza Theater. "At the time," recalls Whitehead, "the Plaza and the El Cajon were being run by a small outfit called Preferred Theatres, until Walnut purchased both properties. Preferred's manager at the Plaza, a guy named Royal Fox Walker, stayed on as a handyman for Walnut."
"Walker swore up and down that he'd quit if Walnut started showing porn at the Plaza. Well, they did, but he didn't quit - so much for bluster. I've often wondered what happened to Mr. Walker. He used to live in El Cajon...his assistant night manager from Preferred, Mike Cotting, also ended up disappearing completely."
 Screening porn at the Plaza's high profile locale, facing the Horton Plaza fountain, apparently caused enough backlash from city officials and residents that the Plaza soon went back to lowbrow grindhouse fare.
 "I think Mr. Miranda had the exclusive rights to Deep Throat in California," says Whitehead, whose office was in Gaslamp's Balboa Theater. "It doesn't seem like anyone other than Pussycat ever ran that movie in California. I think Mr. Miranda had the rights, just like the Mitchell brothers had the rights to Behind the Green Door. We ran a double feature of Deep Throat and Devil in Miss Jones for several years at the Cabaret [formerly Miranda's Off Broadway Theater]. Those prints sure would get worn out."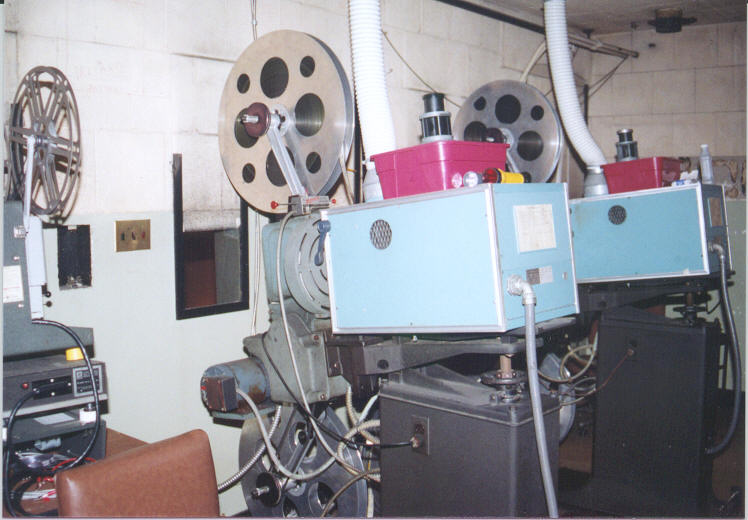 The 4th Avenue Pussycat in San Diego, like many of the 'Cats, used to screen its own film loops between features, listing all the locales housing California 'Cat houses. "We also had the Pussycats listed on 16mm film strips that we ran just before the 35mm previews of coming attractions," reveals Whitehead.
"The Pussycat San Diego had a beautiful full-sized, professional, floor-standing Norelco 16mm with a little Cinemecanica xenon lamphouse that we used for that, as well as for some short films, which I think were called 'beavers.' They had stopped using the 16mm by the time I returned and took over as chief projectionist in 1978."
Worth noting here is that hardcore films - before and after film ratings were introduced - were almost exclusively distributed in 8mm and 16mm format through the late '60s.
Then, plotline-bearing features like Mona the Virgin Nymph and Deep Throat came along to prove that theaters could wind a porno around the same projector that ran Disney flicks, and the seats would sell out. It was this technological leap in production that helped to turn fading neighborhood theaters into x-rated houses, and enabled Walnut to turn virtually any screen into a Pussycat screen.
Pussycat co-founder Dave Friedman had originally planned to convert out-of-the-way theaters to the '60s prevailing 16mm format for porn.
"The Pussycat San Diego was intended to be a 16mm incandescent house," reveals Dan Whitehead. "My #2 projection mentor, Mr. Bill Rankin, told me that. I asked him one time why there was no 3-phase 220vac power in the building to run the carbon arc rectifiers with. He told me it was because that house was intended for 16mm projectors lit with incandescent lamps rather than carbon arc. I have no idea when it was decided to go 35mm or who made the decision."
"As a result, the power to drive the carbon arc - and later the xenon - rectifiers was always just regular old house-type 220vac, such as you'd run an air conditioner with. I've often regretted that I never learned more about 16mm projection equipment. That floor-standing Norelco at the 4th Avenue Pussycat was, as I say, a beautiful machine. Its gear and operating sides were reversed, as are some European projectors, and it was chain driven."
In San Diego, one early Pussycat regional manager was Yugoslav immigrant Gojko "Greg" Vasic, who'd later borrow money from his parents to launch his successful F Street Bookstore chain.
"Vasic was the longest lasting of Walnut's district managers," says Whitehead, "and his office was in a tiny little cubbyhole in the 4th Avenue Pussycat's projection booth. This was back when Mr. Peña was still the manager at that theater and Stephan Enyart the assistant manager, though ALL the San Diego management reported to Vasic."
"Vasic still worked for Walnut after he opened his first F Street store across the street from the Cabaret/Off Broadway. Mr. Tate was very fond of him. He was certainly a strange character. His family name was actually spelled Vasich, and they used to have an egg ranch in Ramona. His uncle delivered their produce to many of the downtown eateries."
Like Miranda, Vasic's vision involved the mainstreaming of porn. He eventually expanded into running nearly a dozen F Street Bookstores, including shops in El Cajon, Miramar, Chula Vista, Escondido, North Park, and Leucadia (all but the last including peep show booths).
The chain became so popular that, for a time in the late '70s, a costume-clad F Street Penguin mascot showed up at area events to pass out flyers and peep-show-booth tokens.
National City's Paris Pussycat, at 930 National City Boulevard, was originally known as the Bush Theatre and then the National Theatre. The venue opened in February 1928, with a live production of Victor Hugo's Les Miserables. It was renamed the Aboline Theater around 1950, until becoming the Paris Theater in 1961.
It was converted by Friedman and Sonney to an X-rated Pussycat house in 1967, the eighth 'Cathouse in their growing chain.
"I personally ran the Paris Pussycat booth many times," says Whitehead. "The projection booth was originally the balcony. In the late '70s, that was the very first booth where Walnut tried a homemade automation system. Each feature was on one big reel. Projector number one had the main feature, and projector number two had the second feature. The lamp-houses were Peerless Magnarc carbon arc lamps, which had been converted to xenon. The upper reel -- the supply reel -- had a motor to rewind the feature, and the take-up reel had a separate motor to drive it, because the reel would become too heavy for the soundhead take-up drive to manage. I installed a completely new automation system, sound system, projector heads, sound heads, lamphouses, and rectifiers."
The Escondido Pussycat at 309 East Grand Avenue was in a building that formerly housed the Ritz Theatre, which opened in 1937. A fire in 1950 closed the Ritz, but it was rebuilt with a large Cinemascope screen and reopened three years later.
In 1973, the manager of the Escondido Pussycat was arrested over a showing of Deep Throat. Though Walnut successfully fought the obscenity and pandering charges, theater neighbors and city officials began putting public pressure on the locale, hoping to force its closure. 
 In 1975, Lorraine Boyce became the first woman mayor in the City of Escondido. "The only movie theater was on Grand and Juniper," she writes in an essay posted at www.channels.com. "Shortly thereafter, the Pussycat Enterprises bought it, and we soon learned that it was showing pornography films. We couldn't figure out how to get rid of them because they had a legitimate business license."
"As word got out, there was an uproar in town as most people didn't want that kind of thing in our community. I met with a group of men and women who stood outside the theater with picket signs and sent two undercover police officers in to the films. Our attorney advised us to file a lawsuit to show that the theater was a nuisance."
"When I called the owner in Beverly Hills to discuss the matter, he merely stated, 'I don't care about little old ladies with tennis shoes in Escondido.' He then declared that as long as the Pussycat Enterprises theater was making money, they would stay. The lawsuit went forward, and when our day in court came, we packed the courthouse with people who opposed the theater."
"Their Beverly Hills lawyers showed up looking like the Mafia. Our argument was simple: the theater does not fit the image of what we want in Escondido. To our delight, the judge ruled in our favor: No more Pussycat Theater in District 11. We won and the theater disappeared."
The Escondido Pussycat closed in 1976. New owners reopened it as the all-age Bijou, and then again as the Big Screen Theater, offering family fare. As the Bijou Picture Palace, it became a Spanish-language theater and social center. It was briefly known as the Ritz again in February 1998, though it only managed to stay open for nine days this time before closing again. Periodic attempts are occasionally made to revive this house.
The El Cajon Pussycat at 330 West Main Street began screening softcore porn in late 1971 and then hardcore beginning in late 1972. This generated an endless array of controversy, especially once the city began "revitalization" efforts in the neighborhood around where the old art deco-style theater sat.
Eventually, weekly protests were held in front of the pink-and-mauve theater by the Santee Bible Missionary Fellowship (more on that later….), and the city council made no secret of its wish to close the theater down and/or force it to return to screening family films.
The El Cajon 'Cat occasionally screened a print of Deep Throat, even in 1974 while that film was still a downtown staple. However, it was the FIRST (and possibly ONLY) California Pussycat to exhibit the ill-fated sequel, Deep Throat II.
Shot in 35mm by sexploitation filmmaker Joe Sarno, the film featured music by mainstream hitmakers Jay and the Americans and a walk-on by then-unknown comedienne Judy Tenuda. With Linda Lovelace and Harry Reems reprising their roles from the notorious original, Deep Throat II was surely received by Walnut as another sure-fire moneymaker.
Vince Miranda was reportedly livid to discover that Deep Throat II was only R-Rated, with no hardcore footage whatsoever.
This had somehow not been mentioned by the exhibition rep who persuaded the El Cajon 'Cat into an expensive pre-paid two-week booking. In actuality, the film probably only screened for one or two nights, and the manager was instructed to approve refunds for any patrons who asked. By the third day, another feature - fully X-rated - had replaced Throat II.
Miranda actually initiated a lawsuit over what he declared to be a "duplicitous ruse," but it's unclear if there was ever a resolution or settlement.
Walnut's stake in the Pussycat chain only included the California operations. Most estimates indicate that around a hundred other Pussycats did business elsewhere, until video lowered the boom on all walk-in theaters, especially the X-houses.
According to Miranda's godson Tim David, "V.M. and Tate never owned or had anything to do with Pussycat outside of the state. I remember asking V.M. about it one time. He really couldn't have cared less what they did outside of the state. Jimmie Johnson and I spoke about it last year. He told me people really wanted V.M. to trademark the name. He just never did. Weird, huh?"
If you look at who was running the famed NYC Pussycat, a possible clue emerges regarding why Miranda was unwilling to make a federal case of the matter.
According to the Meese Commission report, mob boss Michael "Mickey" Zaffarano - onetime bodyguard for Mafia chieftain Joe Bonanno – paid $1.35 million for the Pussycat property at 49th Street and Broadway in 1977. He ran the Pussycat from an office across the street, connected to the theater via a secret underground tunnel.
During a February 1980 FBI raid, Zaffarano reportedly tried to elude agents using the secret tunnel, only to collapse from a massive coronary and die.
Given Walnut's heavy California presence with its own x-rated theaters, it seems logical to assume that Miranda and Tate would NOT want to cross swords with Zaffarano…especially since Mickey had his own Pussycat partner in California, Stu Segall (who many years later would produce TV shows in San Diego like Renegade and Veronica Mars!!)
According to a U.S. Department of Justice Report "Organized Crime Involvement in Pornography" dated June 8, 1977, "The key organized crime figure involved in production and distribution of pornography in California, and possibly the entire nation, is thought to be Michael Zaffarano, capo in the Galante LCN Family…Zaffarano and his partners, Stewart Charles Segall and Tommy Sinopoli, operate Miracle Film Releasing Corporation in Hollywood…Zaffarano is also President of Stu Segall Associates which distributes pornographic films and has offices at 1600 Broadway, Manhattan, and 8564 Melrose Avenue, Hollywood, California. Zaffarano and Stu Segall are the directors of a nationwide organization of Pussycat theaters…"
Segall also reportedly had a hand in filming the blockbuster porn film Insatiable, released by the company he co-owned, Miracle Films (Insatiable begins with credits reading "If it's good – it's a Miracle!").
Insatiable star Marilyn Chambers promoted the movie with opening day appearances at BOTH Zaffarano's NYC Pussycat and Miranda's Pussycat in Hollywood – footage of her California 'Cat appearance is included in the Definitive Collector's Edition DVD of Insatiable ----
So there had to be SOME crossing over of the California 'Cat crew and Zaffarano/Segall's out of state 'Cathouses, given their joint efforts in launching Insatiable.
Miranda did apply for and receive a trademark for the Pussycat logo itself, with its festive masked playmate seen on marquee signs leaping through a lighted oval, ringed on marquees by flashing, chasing light bulbs. This has proven a major factor in Pussycat-related litigation that continues to this day, but more on that in a bit.
 "I do recall some talk about court cases involving outside companies using the Pussycat logo," says projectionist Dan Whitehead. "I never knew any particulars."
Below are pics of a Pussycat in Miami, Florida, circa 1981.
 
Here's an ad from a Miami newspaper dated 1-18-74, followed by one from the late '70s.
Through the '70s and into the '8os, Miami's king of porn theaters Leroy Griffin ran that city's Pussycat theaters, as well as the X-rated Roxy, Paramount, and Gaiety theaters, all in Dade County.
And here are photos of Pussycat clubs in Baltimore, MD (above) and New Haven, CT (below).
In the '70s and '80s, Boston, Massachusetts had the West End Pussycat CINEMA (rather than theater) operating in the former Lancaster Theatre building on 75 Causeway Street (opened 1917), until the locale was demolished in February 1990.
Not far away, Boston's Stuart Theater (formerly the Unique) on 700 Washington Street became a Pussycat Cinema in 1976, remaining in operation until the late '80s.
Checkout this photo of a Pussycat "Cinema" in Boston from August 1981 - that's one of Walnut's actual Ms. Pussycat signs out front! The only difference is the word "Cinema" instead of "theatre."
Good ol' Mickey Zaffarano of the NYC/Times Square Pussycat had his hand in the Boston 'Cats. Again reciting from the U.S. Department of Justice Report "Organized Crime Involvement in Pornography" (June 8, 1977), "Major pornography figure Michael Zaffarano is said to have connections with the pornography business in Boston. His brother-in-law, Anthony Carl Mascolo, received financial backing from Zaffarano in January 1976 in order to open two pornographic theaters in Boston. They are known as the Pussycat Cinema 1 and the Pussycat West End Cinema."
"During a raid at the West End Cinema in January 1977, detectives found secret records in a hidden compartment reflecting that part of the gross receipts were being skimmed. As a result of the raids, Mascolo had been arrested twice and charged with violations of state obscenity statutes…Joseph Paladino allegedly receives a part of the gross of both Pussycat Cinemas."
I wonder if Paladino also got a cut of these Pussycat CINEMA jackets???
In New Jersey, at least five Pussycats were run by the same operator, another "associate" of Mickey Zaffarano who was a former discount electronics retailer who'd done prison time for fraud.
In Dave Friedman's home state of Alabama, there was a Pussycat in Roebuck, near Birmingham, that was open from the late '60s through the late '80s.
During the same period, Minneapolis, MN had a Pussycat Theater operating on Hennepin Avenue.
Albuquerque New Mexico hosted a Pussycat on Central, next to the famously seedy Gaslight Motel.
Washington DC had its own Pussycat, operated by none other than Mickey Zaffarano.
 (Faux Roebuck 'Cathouse ad)
(Sassy Cat in Detroit, MI circa 1984)
I swear, there's a great untold story in there somewhere - somebody had to be paying somebody, else how could out of state 'Cats so brazenly steal the name, font, AND precise Pussycat logo???
Tokyo Japan has had a Pussycat Theater since the mid-seventies, apparently still in operation in 2010.
There was a Pussycat Theater in Montreal, Canada at 4015 St. Laurent Boulevard, circa 1969. Originally a venue for Yiddish films when it opened in 1914 as Le Globe, the 400 seat theater was renamed The Hollywood in 1932 and then Cinema D' Orsay, until it became a Pussycat in 1969. It was renamed Cinéma l'Amour in July 1981, and it's still open to this day, mostly screening grindhouse fare.
An X-rated Pussycat Theater in Hull, Canada (near Ottawa) ran porn at 424 Boul St Joseph from the mid '70s until around 1983 (during the same period, the rival Cinema L'Amour on the next block at 569 Boul St Joseph also screened porn).
The Pussycat Theater in Hamilton Ontario, Canada at 251 King William Street was once known as the International Theater, before the name was changed in 1970 to Pussycat – it remained a 'Cathouse until 1979, when it was renamed the Broadway Theater.
Bogota Columbia had an adult theater called the Esmeralda Pussycat that began screening X in 1985, having previously been a different-named family theater. Up until it closed just a few years ago, it was the region's last remaining porn house. "The possibility of watching movies at home has hurt all movie theaters," manager Carlos Sánchez told www.columbiareports.com. He said only around twenty patrons were coming per day, whereas thirty years ago a new porn film would draw 3000 people on its premier day.
 And then there was Mexico's Lana Gatto….
As far as the U.S. 'Cats go, my suspicion is that mob-connected bigwigs stole the CA Pussycat template, and simply told Walnut in CA "Tough luck, waddya gonna do about it???" Especially given the mob's heavy involvement in porn thru 1974, including/especially RE Deep Throat distribution prints....
Or maybe Walnut's CA exclusivity RE Throat was a TRADE for the out of state 'Cats???? Jimmie Johnson has said he doesn't know - if not him, then who? Food for future thought (and research) -----
"Vince's reaction was very quiet when asked about it," says Miranda's godson Tim David. "I think the "tough luck" theory is quite strong."
David's background with Walnut dates back even before his birth. "Mom went into labor at Walnut's downstairs office at 5445 Sunset Boulevard," he says. "She and V.M. were working late as usual. He made Mom finish the filing prior to taking her to the hospital. Mom has told me I spent the first few months of my life in that office. She converted a desk drawer into a bassinet."
(Miranda and Tim David's mom in the Huntington Park restaurant, Sept. 1964: Reportedly, she was the model for the Ms. Pussycat girl logo!)
"My Mom's name is Lois Brown," says David. "It was Lois David in the '70s, and Lois Rash in the times these photos were taken. If you look at the 'cruising' pic taken the same day, one can certainly see the Ms. Pussycat in Mom, or the Mom in the Ms. Pussycat!"
(Miranda cruising, 1964 - girl in middle is Ms. Pussycat)
David's biological father was Miranda's half-brother, Robert "Bobby" Mattias, though he says, "V.M. was the closest thing to a father I ever had. He did not lead a life that would allow me to spend more time than I did with him. But he sent checks to support me every month of my childhood, spoke to me often with words of encouragement with school and life...He would come to my school in a limo. Every year, he had my birthday announced in the
Hollywood Reporter
and
Variety magazine.
" As strange as it may seem to casual observers, "family" really was an integral factor within the Pussycat dynasty, even if sometimes you're talking about "extended" families that were extended far beyond most people's definition of "family." Walnut exec Jimmie Johnson was the son of Ada Johnson, Vince Miranda's aunt, who managed the Torrance and Lakewood Pussycats. Several other Miranda cousins worked for the chain, and many Walnut managers brought in their own wives, siblings, and sometimes even their children to work for the company. The daytime projectionist at the San Diego 4th Avenue Pussycat for many years was Tom Hart, whose wife Pam worked in the box office at the Cabrillo. The Balboa's daytime box office clerk was Jean Owens, whose daughter Pat Parker worked the daytime concession stand at the Fourth Avenue Pussycat. Pussycat Cabaret box office clerk Jean Williams had a husband who worked for Walnut as a janitor. In management, Mrs. Dixon and Mrs. Sessions were sisters.
"My brother David was the downtown relief projectionist for several years, and then the manager of the Balboa," recalls projectionist Dan Whitehead. "My brother Eric worked behind the concession stand at the Plaza and as janitor for the Balboa. My brother Todd was the night projectionist at the Balboa." "The entire company felt more like a family than it did a job. Although Edwards Cinemas paid me very well, I never felt the closeness that I felt with Walnut and Pussycat, particularly with the main office staff and the owners."
One amazing "Pussycat family" story concerns William Patison, who in the late '70s managed the Cabrillo Theater at Horton Plaza. He started his Walnut career as a box office clerk at the 4th Avenue Pussycat, and he told this tale in an in-house company newsletter called
the Cat's Meow
(March 1974): "One night during a break for Mrs. Dixon, I was at the ticket window when a sailor came up and asked if he could go in and get a buddy of his that was in the theater. I asked him what his name was and, before he could answer, Mrs. Dixon saw his last name on his ID badge and said 'He has the same last name you do.' I asked him again, and he said Patison. So I asked him where he was from, and he said Corona." "Because of the odd spelling of my last name, I wanted to find out more about this boy. I said to him 'Who is your mother and father?' He said his mother's name was Bonnie June and he didn't know his father, as his parents were divorced before he was born." "I almost fell through the floor, as I knew right then I was looking at my nineteen year-old son Jeff, who I had never seen before!"
The elder Patison had searched for his son in the past, with no luck. Thanks to their chance encounter at the downtown San Diego Pussycat ticket booth, the two struck up a relationship that might never have otherwise been possible.
("Cat's Meow" Pussycat Theatre employee newsletter 1974)
There was even a Pussycat Theatre softball team, consisting of Walnut employees. "It was a men's fast pitch softball team, and they had some awesome pitchers," recalls Kathryn Santos-Reed, who in the early '70s lived in Glendale, where her husband (Mike Stephenson) and next door neighbor (Julian Minshall) both played softball for Pussycat Theaters. "Before I saw the Pussycat team play ball, I'd only seen slow pitch softball." "It wasn't unusual for Vince to spring for pizza and beer after the games, and I can remember at least one evening when he brought Rose Marie for pizza. Those were good times. One game, the team played was at Terminal Island Prison, in Long Beach...the players from the prison were in outstanding shape and it was a great game, even if I can't remember who won!" "I remember taking that red [Pussycat softball] jersey with white trim so many times to the dry cleaners, on Verdugo Road in Glendale. I'd wad it up in a big ball and sneak it into the cleaners. But every time I returned to pick it up, they would have put in on a hanger and in a clear plastic bag! It seemed like I would end up backing out of the cleaners and all the way to my car! LOL." Santos-Reed says she was only 23 at the time. "[Next door neighbor] Julian's wife, Faith, had a part time job proofreading porn novels. I used to go to the park with her and we would read galleys of those little paperbacks out loud to one another. After awhile it seemed pretty normal!"
"One evening, we were guests at
the Pussycat Theater on Santa Monica Boulevard.
Of course, we were there to see
Deep Throat;
playing with it was
the Devil in Miss Jones.
Before we went into the theater, we went into the adult book store next door to the theater. It was amazing...there on the shelves were the books we'd been proofreading, all in their little blue paperback covers! I actually saw the finished products we'd proofed for so long."
"I'd spent the day at Zuma Beach and I was pretty sunburned and a little sleepy. The worst part was I itched all over from the sunburn! It was the first time I'd ever been to an adult movie theater and I was a little embarrassed about itching all over! I did see all of
the Devil in Miss Jones
, but I kept dozing off throughout
Deep Throat.
I didn't realize I'd slept through most of the movie, because every time I opened my eyes, it seemed as though it was still the same scene. At least the action was always the same."
"I realize now what a huge difference Vince Miranda made to the world of human sexuality," says Santos-Reed. "He fought the good fight for all of us. He took the dirty little adult theaters out of the closet, cleaned them and dressed them up, and gave them respectability. He actually created a place where couples could go together, didn't need to sneak in under cover of darkness nor wear trench coats."
Another woman describes her and several girlfriends visting an L.A. Pussycat in her blog at
http://jeannetgc.livejournal.com/tag/pussycat+theater
: "We were old enough to get in legally, so that wasn't an issue. The issue the ticket taker had with us was that we wouldn't stop cracking up. 'You'll need to be quiet inside,' she scolded. The girls with me were giggling so hard they were at risk of heart failure." "'Yeah, um right,' I replied. 'Wouldn't want to disturb the other patrons and cause them to, you know, have to start all over again.' Shrieks of laughter from my posse greeted this one." "'Can I see your ids again?' the ticket taker asked."
 "We obtained our stubs and sauntered in. The first feature had already started, at least so far as we could tell. It was a compilation of 'money shots' from a variety of films -- truly an immediate gratifier if there ever was one. But since it was already dark inside, choosing seats was something of an issue."
"We wanted seats together, but we also wanted to ensure they'd be at least sort of clean. Easier hoped for than spotted, especially in the dark. We also felt that not sitting right next to a man alone was probably a wise choice."
"We had to split into two teams, because the theater was that full. At noon on a Saturday. During intermission we scanned the crowd to make sure none of our dates were there, but apparently we were all going out with nicer people than we ourselves were. There were two women in there aside from ourselves -- and they were clearly on dates. We congratulated ourselves on the fact that we weren't going on a date to the Pussycat Theater, and settled in for the next showing."
  "Before the next movie started, the Pussycat ran ads, just like real movie theaters did. One of their ads was for the Pussycat Theater chains. I guess in case the throes of personalized passion had caused the patrons to forget where they were or something."  
"The audience had been amazingly silent during the first feature -- either that or the moaning on-screen had drowned out the moaning in the audience. But they were equally rapt for the ads...Nowadays, of course, you can get your porn on the internet. But it's just not the same, in the privacy of your own home."
 Another account of visiting an historic Pussycat comes courtesy Plymouth Rock Entertainment President Steven Jon Whritner, who in 1980 found himself at the NYC 'Cat for the opening of Marilyn Chambers' second best-known adult feature Insatiable.
"I was beginning my junior year at New York University's film school," says Whritner (who co-created the reality TV series Repo Men: Stealing For a Living).  "There was this fellow living in the dorm down the hall from me who had a rather obsessive penchant for pornography...He was the first person I knew who actually owned a video cassette player and his collection of adult titles was remarkable. He was a bit of a loner and I hardly knew him, but he seemed affable enough."
 "One night, he invited me to the 'world premiere' of a new movie called Insatiable starring one of his favorite adult movie stars, Marilyn Chambers.  I sheepishly confessed that the only adult film I had ever seen was Behind The Green Door, and that was under the arguably less stigmatic pretense of a 'classic cinema' film series at Brown University, no less.  But I admitted that Ms. Chambers had left a favorable impression and gladly accepted his invitation."


"We hoofed it up Broadway to 48th Street at the northern edge of the then seedy Times Square where we came across a line of stretch limos parked outside a bawdy old school movie palace called the Pussycat Theatre. Beneath the building's wide, garishly lit marquee was a crimson red carpet leading up to the theater's entrance. Luminaries exited the limos to a spattering of shouts and cheers from a handful of paparazzi, fans and curious passersby.  It could have been almost any Hollywood premiere, I suppose, but the number of silicon-enhanced breasts and shockingly revealing formal wear suggested something entirely different."


"As my buddy and I entered the surprisingly grand foyer, we noticed a large red-carpeted staircase descending to the floor below.  A line of mostly men snaked its way down the stairs, beckoning us to follow. When we reached the bottom of the steps, we saw that the queue continued across the plush downstairs lounge area where an impromptu stage was set up."


 "Standing atop the raised platform behind stanchions of red velvet rope was Marilyn Chambers in the flesh – literally.  She was completely naked, save for a pair of sexy pumps and a thin gold chain slung around her toned, tanned waste, her natural breasts a sharp contrast to several of the other female bust lines in the room." 
 
(Marilyn Chambers at the Hollywood Pussycat Theatre premier of Insatiable on July 13 1980, quite overdressed compared to her NYC promotion...)
"A couple of beefy bodyguards dressed in black t-shirts stood on either side of her, their muscled arms crossed menacingly, eyes scanning the mostly male crowd for any sign of trouble.  One at a time, the fans stepped up to have their 8x10 headshots and other Marilyn memorabilia autographed for posterity, and she happily complied."

"If the sight of a naked adult movie star wasn't surprising enough, what impressed me most was the fact that Ms. Chambers had neatly trimmed her pubic hair into the shape of a heart...it changed my life."
Retired ABC Radio news correspondent Bill Diehl emailed the Reader to share his own Pussycat encounter with Miss Chambers. "In early 1973, I had been there for only about two years when my assignment manager told me to get down to the Pussycat Theater, 'Because Marilyn Chambers the porn star is there and we want you to interview her.' I quickly learned that Proctor and Gamble had found out that Chambers was the model for the mother with a newborn baby on the Ivory Snow Box."
 
 
"There was a line of guys outside and Chambers manager met me at the door.  He told me they were waiting to get her autograph, but he would take me downstairs and stop the line so I could get a few minutes with Ms. Chambers.  Much to my surprise when I got there, she was totally naked. I asked her about the Ivory Snow box controversy, and she said  'Proctor and Gamble should play it up…they're being quite stuffy by refusing to renew my contract on use of the modeling photo.' At one point in our chat, Chambers asked me what I thought of her labia ring, and she pointed to it amid glitter adorning her pubic hair. All I could say at that point was 'Did it hurt?' …I discovered later that she was the first porn star to have her genitals pierced."
(Bill Diehl meets Marilyn Chambers - gotta love the golden leopard skin backdrop!)
None other than Sammy Davis Jr. described a trip to the 'Cat to author Legs McNeil, in his book The Other Hollywood: The Uncensored Oral History of the Porn Film Industry. "Deep Throat had just been released and was playing at the Pussycat Theater in Santa Monica," recalled Davis.
"People were talking about it, they wanted to see it, but the Pussycat was not a place you went to. And a porn film like Deep Throat was not something you could order from the studios. I told my wife Altovise 'Let's rent the Pussycat for a few hours one night, have it cleaned up, keep the popcorn stand open, and invite all these straight people here to go see Deep Throat.' It would be marvelously decadent to have them sitting there seeing the big thing on the screen and then take them to the Bistro for a foie gras and Chateau Margaux kind of supper."
Through much of the '70s and '80s, Vince Miranda was living part-time in his own luxurious suite at the Hotel San Diego, which Walnut had purchased, along with several other downtown San Diego hotels – see the Reader cover feature for more of Miranda's local misadventures. His friend Don Wortman, who had known Miranda in the Coast Guard, also had his own Hotel hideaway. Wortman produced stage shows for Miranda at the legit Off Broadway Theater, including that venue's final show before it closed in 1975, Take Off.
According to San Diego Union theater critic Welton Jones, that show "featured Georgina Spelvin, who had starred -- if you want to call it that -- in the Devil in Miss Jones. To give you some idea: she was backed by a chorus line of boys in jockstraps. Leather jockstraps. It was dreadful. It brought out the worst in everyone."
Wortman's hands weren't exactly idle, though. He and Bill Bellville opened the Broadway Dinner Theater in 1974, in the Hotel San Diego's basement Continental Room. However, a conflict with Miranda caused Bellville to move south along Broadway into a renovated bowling alley where expenses sank the project for good five years later.
By 1977, Wortman was running Miranda's Backstage Restaurant, in the Commodore Hotel at Third and F, adjacent to the 4th Avenue Pussycat.
Backstage Restaurant patrons had to walk through the Pussycat's lobby to use the restrooms.
"The Backstage Restaurant was opened by a friend of mine named Frank Clancy," explains Whitehead. "Frank spent many long, hard hours getting that place opened, but then something happened. Wortman said something to Miranda that got him all stirred up and got Frank fired. Wortman took the place over and acted as if it was all his idea...I never did like Wortman. He had a heavy black beard and would talk out of the side of his mouth. He always made me think of a pirate."
Frank Clancy's version of the Backstage was actually the restaurant's second incarnation. Clancy recalled the circumstances in a July 2008 email to Dan Whitehead.
"I seem to remember that Tate told me that it had opened when the theatre was legit [but] there were problems and Walnut closed it. When I opened it, the theatre was [screening] Deep Throat, [it] was I believe '75 or '76. They needed to get the restaurant re-opened, so that they wouldn't lose their liquor license. If you recall, I opened one day a month during the setup period, to keep the license active. I'd do all of the cooking, waiting, everything that day."
 
(Posthumous album from the mid-70s Pussycat Sessions of John Phillips, of the Mamas and the Papas, with Mick Jagger and Keith Richards, alongside pic of just the 'Cat)
(A musical trio called Pussycat Theatre – two women, one guy - released this 45RPM single on the San Francisco label JiggleWax Records in 1991, "The Love Song" B/W "Near Me Now")
Whitehead picks up the Backstage story. "Frank Clancy literally put the [second] Backstage together from nothing. He ordered and oversaw the installation of everything and hired the first crew. I was with him the day he bought the sound system for the place from Dow Sound City, on El Cajon Boulevard. I remember it clearly. It was a powerful Sony with Bose 901 Series II speakers. I stole the entire system after the place closed for good and it belonged to the city, and I had it for years too, but that's another story."
"After the place [Backstage] got opened, business was just terrible. The cast and crew were very discouraged and were going to walk out. Frank took them all in the kitchen and served drinks on the house and gave them a pep talk to cheer them up; he was always very good at that kind of thing. Someone told Don Wortman about it -- I'm betting it was Charlie Combs, who later married [former Hollywood Burlesque owner] Bob Johnson's daughter DeeAnn. Don Wortman got Mr. Miranda all riled up about Frank giving liqour away to the employees for free - never mind that this kept them from walking off the job - and Mr. Miranda fired Frank himself."
Tom White says his first professional job was as technical director at the Broadway Dinner Theatre, while it was run by Don Wortman. "I did a lot of work in Don's apartment," he says, "hanging pictures, building shelves etc. The trivia question we always asked was 'Is there a blank wall in Don's apartment?' He was an odd man who either liked you or did not like you. As a straight man, I was a fish out of water in his world, and [I] did all I could to avoid any one on one situation. I ended up learning a lot from the experience."
Tom recalls "I once spent five days straight working with no sleep to prepare for an opening night…it was grueling and exciting at the same time. Many of the performers from the Broadway Dinner Theatre worked at the Backstage Restaurant. I remember well going through the Pussycat to get to the restrooms. My girlfriend at the time worked there and was part of the near revolt. I remember the confrontation between Vincent [Miranda] and Frank [Clancy]."
Miranda let Don Wortman take charge of redecorating the Hotel San Diego, while they both maintained part-time residences there. Columnist Welton Jones recalled the redo last year in a Reader article about the hotel. "When MGM auctioned off its props from Culver City, Don [Wortman] bought a lot of their stuff. His bed came from there. He said it came from the set of Cleopatra. He was always buying things, changing things, rearranging things...every room was different. The lobby alone and the chandeliers came from an old Hollywood movie theater. The front desk came from a pharmacy in Spain. The bar was straight out of World War II. He even had four packs of wartime Lucky Strike Green framed on the wall."
"Those guys were so alive," said Jones. "Wortman was amazing, covered with tattoos, smoking a cigarette, those dark eyes drilling into you. Those guys really had balls. Don't get me wrong: I'm not gay, but I felt something for the two of them."
Miranda's failed Off Broadway theater ended up sublet to a group headed by Don Wortman. The playhouse was renamed the Pussycat Cabaret and began showing X-rated features. Ads below from early-to-mid 1977 show that two Pussycats were operating within a block of each other downtown - the original 4th Avenue locale, and the other at 3rd and F.
 
 
In 1979, Wortman and attorney Jim Schneider talked Miranda into reopening the Off Broadway under its original 1914 name, the Lyceum, with a musical extravaganza called "The Lyceum Follies." The theater soon went back to X-films.
According to longtime hotel employee Alice Faye, "Wortman and Mr. Miranda were both f-gg-ts. Mr. Miranda used to pick up Marines. Used to introduce them to people as his nephews. Mr. Miranda had lots of nephews."
She says Wortman was murdered in 1981. "[He] picked up some guy and took him home. Back to his sister's house, is what I heard. Can you imagine? His sister comes home and finds her brother between the bed and the wall with his neck broke. You talk about rough trade."
After Wortman's death, Miranda moved his own room from the sixth floor down to Wortman's former suite in room 264.
Miranda's godson Tim David tells me, "V.M. took me to the hotel all the time. It was quite a thing to walk in with him; he was a king there. The 'Presidential Suite' is what he called his room. It was very gaudy. I remember lots of bearskin and cut-glass panels."
"He and Tate would have their 'sailor parties' in that suite a lot. I would have to stay in the suite a few doors down during those."
Miranda installed former waitress Donna Martin as the hotel's resident manager. "Donna was quite a character," recalls Whitehead. "She and Mr. Miranda loved to drink. I remember drinking with them one time when she was waxing eloquent on the fact that God was actually a woman."
"One morning for breakfast, I went down to the Country Kitchen with Tom Wimbish [manager of the Cabrillo, Plaza, and Balboa theaters, pictured at left]. Mr. Miranda and Donna joined us, and they had both lost their voices from drinking so much the night before. Mr. Miranda was trying to figure out if it was the vodka or the cigarettes that did it."
Whitehead recalls "The hotel that was above the Lyceum/Off Broadway/Cabaret was the Commodore, and [Aztec Theater owner] Wes Andrews – AKA Andy - ran it for a while. In fact, he moved his office of operations out of the Aztec and into the Commodore, and then to the southwest corner of the 10th floor of the St. James after that; rooms in which Tom Wimbish lived for a while."
"I nicknamed it the Commode Door, which caught on like wildfire. Andy was not pleased, but it was too late."
Wesley "Andy" Andrews would later lease the 500-seat National City Pussycat from Walnut and keep it open under the Pussycat name until the late '90s, one of the very last surviving 'Cathouses.
When your humble narrator JAS arrived in San Diego in 1979, my first full-time job was working for Vince Miranda at his downtown theaters – mainly the Casino and Aztec, but also the Balboa, Cabrillo, Plaza, and, yes, down the block on 4th at the Pussycat.
(The Casino Theater on 5th Avenue San Diego, as seen in the 1979 Chuck Norris movie A Force of One)
I didn't like working at the Pussycat as much as I thought I would. The novelty of fifteen-foot tall genitalia wore thin after the first few hours and the non-stop moaning and groaning (usually listless overdubs recorded by bored, fully-clothed "thespians") quickly grated on the nerves to the point where I could barely recall what actual, factual sex sounded like.
Plus, I hated handling money peeled from the sticky palms of sweaty looking men who smelled like a gangbang where nobody remembered to bring towels.
People literally hid their faces when they walked up to the Pussycat, and the first thing the manager said to me on my first night of training was "If you see someone you recognize, pretend they're a complete stranger no matter how well you know them."
This was good advice - later that night, when I saw the guy who worked at a sandwich shop down the street, I resisted the urge to say "Hey Scotty," even as I vowed to myself never to eat a sandwich there again.
For awhile, the Pussycat had a swinger couple, in their early 30s maybe, good looking, who'd come in at least once or twice a week to watch a movie and then, well, put on a little show of their own. All the clerks liked this couple ----- we found a lot of excuses to whip out our big black flashlight and do an auditorium walk-through.
Some things the other clerks told me about their own encounters with The Swinger Couple seemed even then to be the stuff of urban myth, but I did see the two of them in action, in the seats, and can attest that they were into public sex in a big way. They never talked to me, but I often saw them talking to other patrons, before or after (and at least once during) their private showtime, and usually the couple would leave with a patron or two exiting right behind, if not with, them.
This was not an aspect of social interaction I'd ever encountered before.
In the years since, I've spent an obsessive amount of time wondering what possible "pickup lines" were appropriate & effective in that particular situation:
"Excuse me, but it'd be a shame for that erection to go to waste."
"The two of us are doing an in-depth survey on threesomes for the Kinsey Institute, can you help us out?"
"You know, my wife can do that with her hands tied behind her back."
"Did you ever want to be in your own porno movie?"
Or perhaps, simply, "F*ck my wife…please."
I only spent a few weeks at the Pussycat but, when I went back to the Aztec and Casino, the two 5th Avenue theaters were switching off showing X-rated features as well, serving a three-pack of porno at the Aztec one week and at the Casino the next.
Though Walnut's theaters may have looked somewhat shabby to patrons, it would be incorrect to assume the company ran things in cruise control and neglected to upgrade in areas that mattered most. "All the old Simplex projection equipment was torn out of the different houses in the late seventies and early eighties," says Dan Whitehead, "as we switched over to Century. We were automating at the same time, installing systems that changed reels mechanically, on a timer."
(Downtown 1977)
The 4th Avenue San Diego Pussycat and the nearby X-Rated Cabaret (formerly Miranda's Off Broadway Theatre) were the first theaters Walnut automated. "One projectionist ran both houses. It was actually semi-automation as it was a two-reel automatic changeover system instead of using a platter system. I was the guy who later installed the automation systems in all the other downtown houses. If I had it to do over again, I'd have urged them to go platter instead of reels."
Elsewhere in California: The Fontana Pussycat at 16779 Arrow Boulevard in Fontana was also automated. The 800 seater opened in 1948 and had been known as the Arrow, before being bought by Walnut around 1970.
Miranda originally intended to run the locale as an all-age house, having been told he'd be unable to secure permits to show adult movies there. However, a surprise decision in his favor in 1971 resulted in the locale's rechristening as a Pussycat in early 1972. After the automation upgrade in 1978, it ran for another year or so as a Pussycat, before Walnut sold it to an operator offering far more than the market value.
It was later called the Del Mar Theater, and it screened Spanish films in the late '80s, before closing around 1990. It was leased to a church for a number of years, but according to www.cinematreasures.org it's being revamped as a film festival showcase. These 2003 photos of the Fontana Pussycat were shot by cinematreasures contrib Ken Roe.
(1973 ad above and 1977 ad below)
In 1974, Walnut bought the Balboa Theater at 705 East Balboa Avenue in Newport Beach. Built in 1928 and originally called the Ritz Theatre, it was renamed the Balboa in 1939.
Miranda ran the cinema as a Pussycat Theater from 1974 through 1976, during which time Harbor Municipal Court Judge Robert Todd ruled that adult films being screened at the Balboa were not obscene, based on community standards. However, the theater was only allowed to run the timeworn (and court-tested) Deep Throat/Devil in Miss Jones double-header, and never change it. As one former employee emailed, "It was an extremely restrictive tenancy."
Here are some ads from while the Balboa was a Pussycat, respectively dated 10-10-75, 1-31-76, and 9-10-76 – note the Throat ad spoofing Jaws!
Walnut pulled X from the Balboa in 1975, though they maintained ownership of the Newport Beach theater right up through the day the doors were shuttered, having let Landmark Theaters operate the locale in its stead since 1979.
Later operators cultivated the locale as a midnight "cult" venue, mainly by virtue of Rocky Horror Picture Show screenings (photo at left from July 1983). Walnut closed the Balboa to movies in 1992 and sold off the property. It later became a performing arts theater.
(May 1982)
North Hollywood's Guild Theater at 5161 Lankershim Boulevard, designed by architect S. Charles Lee, opened in 1938 and had been known as the Valley Theater. By 1976/1977, rivals had turned the nearby Lankershim Theater into a porno house.
Walnut bought the Guild, situated down the street where Lankershim meets Magnolia, and went to work on the aging house in hopes of outshining (and underpricing) the competition, who were asking $8 per ticket (compared to $4 at most 'Cats).
(December 1982)
By early 1977, the Guild was a Pussycat. "The Guild was constantly having automation problems," recalls Walnut projectionist Dan Whitehed. "The system they had was an early Chrisite AM-type system, actually built by Kelmar. After I got done addressing all of its problems, I may have known more about it than anyone in the business, including Christie and Kelmar (just a joke). The manager was a guy named Bill Carol, who later became an assistant to the purchasing agent, Ron Naslund. I liked him; like me, he had a jaded, slightly twisted sense of humor."
"His girlfriend's name was Gay. His father was a bit of a homophobe, and didn't even like to say her name."
Sometime around 1983, the North Hollywood Guild Pussycat stopped showing porn. The building was sold, demolished, and replaced with a building housing Hewlett- Packard offices.
In early 1977, another Pussycat briefly operated in North Hollywood's Lankershim Theater at 7532 Lankershim Boulevard. Walnut purchased the general release theater in December 1976, while it was showing typical family fare.
Below LA Times ad from 3-2-77 is one of the first to list the Lankershim as a Pussycat, after its conversion from all-age to X – it and several other 'Cats were screening Peaches and the Summer of Laura.
Almost immediately, a group of parents, teens, and children called Citizens for Decency began picketing the Lankershim Theater. According to the Van Nuys Valley News (April 1977), "Protestors complained that the theater was located within several blocks of an elementary and a junior high school. There were scores of signs at the demonstration, declaring Pornography Is Sick, Keep Our Sewers Underground, Protect Our Children From Porno Filth and Crime, Rape and Murder Next."
Jim Winters, an aide to Councilman Ernani Bernardi, Seventh District, said the councilman was "supporting these people in their activity." Despite the protest demonstration, Pussycat's district supervisor Mark Edelman told the paper he had "no objections" to the picketers.
Edelman claimed that the theater was losing money on family films. "This theater was operating way in the red, but we've done quite well [with porn]." He also disputed charges that X-rated movie houses led to an increase in crime and noted that President Nixon's commission on pornography determined that pornography did not have harmful side affects (Nixon, BTW, rejected those findings and continued to push federal anti-pornography legislation).
L.A. police Lieutenant Bernie Conine conceded the demonstrators had a right to protest, but added "As I understand it, there's nothing illegal about the theater."
Nonetheless, the constant picketing and attendant bad press caused Walnut to recast the Lankershim Theater as an all-age house.
In March 1978, Walnut won a lawsuit enabling it to place Pussycat advertising in Southern California Rapid Transit District buses, for the film Sex World. Superior Court Judge George Dell cited a state Supreme Court ruling that transportation companies owned by public agencies must accept advertising from anyone, unless it's libelous or obscene. Attorneys for Pussycat Theaters and Essex Distributing, Inc. had been denied the ad space.
 A 1979 lawsuit was filed against the California 'Cats by the Dallas Cowboys Cheerleaders, upset over screenings of the porn movie Debbie Does Dallas (which doesn't even take place in Dallas). The real cheerleaders' and their Cowboy keepers couldn't find out enough info about the filmmakers, so they instead sued the Pussycats, for screening the film and blurring their trademark.
 
 Dallas Cowboy Cheerleaders v. Pussycat Cinema, Ltd., 604 F.2d 200 (2d Cir. 1979) alleged that Pussycats screening Debbie Does Dallas were associating the cheerleader plaintiffs with pornographic movies. It's unclear why the Cheerleaders didn't also sue non-Pussycats screening the movie, like San Francisco's Art 1 & 2 (pictured at left) – perhaps the Pussycats appeared to be the widest targets, with the deepest pockets. The Dallas Cowboys Cheerleaders lawsuit against the California 'Cats was eventually dismissed, but not until hundreds of thousands of dollars had been spent on legal fees. When they also sued the NYC Pussycat, the CheerleadersWON that bid to enjoin the theater from showing Debbie Does Dallas, on the grounds that the movie's cheerleader uniforms were too similar to the real outfits. Affirming this via the Lanham Act on trademark infringement, a Second Circuit Court judge stated "It is well established that, if the design of an item is nonfunctional and has acquired secondary meaning, the design may become a trademark..."
According to a study about the Monica 'Cat, commissioned by the group Concerned Women for America, between 1977 and 1994 "the Los Angeles Police Department made 2000 arrests for lewd conduct on the premises.
The conservative estimate is that every arrest required four hours of police work for two officers at a minimum of $55 per hour for each officer. This does not include the substantial costs attendant on review by a supervisor, prosecution, court proceedings, and probation."
 
Nor did the estimate include the cost of multiple repairs to Raymond Burr's star on the Hollywood Walk of Fame, which was situated just outside the Pussycat Theater. Burr's monument marker was frequently defaced with sexual graffiti and lewd vandalism, much of it alluding to or mocking the actor's supposed sexual preferences.
In a
Forbes Magazine
article "The X-Rated Economy" (9-18-78), California Pussycat Theater co-founder David Friedman of the Adult Film Association surmised that "Our basic audience is still people over the age of 35, and though we are beginning to attract some young marrieds and younger couples in their middle-to-late 20s, the audience is still composed of people who are probably more sexually repressed than people are today."
 (Rival L.A. operation at 5959 Hollywood Boulevard, just down the block from the Hollywood 'Cat – talk about bold signage!)
 According to the same article, adult film theaters were selling around two million admissions a week, at an average of $3.50 per ticket, at around 780 adult film theaters in the U.S. Together, they grossed an estimated $365 million in 1978.
1979 marked both the peak of the Pussycat reign and the beginning of the chain's quick descent and ultimate disintegration. That year, Vince Miranda told the
L.A. Times
that he couldn't estimate his personal wealth, but that it was in excess of $12 million. "I figure if you know exactly how much you are worth, you can't be worth too much," he said.
"Pussycat" had in fact become kind of synonymous with the sex biz, all over the U.S.A. ---
     
 There was even a DRINK called the Pussycat - below ad is from a 1968 issue of Playboy:
Meanwhile,
downtown San Diego
was becoming increasingly seedy --- Walnut's grindhouse theaters responded by shortening their hours to open at noon and close at midnight. "They were finding needles in the alley behind
the Casino Theater,
" recalls Whitehead.
The 1979 film
Hardcore
shows downtown at its Sodom and Gomorrah peak, with George C. Scott stumbling through wall-to-wall porno shops in search of information about his missing porn-star daughter. He makes his way down Fourth and Fifth Avenues, dodging hunchbacked junkies and drooling perverts at every step. Peter Boyle shows Scott an 8mm hardcore featuring Scott's daughter, and off Scott goes to California in search of her…pics below show Miranda's
Bijou/Savoy Theater/Cinema X,
across the street from his
Casino Theater
on 5th Avenue, AND the
4th Avenue Pussycat.
"One time when my brother David was running
the Casino
projection booth," says Whitehead, "they were closing and couldn't get this old guy in the balcony to wake up, and it turned out he'd had a heart attack or something and died. Another time, they found a dead guy out behind the rear exit doors. He'd crawled into a fenced in area and had probably died in his sleep several days before, so he was pretty ripe, which is how the manager found him, from the smell."
X-houses were cropping up everywhere south of Broadway, all hoping to capture some of the massive
Deep Throat
audience – note ripoff film titles above. Adults-only programming soon spread to nearby and outlying areas of San Diego.
 
Even the stately Capri, the Roxy PB, the Guild, the Fine Arts, and the Academy theaters showed porn for awhile. Below pic of the Academy in North Park was taken in 1983, where once and future cult rock star Gary Wilson would work as a clerk through much of the 1980s.
Heck, the huge mainstream Mann Theater chain occasionally screened porn as well, in some of its most high-profile local theaters - check out below ad from August 1973, courtesy http://www.myspace.com/sandiegocinerama
In downtown San Diego in the late 1970s, the Pussycat had numerous competing theaters, from the peep show booths of the
F Street Bookstore
to tiny hole-in-the-wall screening rooms like
the Foxy
and
the Lux,
and up to full-fledged moviehouses who operated almost identically to the Pussycats, albeit usually minus the velvet trim, ornate fixtures, and longterm business plans that Miranda favored.
"John Antonelli owned
the Lux Theatre
just underneath the Neptune Hotel," recalls Whitehead. "His brother Andy Antonelli ran Sonny's on the west side of 5th, with Andy [Wes Andrews] and Charlie." The Lux was later purchased by Rick Ford who also operated a porno filming place upstairs in the Neptune that he called Seabag Productions.
 (Above - Hubbell Building on 4th Avenue with first floor porn arcade, 1979)
"Bob Smith was a guy who used to own
the Little Hollywood,
which was on G Street between 4th and 5th under the New Kelsey Hotel," recalls Dan Whitehead. "Smith and Wesley Andrews were arch enemies and I never really did know why."
"Smith also owned
the Bijou
– formerly called
the Savoy
- and I think he called it the
Cinema X.
Smith owned a lot of places at one time or another. He owned a huge gay club down on PCH called the Ball Express. He'd open a business, milk it for everything he could get out of it, and then move on to something else."
The
Bijou/Savoy/Cinema X
would later be purchased and operated by Walnut Properties.
By December 1979, around 30 adult bookstores and movie houses operated within a 16-square-block area downtown, not to mention a strip club on Broadway near the YMCA with a giant, impossible-to- ignore sign reading "Hypno-Sexism."
Smack dab in between Walnut's
Casino
and
Aztec
theaters on 5th Avenue – both of which occasionally served as X-rated Pussycats - was a disreputable little cave called
the Foxy Theater
that screened mostly silent porn loops, in a foul-smelling space reeking of disinfectant and several other fluids best not dwelled on (I used to catch whiffs while standing on a sidewalk ladder to put up new marquee letters at the Casino – the Foxy door would open, and I'd about swoon and fall over from the malodorous aerial assault). "The Foxy," recalls Dan Whitehead, "now that was one nasty, dirty place. Bob Clark owned and ran it with his squeeze, a guy named George, can't remember his last name now. Bob died a few years ago. He'd become real fat, like around 300 or 400 pounds - no kidding! I'm surprised he lasted as long as he did, 'cause he had a real nasty temper too. He had another [porn] place out in either Spring Valley or Lemon Grove." Just south of the Casino on the same block was yet another X-house,
the Follies Theater,
as seen in below photo on the far right (between it and the Casino was the Royal Hair Academy and a residential hotel) –
On the SAME 5th Avenue block, after the Follies Theater, there was a 16mm porn loop theater, followed by a 25 cent porn booth arcade. That meant, in the late '70s/early '80s, there'd be five or six porno palaces all operating on the one Fifth Avenue block --- all on the same side of the street! Add one more if you count the
Bijou/Savoy/Cinema X
across the street on the same block!
 For awhile in the late '70s, the
military
was
banned
by the U.S. government from entering downtown porn theaters. Military MPs would regularly walk through theaters looking for soldiers and sailors violating the ban, which was later expanded to cover the entire county.
Hoping to sweep downtown free of porn blight, the city targeted the adult merchants with eminent domain proceedings intended to condemn the properties, so they could be refitted to suit the resurgent Gaslamp Quarter, whose acreage would be added to the National Register of Historic Places in 1980. However, the city's "Redevelopment Agency" didn't stop there. It also named around 75 non-adult businesses and individuals in an eminent domain lawsuit filed December 31, 1979. The hit list included Walnut's Commodore Hotel, as well as the Buccaneer Lounge, the Equitable Trust Company, Fourth Street Arcade, the Horton Hotel Grand, Joe's Barber Shop, the Right Spot bar, Security First National Bank, Terminal Auto Parks, the Western Union Telegraph Company, and even San Diego's Department of Internal Revenue.
According to court documents, Miranda filed his own lawsuit a few weeks later, for "unlawful detainer," over being locked out of his
Cabaret Theater
at 314 – 316 F Street -- formerly the
Lyceum
and his
Off Broadway
legit stage theater -- then screening porn (447901, Vincent Miranda, et al. v. James Schneider). Though he never regained control of the Cabaret, he was eventually awarded a $100,000 judgment, which the city had to pay due to "intentional property distress, lost income, and lost public goodwill."
The theater was briefly renamed
the Lyceum
again (above photo is from 1982) -- and then
Cinema X
for a time -- until the building was demolished in 1985 to make way for the Horton Plaza parking garage.
As more theaters closed and others reduced their hours, layoffs were becoming a chain-wide epidemic.
"I remember a meeting one time when Tate was shutting things down and deciding who to get rid of," says Whitehead. "There was a woman at the Ventura Theatre who'd been there fifteen years or more. He said 'Oh, get rid of her, just get her out of there,' as if she were just a piece of broken furniture. That was Tate through and through."
Around this time,
Deep Throat
became available on video, selling more than 300,000 copies by 1981. Retailing at $100 each, its success sows the eventual seeds of the home video revolution, which would inevitably cause the gradual shutdown of X-rated theaters that had been pooping up all over the country throughout the previous decade.
(Art: Daerick Gross)
Throat co-star
Harry Reems
didn't see any of those profits, though. In fact, he was hounded and charged by authorities over obscenity issues that forced his retirement from porn films for around eight years.
When his convictions were finally overturned, having battled alcoholism and declaring bankruptcy, he returned to X-films in 1982 with the movie
Society Affairs,
for which he was paid $120,000 for nine days' work.
At the end of September, he attended the film's premier at the West Hollywood Pussycat, putting his own hand and footprints in the sidewalk cement to commemorate the occasion.
"I just hated the fact that I had to go back and do these adult films," Reems told UK newspaper
the Sunday Observer
(5-22-05). "I was pushing my mid-thirties. It's like the athlete who tries to go on for one more season. I got very depressed. I knew this wasn't where I belonged any more, and I couldn't compete with 20 year-olds. I got lost in booze. I drank and I drank and drank...by 1985, nobody would hire me any more."
On February 7, 1985, Reems' successor as the king of porn,
John Holmes,
would leave his own cement impressions at the Pussycat.
In 1981, time was up for
Fourth Avenue San Diego Pussycat.
"On the day we removed all the equipment," remembers Whitehead, "I was instructed to give a guy from the city the keys when we were finished. So I called and he was there in just a few minutes, as if he'd been waiting right beside the phone or something. I had removed all the identification from all of the keys, just to make his job difficult. When he put out his hand for the keys, I deliberately let them fall to the floor, turned my back on him, and walked out the door without a word." "Yes, that was small and petty, but it felt good to do it."
Walnut appointed two new partners in late 1981, when Miranda's cousin
Jimmie Bert Johnson
and Walnut associate
Jerome Knell
were jointly named company president. Johnson was formerly head of the advertising department and company vice president (his mother
Ada Johnson
managed
the Torrance Pussycat
). Knell had been a part-owner of the
Long Beach Ocean Boulevard Pussycat.
Miranda and Tate still ran the day-to-day operations.
(Santa Monica Blvd)
Jimmie Johnson – who also served as President of the
Adult Film Association of America
- quickly became a very visible and vocal cheerleader for the west coast Pussycat chain. In May 1983, Johnson went to Washington DC to attend the
Sixth World Congress of Sexology,
a sex biz convention whose speakers included sex researchers Shere Hite and Dr. William Masters and Virginia Johnson. While in Washington, he made sure to get a photo of himself standing on the steps of the U.S. Supreme Court, home to his greatest enemies.
Johnson told reporters at the convention that the L.A. Pussycat had been screening
Deep Throat
to 600 people at a time, 13 times a day, for 82 weeks. ''It got people to go to erotic movies who had never been before,'' Johnson said. ''Ever since then, production has gotten better, the sets are more beautiful, the acting has improved. The movies have plots now. We keep our movie houses clean, we pop our own popcorn, and all this keeps people coming back.''
Around this time, a man named
Jonathan T. Cota
entered the picture at Walnut. In short order, he seemed to wield as much authority as Miranda and Tate. According to Miranda's godson Tim David, "Cota just appeared one day around 1982 or 1983, never to leave the scene. He was a shoe salesman at Florsheim shoes in Beverly Hills. He was sleeping with Tate, and he was a third or fourth cousin to V.M. He must have been very talented at what he did...I remember his first big 'gift' from Tate was a house in the Hollywood Hills." "As V.M. became more sick, Cota slowly moved into the house that V.M. and Tate had on Magnolia in Encino. I spent summers there in my teens, and it had always been a beautiful, antique-filled home. Walnut Acres they called it, an old walnut farm with neighbors like the Jacksons and Tim Conway."
Dan Whitehead says, "I never liked Cota from the first day I saw him slither into the office. Once he became Tate's squeeze, Mr. Miranda didn't like that. One time, Cota came to the office with Tate for an after-business-hours drinking party. After Tate left with Cota, Mr. Miranda said, 'I wish he wouldn't bring Cota around here, he's such a f-g.' I almost fell off my chair." Also around this time, Tate and Miranda were retaining a regular chauffeur named
Sid Walters,
as well as a houseman named
Johan
who worked for them at the Walnut Acres home. In an email, chauffeur Walters provided a bit of insight into what it was like to work for their mercurial and frequently-paranoid employers. "[Tate] was the one who actually hired me" says Walters, "I worked for him, not Vince. G.T. just let Vince use me from time to time. It was always more enjoyable driving for Vince. He was much more personable. G.T. was difficult to get to know. He was closed off to most people. Untouchable." According to Walters, "Johan was a one-of-a-kind butler. Actually, he did his job very well, most of the time. The only thing that Johan did that ticked me off was a time when Walnut Acres got broken into, and some jewelry was stolen…Johan tried to tell G.T. and Vince that I may have done it. There were foot prints in the dirt under the window that had been violated to enter G.T.'s bedroom. They were way too big to be mine. Only that room was entered, and so whoever it was, knew the layout of the place. I even had to take a lie detector test to prove my innocence, downtown at their offices on Sunset and Western. I passed the test easily, and was apologized to profusely by Vince, but not a word from G.T."
"During the test, I was questioned about Johan, and did I think that Johan had anything to do with it. I had no idea, and so said exactly that…Long story short, Johan denied every bit of it. He was humiliated by G.T. and Vince, as well as really pissed at me. Two days later, I was reprimanded by G.T. He told me I was a lousy driver and didn't feel safe with me chauffeuring anymore. He had always, in the past, told me how wonderful of a job I had always done, but now the story changed. If you've ever been on the wrong side with G.T., you'd know what I was getting from him. It lit me up, and so I quit on the spot. His response was, 'Okay, then you're fired.' I walked out laughing." "Shortly after that," says Walters, "I heard that Johan quit working for them for a span of time, but then returned. They all seemed to get along well from then on."
 
The Anaheim Pussycat Garden at 305 East Lincoln Avenue opened June 12, 1916 as the New Grand Theatre, with a screening of the movie Ramona. With seats for around 600 patrons, it was operated by Fox West Coast in the '30s, until the doors were shuttered in 1938 due to poor business. The following year, independent operator "Doc" Barsky took over the lease on the building and reopened it as the Grand, remodeling to seat 700 with the building also sporting retail storefronts on its ground level and over a dozen offices on the second floor.
After changing its name to the United Theater for a short period, as well as changing ownership a couple more times, the doors closed again due to poor business until the locale reopened as the Garden Theatre in 1955, with a double bill of Phenix City Story and It Came From Beneath the Sea.
(1955)
Programming evolved in the '60s to be heavy on sexploitation and nudie "art" films.
In 1968, Friedman and Sonney converted it into
the Pussycat Garden
, one of the first half dozen 'Cathouses. After Walnut acquired the chain, the theater flip-flopped a few times between X-rated and grindhouse fare.
The Garden went back to full hardcore from 1978 through early 1983 (when above photo was taken) before shutting down, not so much due to civic pressure as it was poor attendance, which had plagued the locale all along.
The Garden was acquired by the City of Anaheim in 1983, via its condemnation powers, to instead zone the area for apartments or condominiums. When the city snatched the 10,637 square feet of property, it offered Walnut $500,000. Walnut wanted $1.2 million.
Walnut and theater operator Amil Shab filed a lawsuit against the city Redevelopment Agency, over their loss of business after the City demolished the property. In July 1985, Walnut and Shab received a $200,000 payment, intended as a settlement but, ultimately, failing to appease the Boss 'Cat.
Walnut continued to press suit against Anaheim's City Redevelopment Agency -- comprising City Council members – until a jury trial was scheduled in September 1986. Shortly before the trial started, the City offered Walnut $800,000 to settle the case.
Walnut agreed, and thus ended any and all Pussycat presence in Anaheim. Pic at left (courtesy cinematreasures.org) shows the theater shortly before it was demolished.
In Uptown Whittier, California, Walnut ran
the Whittier Pussycat
on 7038 South Greenleaf Avenue, between Wardman and Philadelphia Streets. Formerly known as
the Wardman Theater
when it opened in 1932 (named after original owner Aubrey Wardman), it seated around 1,000 people, including the second story lounge (which had an Egyptian theme and included a snack bar).
(July 1983)
After being run by Pacific Theaters in the 'early '70s, the moviehouse was purchased by Walnut in early 1977 and began showing X-rated films. However, the Whittier Pussycat quickly found itself facing increasing civic pressure to close or switch to non-X fare.
A coalition of business, church, and parents groups was formed to voice objections to the showing of adult films at the Wardman, with spokesmen visiting Vince Miranda at his Hollywood offices. "We tried to suggest to him that a four-theater complex would make it", City Councilwoman Delta Murphy told the
L.A. Times
in July 1977. "We told him that it would be an economic plus for him and an economic plus for the city. We said that if he is not interested in that, we wanted a lease price and a lease option price." "We do buy and sell theaters," Miranda was quoted as saying, but the Wardman remained a Pussycat and continued to show X-rated films.
In February, 1984, the City tried to introduce a zoning ordinance prohibiting an adult theater from operating within 1,000 feet of a church – the Pussycat was closer than that to FOUR churches. However, District Judge Manuel Real nullified the ordinance as "lacking sufficient justification." The Judge made the same ruling again in 1985, after another attempt by the City to zone the Whittier Pussycat out of existence.
Representing the City, Katherine Stone argued for the ban, on the grounds that "children walking past [the theater] would be exposed to [adult movie] ads."
Judge Real countered "Who said they had to pass it? They can go around the block."
Walnut attorney
Stanley Fleishman
had already filed a "Strike Back" lawsuit to overturn the ordinance. The suit also sought an undetermined amount of damages for the city's "bad faith actions" against the Pussycat's operator. Fleishman - a renowned civil liberties lawyer - was one of the first attorneys ever to argue an obscenity case before the U.S. Supreme Court in the late 1950s. "When others point and say they don't like something, and cry 'let's change it,' I'm offended," he said. "It's a dangerous practice in a free country to try and tell another man what he can and cannot read, watch or talk about."
Whittier City Manager Tom Mauk estimated that the City had spent more than $100,000 in court costs and attorneys fees to battle the Pussycat Theater. This cost to the City would eventually rise to well over $500,000, before the matter was finally settled, a l-o-n-g time down the line…….
Jimmie Johnson told the
L.A. Times
(10-27-85) that Walnut had so-far spent around $80,000 fighting to keep the 900-seat theater open seven days a week, from noon to midnight. "It boggles my mind," he said, "that in this day and age, we are still having to fight for the freedom to operate our business…If I didn't fight, I wouldn't be in business tomorrow. At the first sign of backing down, I might be vulnerable in every city where I operate theaters."
Not that Johnson was waving the First Amendment flag in a (self)righteous snit, ala Larry Flint, or even San Diego's Greg Vasic. "Believe me," said Johnson, "if I wasn't making money, I'd sell in a minute. It's not my biggest-grossing theater, but it's not the worst either…We average about 1,200 customers a week."
Whittier tried to revive the 1,000 feet ordinance yet again in January 1987, only to have Judge Real strike it down a third time, despite higher courts having overruled him twice on the matter. Real ruled that the City failed – once again - to prove that the Pussycat "poses any special threat to the city's legitimate interests."
Amidst proceedings all but identical to the last go-'round, it was clear that neither side was willing to budge.
A few weeks later, vandals broke into the Whittier Pussycat, slashing the screen in half and setting fires that caused around $80,000 in damage. The blaze was discovered in a second-floor projection room when a fire alarm sounded at around 3 a.m., according to the
L.A. Times
(4-9-87). Investigators found several "incendiary devices" in the room, and two $30,000 projectors were destroyed. Most of the damage was confined to the second floor, and the theater reopened less than 48 hours later. "It appears that the fire was set by someone who didn't like the business," according to Whittier police Detective William Reiner. "Nothing was stolen…they just wanted to deliver a message."
Prints of two films were also destroyed. You'll think I'm joking, but the titles were – according to the
L.A. Times
(5-3-87) -
Crazy With the Heat
and
Wendy the Electric Lady.
In February 1985, the marquee at
West Hollywood's Pussycat Theater
had also caught on fire. This was also suspected as arson, perhaps at the hands of a disgruntled Pussycat neighbor, but the blaze was later determined by Fire Captain Tim O'Neill to have been caused by faulty wiring. Pieces of the burning sign landed on the sidewalk, as patrons fled the building and flames climbed to the second story of the theater. Firefighters put out the blaze before it went any further, though the theater still suffered around $10,000 worth of damage. The movie title on the flaming Pussycat marquee? Again, no joke......
In May 1985,
Vince Miranda
-- a lifelong heavy smoker -- was battling lung cancer in an L.A. hospital. "My Aunt Susan spoke to V.M. several times about my future with Walnut," says his godson Tim David. "Something must have been going down at the end, because V.M. called her and said he was planning on getting married! This is very strange, due to the fact he and Tate had been live-in lovers for decades."
Vince Miranda died June 3, 1985, at Cedars-Sinai Medical Center, of complications related to cancer. He was 52. Survivors included his mother, Belle Mida of Palo Alto, his brother (Tim David's biological father), and a sister.
"He denied the fact that he was dying up to the end," says Miranda's godson Tim David. "The last time I saw him was at Walnut Acres...he was bald from the chemo treatments but insisted that he was in remission and was going to be fine. He kept it a secret from all of us."
(1985 Adult Film Association of America award show, dedicated to Vince Miranda)
Tim David says Jonathan Cota quickly moved in with Tate at Walnut Acres in Encino. "The last time I was there, after V.M.'s death, the house had been completely 'Cotafied.' The guy has no taste whatsoever; it looked like something off the set of Miami Vice. Horrible."
Miranda's cousin and Walnut partner Jimmie Johnson filed injunction requests and lawsuits against Tate and Cota, attempting to regain control of Walnut and Pussycat assets, with very little success. "Grandma Mattias never got anything [from Miranda's estate] either," alleges David. "It was all funneled back to Tate and Cota."
To be fair, there may not have been a lot of Walnut left, at least once the IRS hit Miranda's estate with a federal tax lien of $6,047,760.00.
 Walnut properties all over the state were sold, leased, or traded away, with many real-estate holdings being handed over in lawsuit judgments. Several claims against the estate were connected to ongoing litigation dating back years.
Walnut Properties and/or company principals were served with over 100 civil lawsuits filed between 1973 and 2005, the majority related to Pussycat locales. Interestingly, one tax lien mentions as a DBA "George Munton Tate." This confirms "Munton" as one of Tate's AKAs, as long rumored by company principals who claimed Tate was hiding a criminal conviction that could have affected his ability to license x-rated businesses.
In all, around $30 million in Walnut assets were liquidated, lost in judgments, or "gift deeded" to others over the next 15 years. Top candidates for liquidation included the increasingly problematic Pussycat theaters, which had installed video-projection equipment to no avail.
Between shrinking attendance, home video, and increasing civic and social intolerance, the Pussycat dynasty was having problems at almost every one of its 30 or so remaining California locales.
Sure, X-rated films were still being made ---- but there wasn't nearly as much money being made, at least not from their exhibition.
(Courtesy UCLA Library Special Collections Department)
Long Beach's Lakewood Theater
at 4501 East Carson Street (later 4501 Lakewood Boulevard) was once a single-screen, at the corner of Carson and Nores Way. Designed by architect S. Charles Lee and built in the mid-1940s, it was outfitted as a Pussycat in 1977 and transformed to a two-screen house, with luxurious red and gold carpeting and fancy mirrored walls.
However, it didn't take long to run into civic backlash – shortly after opening in 1977, police raided the theater and confiscated prints of X-rated films deemed to be obscene, citing a zoning violation. This was just the beginning of a long-lived skirmish between Walnut and Long Beach ------- In 1980, the Supreme Court sided with Long Beach and said that the theater was violating the law by screening X-rated material. Walnut got around this by exploiting a legal loophole, thanks to the Lakewood having two separate screens –
"The Lakewood manager Jose Duarte ran the number-one screen as an all-age general release and art house, and the number-two screen as a Pussycat," muses projectionist Whitehead. "Talk about a nightmare. They kept it that way for a long time."
This wasn't an attempt at full market coverage, but rather because the City – and the Supreme Court - required the theater to do so by law, in order to stay on the legal side of zoning regulations.
In early 1985, the U.S. Supreme Court affirmed a lower court ruling that defined an adult theater as one that shows a "preponderance" of X-rated material. Because the Lakewood offered R-rated as well as X-rated fare, city officials couldn't classify the locale as an "adult theater," and thus couldn't force the Pussycat screen out of business.
"A big week for the R-rated films can be $14," Jimmie Johnson told the L.A. Times (10-27-85).
"The test," according to Walnut attorney Stanley Fleishman, "is the preponderance of films exhibited, and not which films the majority of patrons choose to see. The choice people make is for them to make themselves, without government interference…We should now be able to continue without the harassment we've been seeing over the last decade. It makes no sense for a city official to try and control what adults see."
Countered Mayor Ernie Kell, whose district included Lakewood Village, "Nothing would please me more than to be able to legally close that theater…It's like a cancer out there." A neighborhood group called Citizens Against Pornographic Movies at the Lakewood Theater continued to picket the locale, as it had been doing for years, almost since the Pussycat oval was first hung out front. In December 1987, foes of the
Lakewood Theater Pussycat in Long Beach
finally managed to get a preliminary court injunction shutting down the X-rated screenings.
 "We consider it an embarrassment to have this type of business that is making innuendoes and double meanings [with film titles on the marquee]," moviehouse neighbor Mary Soth, chairman of Citizens Against Pornographic Movies at the Lakewood Theater, told the L.A. Times (12-24-87). "We have been anxious to let the public know what we were trying to do is not censor their choice, but [to] locate this [adult theater] outside a residential area."
Three weeks later, however, the state Supreme Court intervened on the side of Walnut, ruling that the Pussycat was free to put porn back up on the marquee again.
 
 To be safe, Walnut began asking patrons at the Lakewood and a few other litigious Pussycat locales to sign a (fairly humorous) "waiver" before entering the theater, absolving Walnut of any and all legal responsibility for whatever might ensue, akin to below…
 
By the mid-eighties, in San Diego's rapidly evolving Gaslamp Quarter, the
Fourth Avenue Pussycat
had been forced by the City to close. However, Walnut managed to keep the Pussycat brand alive downtown, by converting other theaters into temporary 'Cat houses, including
the Aztec
at 5th and G,
the Casino
down the block, and Miranda's old
Off Broadway/Lyceum
building.
 
The sidewalk in front to the El Cajon Pussycat became a regularly scheduled battleground. Each and every Friday night, members of Santee's Bible Missionary Fellowship showed up with protest signs, rain or shine, Hell or high water.
Usually led by Pastor David Rudd or Rev. Dorman Owens, with placards and Bibles in hand, anywhere from 10 to 30 protestors would march back and forth in front of the theater, carrying signs that read "Porn Kills," "Depraved Minds Love Smut," and rather ominous declarations that "The Wage of Sin is Death."
The 400-member church also protested at abortion clinics, gay bathhouses, and held rallies opposing homosexual rights.
 
"[Kids] come right up here on their bicycles," Rudd told a San Diego Union-Tribune reporter (9-9-85), pointing to the suggestive posters of future attractions that he called "sickening perversion."
Rev. Dorman Owens of the Santee church told the L.A. Times (5-22-86) "Law is subject to righteousness…A good law never protects that which would destroy society. The First Amendment was never intended to protect crime or pornography that ruins minds…All these sleazy perverts and unrighteous people have stretched the Constitution to protect their particular sins, and it was never intended to that."
 
The F Street Bookstore just down the street on East Main Street was another frequent target of both the Santee Church and the City of El Cajon. According to Mayor John Reber, the city spent $25,000 in its unsuccessful legal battle to shut down or move the F Street Bookstore. "We're through spending the taxpayers' money to fight the U.S. Supreme Court," he told the Union-Tribune (4-25-86).
George Tate must have still seen a future for Pussycat Theaters, however. After recovering from a stroke (neither his first nor last), he registered for sole ownership of Pussycat Theatres, Inc., in February 1986. Tate listed the Pussycat corporation's primary service as "photofinishing laboratories" and its secondary service being "motion picture production." This would seem to confirm longstanding rumors of Miranda and Tate banking certain films on perennial – and often exclusive - display at various Pussycats (likely candidates include
Adultery For Fun and Profit, The Summer of Laura, Wet Rainbow, Illusions of a Lady,
and a loop compilation called
Lovelace Meets Miss Jones,
a transparent attempt to duplicate the marquee goldmine once-guaranteed by the classic
Throat/Miss Jones
double feature ---).
 By 1987, Walnut was down to operating only 29 Pussycat Theaters. According to the Adult Film and Video Association in L.A., adult movie theatres had dwindled from about 750 in 1983 to around 250, a drop of 67 per cent. An article in the
San Francisco Globe
(6-12-87) reported that Pussycat box office proceeds had dropped 20 per cent since 1982, when VCRs became common consumer items.
 Adding insult to video injury, many former movie theaters actually converted to X-rated video shops.
When the Pussycat on Santa Monica Boulevard in West Hollywood went to renew its business license in 1987, the city's Business License Commission forced Walnut to agree to hand out information about AIDS and other sexually transmitted diseases. Licensing laws allowed the city to impose such requirements, in matters concerning the public health and welfare.
So the West Hollywood Pussycat was forced by the city to put up two displays on its snack counter, stocking each with Red Cross leaflets about Acquired Immune Deficiency Syndrome, one written in Spanish and the other in English. Total boner killer, or what? Talk about your civic cock-blocking ---- AIDS had that effect on porn. All the way across the board --------
Fairly symbolic, if not endemic, of the fall of the urban porno theater, porn superstar
John Holmes
died on March 13, 1988. After appearing in an estimated 2,000 porn films, he was felled by AIDS, which he maintained he'd contracted through IV drug use, not unprotected sex.
I can't be the only person who looks at the above DVD covers and sees the Pussycat signage looking eerily like tombstones…..
The uber-contentious Pussycat in Whittier finally died as well, though it wasn't killed by poor attendance, by the City, nor even by Walnut – it took Mother Nature's fury to finally neuter this 'Cat.
After a devastating earthquake hit the area on October 1st, 1987, the exterior wall of an adjacent building partially crumbled onto the Pussycat, and soon City officials were posting an "unsafe" sign beneath the shattered marquee.
 However, Walnut still wasn't quite ready to put down the aging kitty it had fought so hard to keep in catnip. "That structure is built like a fortress," Ron Naslund, property manager for Walnut Properties, told the L.A. Times (10-7-87). "There's no problems on our end…though [opponents] probably all raced to the theater to see if it was down."
Naslund ordered a replacement marquee, though he said Walnut wouldn't pressure city officials to reopen the area, even if the theater itself were ruled operable. "Safety comes first," Naslund said. "We don't want to be anything but a good neighbor."
In April 1988, the Pussycat Whittier marquee was still blank and the entrance fenced off, though Walnut was telling reporters it still planned to reopen the theater. City officials, however, were convinced they'd be able to find one more way to skin a 'Cat.
"It's absolutely no surprise to anybody that the city's aim and desire has been to eliminate the Pussycat Theater," Councilman Gene H. Chandler told the L.A. Times (5-12-88). "But I'm not willing to say that the design [for rebuilding the damaged neighborhood] is aimed at getting rid of the Pussycat."
By that point, the City of Whittier owned 71% of the block. Several other buildings had already been torn town, mainly to make room for parking structures. Councilman Gene H. Chandler estimated that it would take $3 million to $6 million more to acquire the remaining properties, including the Pussycat.
 
The entire relationship between the City of Whittier and Walnut Properties changed dramatically in August 1988, after Jonathan Cota replaced Jimmie Johnson as the man in charge of the entire California Pussycat Theater chain. Longtime Walnut publicist Don Haley also left the company.
Right away, Cota told nearby Whittier merchants – though not the City Council – that he planned on doing $100,000 worth of repairs to the old art deco building, to reopen in October….as a mainstream general-release theater!
"It would be great if it happened," Councilman Chandler said at the next City Council meeting.
City Manager Thomas G. Mauk warned that Walnut had long been no friend of the City Council, and a change in management didn't necessarily mean a change in programming. "Don't count on it until it happens," he said.
Sure enough, as of April '89, the
Pussycat Whittier
(signage now only naming it
the Wardman
) remained closed to all screenings, X or otherwise. However, one longstanding court battle remained in play.
U.S District Judge Manuel Real ruled that a Whittier ordinance declaring 99% of the city off-limits to a Pussycat theater was too restrictive and violated Walnut's First Amendment rights. The 9th U.S. Circuit Court of Appeals agreed, but the City asked the high court to intervene. The justices rejected the City's appeal, without comment (Whittier vs. Walnut Properties, 88-1322).
Whittier had spent about $300,000 on the case, and the Supreme Court's decision meant the city would also have to pay Walnut's court costs of $150,000 to $200,000.
The city finally made a deal for the Whittier theater, splitting it into a two-screen theater. Six more screens were added later and, by the turn of the century, it was screening general release movies as the Whittier Village Cinemas.
The Concord Pussycat at 1965 Colfax Street in Concord opened in September 1938, originally called the Enean Theatre (named after the east coast brothers who built it). Overlooking the town square, it became the Concord Showcase in April 1968.
The Concord was already showing X-rated movies when it became a Pussycat in 1976. Walnut maintained the Showcase name and marquee, installing subtle window signage indicating its status as a Pussycat (photo at left from 1980). Walnut ran it until the early '80s, when it was taken over by rivals the Mitchell Brothers, the filmmakers and sex merchants behind San Francisco's infamous O'Farrell live sex theater.
A nearby First Presbyterian church group bought the Concord Showcase, hoping to transform it into a youth center, but the Mitchells insisted on staying through 1985, until their lease expired! So, for awhile, it still showed porn, perhaps the only X-house in America that can say it screened porn while owned by a church!
 
"I served on that committee which oversaw the purchase of the theater," says Abner in a post at cinematreasures.org. "The church was bound to an ironclad lease on the present occupants…the church was legally bound to honor the lease until it expired in 1985. Once it did, the Mitchell Brothers (NOT Pussycat as some claim) were ordered OUT, although they offered to triple the rent!"
"I could see the Mitchells attempting then to try to break into the market, although Pussycat and the Mitchells historically didn't get along with one another," says Scott Favareille at cinematreasures. "As when the Mitchells bought the leases to several San Francisco theaters that had been operated by Walter Reade prior to that company's bankruptcy; That was mostly done to keep Pussycat from expanding into a theater which was near their O'Farrell flagship."
When the church finally got ahold of the theater in late 1985, they gutted the interior and operated it as the Presbyterian Community Center until the late '90s. After that, it was leased to a Korean Presbyterian church group.
(July 1984)
Pasadena
's 700-seat Pussycat on 770 East Colorado Boulevard operated in the
State Theatre
, built in 1918 and originally called the
Florence Theatre.
According to an
L.A. Times
article dated 2-7-90, "In the early days, it was a proud Fox West Coast moving-picture theater. Then it burned down, was rebuilt, changed hands." Walnut bought the theater in the 1983, converting it to a Pussycat in 1984 and installing kitschy decorative glitter like crimson fleck wallpaper.
The Pasadena Pussycat/State locked its doors to X in 1989. It reopened several times with various program formats, including a stint as a Chinese language theater, before closing for good in 2000.
In downtown's civic Xanadu known as the Gaslamp Quarter, one of the last remnants of the Pussycat Theater chain was operating in the old
Aztec Theater,
converted to an X-house as it neared its final days.
Projectionist Dan Whitehead was by this time managing the
Star Theater
in Oceanside, as well as running the booth on weekends at the
Aztec
and
Casino.
"There was a very short period of time when the Aztec was closed. It was for legal reasons, as they were setting up a dummy corporation. A guy named
Terry Wiggins
leased the Aztec, Bijou, Casino, El Cajon [formerly the Pussycat El Cajon], the Star in Oceanside, and the Plaza in Carpinteria from Walnut."
(5th Avenue theaters: the Casino above and the Aztec below)
In early 1989, Wiggins converted the
Aztec, Bijou
and
Casino
theaters downtown into discount family theaters. Wiggins in fact oversaw quite a few Pussycats as they reverted back to general release theaters, no doubt extending the operational lives of all such locales (many of which had, ironically, already once been saved from closure by the SUCCESS of "porno chic"). Similar transitions away from porn were happening all across America –
Time Magazine
reported in 1971 that the U.S. had around 14, 450 movie theaters, with 720 of them screening X-rated movies. Four years later,
Time
claimed there were 1,500 American porn theaters. However, according to the documentary film
Inside Deep Throat
(2005), by 1990 that number had shrunk to only 250 X-houses. Under his management, Oceanside's
Star Theater
traded in porn for family films in April 1989, pricing all seats at $2.
Wiggins did essentially the same thing, at around the same time, at the
Hollywood Pussycat
theater formerly – and once again – known as
the Ritz.
His other all-age conversions include the
El Cajon Pussycat
and
the Plaza
in Carpinteria. During the same period, Terry Wiggins also leased and operated
the Strand Theater
in Ocean Beach. As someone leasing the properties from Walnut, Wiggins was able jumpstart his relationships with the community, both because of his outspoken wish to transform X houses into neighborhood theaters and simply because he
wasn't Walnut.
Except – he kinda WAS Walnut. At first, anyway - Dan Whitehead reveals "The name of the dummy corporation that was set up [by Wiggins, for Walnut] was Star-Crest Theatres, named after the Star and Crest theatres in Oceanside. I can't remember if the Aztec was under that umbrella or not. The name of Terry Wiggins' later company was TRW Theatres, and he ran the TRW theaters as his own, without Walnut, 'til his company shut down in April of 1994."
Whitehead worked for Terry Wiggins from 1989 through the 1994 company closure. "Of course, I'd been responsible for all of the above houses for Walnut and just phased out of Walnut and right into TRW Theatres. For a while, I was on both payrolls, which was real nice while it lasted." "Terry won't talk about any of that past, and I can't get him to change his mind. He also managed the Torrance Pussycat before Mrs. Johnson, long before he and I met. He was Walnut's district manager from about 1983 'til about 1988. He was Walnut's next-to-the-last San Diego District Manager, followed by a husband and wife team, Mr. and Mrs. Polydorous." "There was man named Bill who took over the Aztec and Casino before Terry [Wiggins] for a very short time. I remember that he took the Dolby stereo sound system that I'd removed from the Balboa, speakers and all, to a theatre up in Tulare. He also took a custom made desk that had been crafted by a nephew of Andy [Wes Andrews]. That pissed me off. I don't know why, 'cause it wasn't my property, but it really did piss me off. He had a partner who looked about as Mafia as anyone I'd ever seen." Also stacking the deck against operator Wiggins, "The guy who managed the Plaza Carpinteria ripped Terry off real bad. In fact, I think it may have caused the downfall of TRW Theatres, along with the scum from the IRS."
Whitehead's association with all the theaters previously operated by Walnut essentially ended when Terry Wiggins got out of the theater biz. Says Whitehead, "It was the closing of a very long and important chapter of my life."
In March 1988, Walnut partnered with
Leonard Glass
(the former plastic surgeon who also bought the
Hotel San Diego
from Walnut) to run the 970-seat
El Cajon Pussycat.
Glass was also running OB's
Strand Theater
at the time, as well as negotiating the purchase of Oceanside's Pussycat, operating in the grande olde
Star Theatre.
In November '88, Glass presented the El Cajon City Council with an ambitious plan to renovate the 12,000-square-foot property, to include a shopping center, a fast food restaurant, "automotive-related businesses," and a two-theater complex that would show general-release films. In addition, Glass would provide between 99 and 140 new parking spaces. "I am totally uninterested in the X-rated theater business in any way, shape or form," Glass said in his proposal.
If his development plans were approved by the city, said Glass, his company Western Sun would lease the one and three quarter-acre parcel from George Tate and Walnut Properties for between 52 and 60 years. Then, he'd immediately spend at least a million dollars on the revamp and renovation. "This [resulting vote] is going to tell you how much the city wants to get rid of the Pussycat Theater," said Ted Morris, project coordinator for Walnut Properties. Among the 11 modifications to City requirements that Walnut sought were waivers of extensive fire and safety work inside the theater, plus permission to keep the theater marquee intact. Walnut was also asking for exemption from street improvements normally required by the Uniform Building Code, like new curbs, sidewalks and paving on Sunshine Street, a traffic study, and relocating utility cables below ground. "We're very excited about it," Glass told the
Union-Tribune
(11-24-88). "I think it's wonderful," said El Cajon City Councilwoman Joan Shoemaker.
However, at a late February '89 hearing about whether to grant Glass and Walnut the necessary conditional use permits, waivers, and exemptions, the City Council unanimously rejected the proposal, 5-0. "To be honest with you," Mayor John Reber told Glass, "I'm not too enthusiastic about the uses you have in your project, especially the auto repair and the fast-food [restaurant]…I think this council has to be very aware of what goes in on Main Street. I think we have enough fast-food, along with our thrift shops." Glass argued "We do think we are lending quite a service to the city by closing this X-rated theater." To which Councilwoman Harriet Stockwell replied "I really don't feel I can accept the project that has been proposed, much as I would love to get rid of the theater."
"We're going to let the city of El Cajon wallow in the slime it apparently wants and deserves," Glass told the City Council, before alleging that it had "hidden agendas that we don't know about." He said the 52-year lease he'd negotiated with George Tate had only been possible because of their previous business relationship. Calling Tate, "a very eccentric person, a very stubborn person," Glass told the City Council "He has no intention of closing that theater. It doesn't make economic sense to keep it open, but that doesn't matter to him. And under no circumstances will he deal with anyone but me." "So let them keep their theater," Glass told a reporter, as he stormed out of the meeting.
"We lost $50,000 on this project and nine months of work," Glass told the
Union-Tribune
the next day (3-1-89). "It's unbelievable…They strung us along for months and months and months, saying they liked it." Shortly thereafter, thumbing his nose at El Cajon, Glass threatened to run the raunchiest films ever seen at any of the chain's Pussycat theaters (which by 1989 only numbered around 20 statewide).
Jonathan Cota
chimed in as well, announcing that he planned to bring in live strippers to
the El Cajon Pussycat.
"Anything I can do to make the City Council members feel bad about their decision, I will do," he told the
Union-Tribune
(3-9-89). "There will be banners, promotions, dancing girls; we're going to get the public back into the theater…We might as well give the people what they really want. We feel El Cajon must love the Pussycat, since it doesn't want to get rid of it." "What do they expect on that corner?" asked Cota. "A mall? Gucci? Neiman Marcus? Should it be like Rodeo Drive? You don't have Rodeo Drive people in El Cajon. People can't afford that kind of thing…You can tell that I'm angry, and I'm a little disturbed at how the city handled this." "I've tried so hard to get rid of our porno theaters, or turn them into general release theaters," said Cota. "But now, we're there to stay with the Pussycat. As far as I'm concerned, if we sell every other theater we own, I will keep the Pussycat in El Cajon." Then, mysteriously, in August '89, a lock suddenly appeared on the El Cajon theater's door ----- for awhile, nobody seemed exactly sure WHAT was going on inside the locale. What was going on was around $20,000 in renovations. A new beveled-mirror snack bar was built, the seats, floor, curtains and bathrooms were redone, new carpeting was added, and a wider, less faded movie screen was installed. A distinct clue indicating Walnut's intentions came with the dismantling of the oval Pussycat logo atop the marquee, with its jumping bikini babe ringed by flashing chaser lights. In early December 1989, after 15 years as an X-house,
the El Cajon Pussycat
surprised everyone by announcing it would no longer screen X-rated films. "I think the community is going to be very supportive of it once they see what we've done with the place," new manager Terry Wiggins told the
Union-Tribune
(12-15-89). Wiggins – who leased the El Cajon theater from Walnut - was also running San Diego's Aztec, Bijou, and Casino theaters, as well as Oceanside's Star and Crescent Theaters.
The first all-age screening at the renamed
El Cajon Family Theater
was
All Dogs Go to Heaven,
with all seats priced at $1.99. One of the theater's new features was a "cry room," where parents with noisy babies could watch the movie without disturbing other patrons. The renovated snack bar offered gourmet cookies, bottled mineral water, and nachos, alongside traditional movie treats like popcorn and candy.
A few months earlier, Walnut's Pussycat in Oceanside's
Star Theater
had also traded in porn for family films, under leased management by Terry Wiggins, with all seats priced at $2. "We are trying to give...an uplift to our business," Walnut's L.A. office manager
Ethel Edwards
told the
San Diego Union-Tribune
(4-15-89). "We don't know exactly how many [theaters] are going to change over [from porn]…Since they have come out with home videos and all, this business was kind of down." The
Star Theater
at 402 North Coast Highway opened in August 1956. The marquee was 65 feet wide and 6 feet high, with neon signage depicting twinkling stars framed by a flashing chaser-light waterfall. North County theater impresarios the Siegel Brothers ran
the Star
until around 1979, whereupon Walnut purchased the property and leased it out to several short term operators. By around 1982,
the Star
was a full-fledged Walnut house, along with its nearby sister theater
the Crest
(and, for awhile, Oceanside's
Palomar Theater
and
Towne Theater
).
The Star
began screening porn full-time as a Pussycat around 1987 (the Palomar would also be a Walnut X-house).
The final X-rated double feature screened at
the Star
on April 20th, 1989, was
Deep Insider Trading
and
Red Hot Pepper.
Operator Terry Wiggins was also running Hollywood's
Ritz Theater,
which he likewise transformed from a Pussycat into a general release theater.
The nearby Palomar held onto X features for a little while longer, but eventually it too exorcised the ghost of "porno chic" from the premises.
 (Jan 1983)
Oceanside's Towne Theater, which had also run as a Pussycat for several years, was simply closed down and shuttered. A Karate studio held classes for awhile in the building, which was eventually acquired by the city of Oceanside.
(Oct. 1984)
By the end of 1994, Walnut had either sold or leased out all the Oceanside properties (the Star, Crest, Palomar, Towne). The company never operated another theater in the city. After
the Star
closed to movies in July 2000, it was refit and reopened as a stage theater. The rebirth surprises Dan Whitehead, who says "This was built specifically as a movie theatre and not as a live theatre," says Dan Whitehead. "This house was never meant to be anything but a movie theatre. There is no stage area and no fly space."
Ventura's Pussycat Theater
also shed its X-skin in 1989, becoming the
Teatro Mexicano
to screen Spanish-language films and present live mariachi performances. The 800-seat theater snack bar began offering jalapeno peppers, Mexican sweets, and authentic nachos.
 
The moviehouse at 793 East Santa Clara Street was originally the Mayfair Theatre, designed by S. Charles Lee, one of the country's foremost Art Deco and "Streamline Moderne" theater architects. It opened June 18th, 1940, with the RKO film Irene, starring Anna Neagle and Ray Milland. 
When it became a Pussycat in the early '70s, Walnut painted the marquee - and later the entire building - bright purple-pink. The theater often hosted personal appearances by porn stars living nearby like Marilyn Chambers, and several X-films held their world premier at the venue, including a couple rumored to have been co-financed by Walnut.
(Pussycat premier Jack 'N' Jill 2, February 1985, with star Samantha Fox)
Between 1988 and 1989, the Ventura Pussycat was the scene of 120 lewd-conduct arrests, according to police reports cited in the
L.A. Times
(3-24-91). After Pussycat withdrew from the Ventura theater, leaders across the street at Horizon Foursquare Church were convinced their prayers helped end this Cat's ninth life. "The people in our congregation and a number of others have been praying for that theater to stop showing X-rated movies for a long time, and I think that had as much an effect as anything else," assistant pastor Steve Shepard told the
L.A. Times
(1-17-91). From November 1990 to around January 1991, the Ventura became a revival house, with little success. "The people who were in there last just weren't making any money, so they closed it up," Ethel Edwards of Walnut Properties told the
L.A. Times
(8-3-89). "We're now trying to lease it out as either a Spanish house or a regular-run house. It's either for lease or for sale." The former Ventura Pussycat on East Santa Clara – rechristened
the Mayfair
once again – became a neighborhood theater again in the mid-to-late '90s.
"During its last days as a movie theatre," reads a post by MagicLantern at cinematreasures.org, "it showed second-run and classic films (
The Conversation, Close Encounters of the 3rd Kind,
etc.). It had ceased to be a Pussycat long before that (although there were still popcorn cups emblazoned with the Pussycat girl and their 'It's Cool Inside' logo)."
On August 18th, 2000, the Ventura Pussycat/Mayfair was gutted by a fire that burned everything but the building's outside walls, ticket office, and the top of the neon marquee. When firefighters arrived at 1 a.m., they were unable to save the Art Deco chandeliers or the building's vaulted redwood roof. At least three transients were found to have been living in the shuttered theater, including two who had to be rescued by firefighters from atop the burning marquee. The theater was torn down in August 2004.
Here's a selection of photos showing the Mayfair from birth thru death, courtesy http://www.mayfairtheatre.com  -- at least somebody rescued the marquee!
The San Bernardino Pussycat
(formerly known as the
Ritz Theater
) at 432 North E Street opened in the late 1920s. Warner Brothers ran it from 1931 through around 1953, with one of the brothers – Stanley – operating it through 1969. After that, the Amber x-rated moviehouse chain began screening adult movies, later leasing (and then selling) the locale to Miranda and Walnut. The theater ran as a Pussycat in 1972 and into 1973, then it screened general features for a couple of years before becoming a Pussycat again from late 1974 through the early '80s.
 (Above and below, San Bernardino 'Cat circa late 1982)
The San Bernardino locale was where, circa 1977, Vince Miranda earned his only criminal conviction, on a reduced "public nuisance" charge relating to the film
Sex Freaks.
The Oakland Pussycat operated in the Regent Theater, at 1118 Broadway. Built in 1913, with only around 300 seats, the Regent was renamed the Newsreel Theatre in 1941. In later years, the narrow brick building was known as the Peerlex (beginning in the mid-'50s), the Imperial, the Art Cinema (showing nudie films), and of course the Pussycat Theater.
The Art Theater
was already showing nudie cuties in 1970 when Vince Miranda tried to add the locale to the Pussycat chain, but the Oakland City Council blocked his initial efforts by refusing to issue him a business license. According to a May 1970 article in the
Oakland Tribune,
"City Hearing Officer George Dini said the denial was based on seven arrests in the theater of men charged with lewd conduct in the theater while watching films." "He also claimed the theater had a 'buzzer' system warning employees when police officers arrived to check the audience." "An attorney for the firm, which operates 14 such movie nooses in the west, said the council's action violated the First Amendment. Its owner, Vince Miranda, said he will appeal the council action. He also told the council that he was a native Californian and religious." Mayor John H. Reading reportedly asked Miranda, "You don't hold any Scout merit badges, do you?" Miranda did not reply.
He did, however, manage to get his license in 1972, whereupon he immediately installed upright Pussycat signage at the newly-christened
Oakland Pussycat
theater. "The vertical marquee was very impressive when lit up, it made Broadway look like a real downtown," says Robert Gippy in a post at www.cinematreasures.org . "The ticket booth was on the right with a turnstile and when you walked in there were the doors to the main floor auditorium, which had a couple of hundred seats…To the left was a staircase that led down to the basement. There was a lounge area, with a couple of couches and a coffee table. The restrooms were also there. There was no snack bar, just machines."
Walnut tried to keep the doors of the Oakland/Regent open, but the tiny theater was never well-attended and it was too small even for a snack bar – patrons used vending machines. It's Pussycat era ended in 1986, and it was demolished around 1996.
The original
San Jose Pussycat
at 366 South First Street was actually called
Pussycat 1
. The second locale Pussycat 2 was just down the street at 400 South First. Originally a shoe store, it became
the Camera Theatre,
showing mainstream fare. After the Shaw Theater chain bought it in the '60s, it switched to adult movies, which was fine with Walnut when it bought the locale and turned it into Pussycat 1 in 1970. They also bought the theater down the street from the Shaw chain for its Pussycat 2.
Pussycat 1
only ran a few years, through 1974 or 1975. It later became the
Camera Cinema,
running various programs at different times, like kung fu movies and art films. It stopped screening movies in 2004, and became an art gallery.
 
(May 1970)
Opened in a former garage building in 1949, Pussycat 2 in San Jose at 400 South First Street was originally known as the Gay Theatre (not THAT kind of Gay – it was named after the daughter of an original theater partner). It was an art theater through the '60s, until owners Shaw Theaters sold it to Walnut in 1970.
"I was in that house for service calls three or four times," recalls Walnut projectionist Dan Whitehead. "They had the quietest pair of Simplex E7 projector heads I'd ever heard."
After becoming the
Pussycat 2
, it ran into the usual litany of legal hurdles, beginning with screenings of – what else –
Deep Throat.
In a post at cinematreasures.org, Wendy HB recalls "We had a field trip from the San Jose' State drama department: 'Bring your own trench coat and slouch hat.' We also brought black strips of paper to obscure our eyes in photographs in case of a raid (a la 'Confidential' and other old Hollywood scandal rags)."
In 1973, Boxoffice Magazine (6-18-73) reported that San Jose Deputy District Attorney Al Fabris had been sending cops into the Pussycat 2, to report on patrons who "engaged in indecent exposure" and "other acts."
Fabris took his findings to Superior Court Judge O. Vincent Bruno, with a request that the theater be closed due to the "bizarre antisocial acts" witnessed by officers. The same issue of
Boxoffice,
in the column next to the Pussycat report, has an article about Pussycat founder Dave Friedman screening
the Flesh and Blood Show
at the Lake Shore Drive-in. History has not recorded whether Mr. Fabris found that endeavor to also have encouraged "bizarre antisocial acts." In July 1973, San Jose police raided the
Pussycat 2
, confiscating prints of
Deep Throat
and
Devil in Miss Jones
and arresting the theater manager on obscenity charges – the case dragged on for several years.
In 1985, the Pussycat 2 shared a wall with the city's newest alternative newspaper, the Metro. Writer Jackie Treehorn later wrote "You've heard of the Wailing Wall? This was the Groaning Wall. Labored breathing and cries of ecstasy always leaked into the office." (Metro 02-09-05)
 
  Treehorn describes the proliferation of porn theaters in San Jose. "Adult movies were playing at the New Paris (at 25 W. San Salvador St., currently a parking lot). The roster of sin included the Town and Country Theater in Sunnyvale, the Cambrian Twin on Hillsdale, the Towne Theater on the Alameda (later to be a respectable art house and now an Indian film palace), and the aforementioned Pussycat at South First and San Salvador streets."
"Across the street from the Pussycat, the Studio Theater went for adult movies by the end of 1975."
 "Finally, so did the 800-plus-capacity Burbank Theater on Bascom. That's not to mention the quarter arcades and adult bookstores that no scholar has bothered to survey—or the go-go bars like the Streaker in Palo Alto and the Bachelor Club in San Jose."
In addition, the San Jose Auto Movie Drive-in also went hardcore, while San Mateo's Palm Theater - aka 'The Hairy Palm" - was still screening porn as of last 2008.
 For awhile, the aforementioned
Towne
Theater
on the Alameda Street in San Jose was actually co-owned by Walnut. "We weren't associated with them for very long," recalls projectionist Dan Whitehead. "The same company owned the
Fine Arts in Fresno,
an ugly old non-descript army theatre on Maple Avenue that may have even been a quonset hut. I installed an automation system and a new sound system at the Towne. It was a grand old house, and I was always disappointed that I never got a chance to explore it. It had a storeroom under the booth in which were stored some pieces of equipment from the old Vitaphone sound system." "I'm pretty sure
the Towne
was forced to stop showing porno, 'cause there was a school or a playground nearby."
In the late '80s, attempts by San Jose to close the Pussycat theater were met with a lawsuit filed by Walnut. According to Metro writer Treehorn, "By the early 1990s, all the porn theaters in the valley had gotten eerie; the Pussycat downtown was heavily muscled by the coppers, who used to cruise looking for an easy Pee-wee Herman arrest. Caught many a culprit white-handed, they did."
The
San Jose Pussycat
tried to keep up with the times by installing video screens, but the theater was still eventually shut down by the city around 1989, declared a "public nuisance." In an essay posted at
www.metroactive.com/.../02.09.05/porn-0506.html
, Treehorn pines for the long-gone era of cinematic smut, in the days when porn aspired to mimic at least the patina of modern-day Hollywood.
"The safety of the home gets too safe sometimes. Who wouldn't miss that sinking feeling inside as you bought a ticket under a blazing marquee. Crossing the threshold, we ex-Baptists could literally feel Satan dragging a screwdriver across the highly polished finish of our souls. How one's stomach would plummet, seeing that contemptuous punk-rocker seated behind the dusty glass concession counter, in which exactly three petrified boxes of Lemonheads rested. As if you were going to let the concessionaire stall you!
Into the darkness where you belong, cockroach!"
 
"And the peculiar darkness of those theaters is extinct for good. The truth was you really did not know what you were going to get when you slipped out of the normal world and into the world of porn. The fast-forward button on the VCR, the menu button on the DVD, save time, leading viewers right to the scenes they want. What's lost is the sense of anticipation—of wondering if that the movie would go where you hoped it might. That was the quality that porn movies had in common with real movies."
On New Year's Eve 1989/1990, the former Pussycat 2 reopened as a dance club called F/X. San Jose's Redevelopment Agency was so anxious to erase all lingering traces of 'Cat, it offered to help the building's new owner Fil Maresca pay for the club's remodeled façade. Five years later, in January 1995, the club was still in operation and Maresca became the new President of the San Jose Downtown Association, an advocacy group representing businesses and property owners.
 
The locale was later leased for several other clubs, including Spy, Glo, the Usual, and - beginning in 2004 - Pete Escoveda's Latin Jazz Club.
 
As of 2006, the old Pussycat 2 was Angelo's Ultralounge and Cabaret, outfitted inside once again with enough pink and neon to make Mary Kay blush.
As of this writing, the building is boarded up again.
By summer 1990, less than 20 California Pussycats remained in the X-biz, according to Walnut's office manager Ethel Edwards. "We were losing business in a lot of the theaters that were closed up," she told the L.A. Times (8-14-90). "And videotapes were the reason."
In June 1991,
the El Cajon Theater
that had housed a Pussycat through late 1989 announced it would soon be shuttered for good. Walnut rep Barry Hartsfield said the price the city had been negotiating for the past year was acceptable. "We are ready to sell," he told the
San Diego Union-Tribune
(6-13-91). Hartsfield had risen quickly through the Walnut ranks when George Tate sought his help after suffering various health setbacks, including a stroke that sidelined him for the better part of the next few years.
At the
Pussycat in Torrance
(formerly the
Stadium Theater
), at 1653 Cravens Avenue, tenth-grade dropout
Quentin Tarantino
checked tickets and manned the snack bar in the late '70s. "I was up there several times on service calls," says Pussycat projectionist Dan Whitehead. "Mr. Miranda's aunt, Mrs. Ada Johnson, managed this and the Lakewood Theatre at the same time. She was a great lady, and I was very fond of her. She didn't take any sh-t from anyone, anywhere, anytime, ever."
 The Torrance Pussycat was built in 1949; Pacific Theaters ran it in the sixties. Outfitted to seat around 900 people, the one-screen moviehouse became a Pussycat in the late '60s, one of the first half-dozen X-houses in the California chain.
In summer 1992, developers renovating the area around the
Torrance Pussycat
offered Walnut $50,000 to stop showing porn and to clean up the theater façade. Barry Hartsfield agreed, telling neighbors and city reps that he wanted to reopen the locale as the
Cravens Avenue Theater
, operating as a second-run general-audience movie house. While the Torrance theater was still closed, filmmaker Tim Burton shot scenes there for his movie
Ed Wood,
about the inept-but-sincere '50s director credited with creating one of the worst movies ever made,
Plan Nine from Outer Space.
The theater can be seen in the scene where Wood's cast is attending the premier of
Bride of the Monster.
Then, the Torrance Pussycat was briefly renamed
the Aurora
for a TV movie shoot (photo on right courtesy manwithnoname at www.cinematreasures.org). This moviehouse was still the focal point of civic debate, even while shuttered, as the city wanted to tear it down to build condos. Various groups and individuals lobbied hard to save the building, though their efforts eventually proved unsuccessful. It was demolished in February 2002.
Among Walnut's San Francisco houses was
the Guild Pussycat
, at 1069 Market Street, in the middle of downtown's theater row. Opened in March 1925, the name was changed to
the Studio Theater
in 1943 and then
the Guild Theatre
in 1947 (it was also known as
the Egyptian
for a time). In the late '60s, it began showing "adults only" programming, as did
the Centre Theater
next door.
In 1968,
the Guild
screened one of the first "sex" films to gain widespread fame,
I Am Curious Yellow
(which really only has a bit of nudity). According to Scott Favarville at cinematreasures.org, "Some of the entrance area can be seen in the 1964 film
the Erotic Mr. Rose
(along with the Centre next door)."
The Guild
was a 400-seat Pussycat from late 1972 through 1987 (though the Pussycat signage wasn't installed until 1973) --- its first porn double feature in December 1972 was
Deep Throat
and
Teenage Fantasies.
The locale next door,
the Centre
(known in the mid-'40s as
the Roundup Theater
and specializing in westerns), was the Guild's sister theater, also run by Walnut and also screening porn.
"I took care of all the projection equipment in this house…from 1982 until it closed," recalls Dan Whitehead. "It was an interesting old building. The fifth floor used to be the offices for Lippert Theatres. They took over the Centre immediately next door…Pussycat ran both the Guild and the Centre with only one projectionist going back and forth between them. The projection booth doors of both houses opened into the hallway of the office building above."
A rival theater operating immediately adjacent to both Walnut X-houses, the
Market Street Cinema,
fought for the same clientele by screening adult movies, beginning around 1980.
As this is when theatrical porn features became more scarce, it was increasingly difficult to avoid having the same movies screen within a week of each other at both the Walnut houses and at their next door neighbors'.
A little further down the same block, across the street, Miranda's rivals Mitchell Brothers ran an X-rated
Bijou Theater,
thinning out the porno possibilities ever further. After Walnut closed San Francisco's
Guild and Centre theaters
on this block in 1987, the locale contained retail shops.
Before that, though, another rival San Francisco porn house, the two-screen
Art 1 and 2 Theater
at 55 Taylor Street, was one of the few non-Pussycat theaters in California to host a long-term booking (1976 to 1983) for the famed
Deep Throat/Devil in Miss Jones
double feature – when this began in '76, the second screen was showing the Mitchell Brothers feature
Behind the Green Door,
which it held over for years along with a rotating selection of backup features. It's unclear how
the Art
managed to circumvent Miranda's otherwise exclusive rights to screen (at Walnut theaters) and/or book (into non-competing "rival" theaters) the
Throat/Miss Jones
bill in California.
NOTE: In early 1975, four non-Pussycat L.A. theaters operated by the same company began screening the
Throat/Miss Jones
double bill – the Cine Cienega, Fine Arts, Ritz, and Roxy – as did the Sun Art Theater on Sunset. This only occurred until Walnut secured the exclusive California rights to the dual program, and/or Walnut made deals with other theater operators to "sub-lease" either
Throat
or the double-bill to locales not in direct competition with any Pussycats.
Miss Jones
MINUS
Throat
commonly screened at many non-Pussycats, as Walnut had no exclusivity deal on
Miss Jones
.
The San Luis Obispo Pussycat
was actually a former convention hall that had once been known as
the Log Cabin Theater.
Walnut bought it in the early '80s. "After a month of showing foreign language films, they turned it to a porn house," according to Scott Favareille at www.cinematreasures.org . "Within a week, it got raided by the sheriff. It reopened again shortly thereafter trying to show porn only to be raided again and shut for good by the sheriff. The second time, it was open about three days." Apparently, cops made it a habit to confiscate nearly every adult movie print that entered the building. According to Dan Whitehead, "Mr. Tate was advised beforehand that turning San Luis Obispo into a Pussycat was a bad move, but he kept trying to do it anyway." Walnut eventually gave up and withdrew from the locale entirely within a few years.
Walnut also owned the nearby
Oaks Drive-In
in Paso Robles for awhile. In the late '70s, Miranda began screening porn at the Oaks during slow winter months, generating much ire from local police. Winter ads sometimes referred to the drive-in as a Pussycat, but not very often and not for long, as that seemed to only increase civic outrage and interference. "The
Oaks Drive-In
was dark for most of the time I worked for [Walnut]," says Whitehead, "but I do remember Raul Castenada, who was their chief projectionist for many years, talking about how much trouble the sound system caused and that he was trying to talk Mr. Miranda and Mr. Tate into changing over to an FM broadcast sound system. The drive-in was still operating when Walnut had it, at least for a little while. They are the ones who shut it down…I removed all the projection equipment from there some time in the '80s."
The Stockton Pussycat
at 157 West Adams Street was known as
the Bijou Theatre.
It began showing X-rated films in 1974, under the independent ownership of Bob and Susan Carson. Walnut coveted the locale, but was unable to close a purchase deal on the property until 1982, when the theater became a Pussycat. According to Walnut projectionist Dan Whitehead, "I believe Mrs. Paula Miranda, the district manager of the northern district, leased the Stockton Bijou from Walnut and ran it herself for a while after they let her go. When she was district manager and I serviced that house, there were always rough looking lesbians running the place, and there was always something going on in the auditorium and/or the bathroom, if you get my drift."
The city of Stockton seemed fairly resigned to the long-lived porn oasis just off the so-called Miracle Mile, until civic leaders began applying pressure to close the locale in the early '90s. Pussycat pulled out of Stockton in January 1993 - as of last year, the locale housed a pub called the Valley Brewing Company.
 The Orcutt Cinema Pussycat at 1155 East Clark Avenue opened in summer 1965 as a general release house, situated in a shopping center. Unhappy residents picketed the theater in the late '70s, until it finally stopped showing X around 1980 and closed in 1981. The building later housed a hardware store.
The Eagle Rock Pussycat
at 4884 Eagle Rock Boulevard was another L.A. branch of the Walnut chain. It opened in 1929 as
the Yosemite Theatre
and later became
the Eagle.
Above photo shows the locale in 1969 ---
(Photo, Bob Meza)
When Walnut began running the theater from around 1972 through 1979, the old neon "Eagle" letters over marquee was replaced with purple-ish Pussycat-like Eagle signage (as in above photo). Advertisements (and the Pussycat matchbook cover maps) usually referred to the locale as
Eagle Rock.
Several raids and community opposition caused the company to flip-flop back and forth on both the marquee and the programming, from (softcore) porn to second-run and back to porn again. This was also the case at the nearby
Highlands Theater,
which Walnut also ran (usually as a general release house, when attempts to convert it to a Pussycat failed). Though
Eagle Rock
rarely – if ever – screened hardcore porn, it remained listed in Pussycat matchbooks for years. An otherwise unremarkable theater, its projection booth was fairly unique, in that it included a working toilet and sink. Other operators ran it until 2001, when it was shut down other than occasional art, music, and performance functions held in the building. Most recently, it's been leased by a church for its Living Faith ministry.
The Hollywood Pussycat
at 6656 Hollywood Boulevard (once the
News View
newsreel theater) is where the aforementioned legendary punk club
the Masque
operated, in the basement which had previously been a recording and broadcast studio.
Walnut ran it as a Pussycat from 1973 until the late '80s, screening
Deep Throat
for nearly ten years, earning (according to
Variety
) and $11,000 weekly during peak seasons, until
Throat
was finally cut on December 12, 1981. The theater then began cycling in new features once or twice a week, rarely holding over any movie for longer than seven days. Below two photos show the Hollywood 'Cathouse as seen in the 1983 film
Valley Girl
- note the "Pussycat" marquee letters light up one by one, which really made the theater an eye-catcher.
"Most of the incandescant lights were chaser lights also," recalls projectionist Dan Whitehead. "It all had a tendency to be very high maintenance, what with motors and contacts burning out all the time, particularly if water got into the works. Marquees with neon were even more maintenance heavy, particularly during rainy times. The high voltage transformers were always being zapped by moisture."
(Hollywood Pussycat as seen in the 1987 film Lethal Weapon) 
Horror author
Del James
worked at the Hollywood Boulevard 'Cat in 1986, an experience that later inspired his short story
"Adult Material Nature."
After Walnut pulled out entirely around 1988, the theater went back to being called the Ritz and stopped showing adult movies, with new operator Terry Wiggins (who was also leasing several San Diego theaters from Walnut, most of which he also converted from X to general releases).
 According to www.cinematreasures.org, the building is currently (as of 2009/2010) leased by a church. Hollywood90038 posts a link to below photos of the fading Pussycat marquee oval...
...while KenMC posts this wider shot showing oval sign above
the Ritz
.
The Riverside Pussycat operated within a theater at 3801 Seventh Street (later renamed Mission Inn Avenue) best known as the
Fox Theater,
though it was originally called
the Riverside Theater
when it opened in 1929. Ten years later, in 1939, the theater hosted a preview screening of
Gone With the Wind,
soon to become the fodder of local legend.
After being renamed
Fox West Coast
("The Show Place of the Orange Belt"), the locale was subdivided in 1942, with a new smaller stage area becoming a live theater venue called
the Lido.
This space sat just over 500 people and included its own separate entrance, marquee, and lobby, around the corner from the main theater entrance but in the same building.
The entire building was designated a historical landmark in 1978. Around this time, Walnut purchased a lease on the locale, and then bought the entire property, including the smaller adjacent Lido Theater. In that space, Walnut operated a smaller screen as a Pussycat.
A blog reader recently emailed me about this house, and how it was set up. "There were probably about three stores – head shops, thrift store, that sort of thing - separating the theaters. In the late-eighties, the Pussycat became a revival house, and the main theatre was shut down."
Projectionist Dan Whitehead recalls "The Pussycat was the fly space and stage of the Fox Theater. It was one weird house, real thin and high. The Fox Riverside is where the money for the retirement fund came from; don't ask me how that worked, I don't have a clue. It was a beautiful, typical, grand old movie palace." The Fox mostly screened family movies and then Spanish films from 1988 through the early '90s. Walnut sold their stake in the property in 1993.
In 2005, the city of Riverside bought the theater building for 2.9 million (after filing eminent domain on its owner). The following year, Riverside officials announced the Fox would undergo a $25 to $30 million dollar renovation, to convert the venue into a 1,600-seat performing arts center. The old Pussycat space now houses dressing rooms and a ticket office.
The Fresno Pussycat
at 56 North Van Ness Avenue was also known as
the Venus Adult Theater
. "It was originally a 16mm house," recalls Pussycat projectionist Dan Whitehead. "When I left, it was an operating 35mm house. It should have been a ten-day job; I was there for three weeks in the middle of a very hot San Joaquin Valley summer. It was a nightmare job, though the manager was a nice Hispanic kid named Jessie Reynoso."
Porn had already screened at
The Fresno 'Cat
before Walnut acquired the local in the late '70s. The nearby Towne Theater at 2017 Fresno Street had been an X-house since late 1971, as had several other Fresno theaters but, by the time the '80s were nearing, the city seemed fed up with cinematic porn.
The Fresno Pussycat
was a Pussycat intermittently until the late '80s or early '90s. It was still standing in 2003, though it's long been boarded up.
The Roxy Pussycat in Goleta
at 320-C South Kellogg Way screened X-rated movies through 1985. "I installed all of the projection equipment in this house too," recalls Whitehead. "The projector heads, sound heads and bases that I installed in Goleta were the ones I removed from the Campus Drive-In in San Diego after it closed. The lamphouses and rectifiers from the Campus went first to the Balboa [in San Diego], and then to the Star in Oceanside."
After Walnut pulled out of Goleta, this theater reopened in 1986, first at the College Cinema and later as the Goleta Theater. Most recently, according to www.cinematreasures.org, it's become an office building, with a bar in the rear of the building called the Bak Door.
 
 The Hill Street 'Cat, the very first CA Pussycat ever, opened by Dave Friedman and Dan Sonney in 1967, also closed up shop in September 1985.
Formerly known as Bard's Hill Street Theatre (1920s) and then the Town Theatre (1930s), the lot at 444 South Hill Street was later occupied by a McDonald's...
…and then by a silversmith shop called Silver City.
The California Theater Pussycat, at 810 South Main Street in L.A., opened in December 1918 as Miller's California Theatre.
It later switched to Spanish language movies, before becoming a 'Cathouse in the mid-'80s. "The big old California wasn't turned into a Pussycat until after the Hill Street [L.A.] house shut down in 1985," recalls projectionist Dan Whitehead, "and it was only a Pussycat for a little while."
"I was in this house a couple of times for projection equipment service calls. If I remember correctly, the projection booth was on the main floor, but it had originally been upstairs. Booker Douglas was the manager. I really wanted to explore the whole thing but, alas, I never got the chance."
(California box office circa mid-'70s)
A 1,600 seater with a full curved balcony, Walnut shuttered the doors in early 1988. For awhile, transients lived in the building, including some who lit the piano alcove on fire. It was torn down in 1989, and replaced by a shopping complex.
The North Highlands Pussycat at 4949 Watt Avenue, near Sacramento, was originally known as the Coronet Theater. Walnut transformed the 900-seater to a Pussycat in 1975, changing the name on the signage accordingly. Over the next quarter century, the moviehouse had a steady stream of devotional clientele, courtesy of the nearby the McClellan Air Force Base.
Even after the North Highlands theater was dumped by Walnut (one of its last northern CA 'Cats), it showed X-rated films as the Regency. By 2004, it had upgraded to a digital projection format, a necessity due to film prints no longer being struck for most adult features. Another concession to modern porn demands was a built-in video rental counter, inside the theater itself.
For a number of years, escorted female patrons were admitted into the Regency XXX for free. Interestingly, the theater offered a separate "couples section," for attending duos not wishing to be stared at or otherwise disturbed or distracted by dateless male patrons. Reportedly, transvestite prostitutes regularly "serviced" male clients in the couples section, no doubt upsetting some of the libidinous looky-loos.
  The North Highlands Regency Pussycat closed for good in late summer 2007, which is when above photo was taken.
 The
Sacramento Pussycat 1
at 1227 K Street was formerly known as
the Studio,
the Plaza,
and possibly
the Encore Theatre.
It was changed to a Pussycat from around 1972 through the late '70s/early '80s (not to be confused with Sacramento Pussycat 2 or the nearby North Highlands Pussycat) ----- The
Sacramento Pussycat 2
(formerly
the Plaza
from 1927 to 1935, then
the Roxie
from 1935 to 1954, and
the World Theater
from 1954 to 1973), at 912 9th Street, Sacramento, was only a short term Pussycat around 1973. According to Dan Whitehead, "Paula Miranda - no relation to Mr. Miranda - was the long time District Manager of the northern district, and her office was in one of the Sacramento houses. After I'd de-unionized and cleaned up the Pussycat Guild in downtown San Francisco, she wouldn't let anyone but me work on her booths."
(1984)
The Inglewood Pussycat at 226 South Market Street was originally known as the Ritz Theater. In the late '60s, it was renamed the Cine Theater, with a new marquee and a remodeled interior. Before long, the Cine began showing more esoteric fare, including sexploitation films and nudie art films, until a screening of I Am Curious Yellow caused it to be shut down for a time.
Inglewood's Cine became a Pussycat in the mid-'70s, earning still more attention from local authorities. Walnut closed up shop there in the mid-'80s. The Inglewood Pussycat/Ritz/Cine later reopened as a general release theater, before being converted to a community center around 2003, leased by a church.
As of early 2008, the Inglewood theater was still standing and was for sale.
In 1993, the
Pussycat in eastern Buena Park
at 6177 Beach Boulevard was still plugging away in the theater formerly known as
the Valuskis
and
the Grand,
open since the '20s.
It was converted to a Pussycat by original Pussycat operator Dave Friedman around 1970, shortly before he sold the majority chain stake to Vince Miranda and George Tate. Over its years as an X-house, the locale weathered protesters, police raids, neighborhood petitions, civil and criminal court battles, confiscated film prints that were never returned (thus causing Walnut to forfeit deposits of $10,000 and up), and even a botched attempt by the city to force redevelopment, using its power to co-opt properties under the color of eminent domain.
By 1993, however, the Buena Pussycat was rapidly losing business, to both home video and to the competing Studio Theater, two miles south. Barely enough patrons remained to keep one porn theater going, let alone two of them so close together.
It's anybody's estimation whether George Tate's withdrawal from day-to-day operations, or Barry Hartsfield's replacement administration, contributed directly to the inevitable events of a few years later. Once home video and civic pressure combined with the ascendance of strip clubs to put the once mighty Pussycats to sleep for good, the end came not with a roar, but with a timid "meow" ---
Walnut Properties ("a real estate holding and investment company") filed for Chapter 11 bankruptcy in June 1994, claiming liabilities of $17.7 million. The filing lists George Tate as Walnut's president and sole stockholder. The 'Cats are never mentioned by name.
Creditors with the largest claims included First Fidelity Savings and Loan of San Diego ($2.08 million), Queen City Bank in Long Beach ($2.38 million), and Topa Thrift and Loan in Century City ($2.8 million). For most of these legal proceedings, Walnut officer Barry Hartsfield was listed as Tate's trustee/conservator. However, the bankruptcy petition was ruled incomplete. The court's summary stated, "The debtor has been involved in several lawsuits causing further extraordinary expenses. The comments... indicate a creditor who obtained a judgment against Walnut has attempted to tie up the debtor's assets, disrupting the ability to operate his business."
Then: "I received a call from Grandma Mattias, V.M.'s mom," says Vince Miranda's godson Tim David. "She never said hello, she just started talking, and she asked, 'Do you want the good news or the bad?' " "I replied, 'The good, I guess.' " "She said, 'The b-stard is dead! George Tate died on the dentist chair. Now do you want the bad news?' I said 'yes' and she replied, 'All the money is gone, he spent it all.' She hated Tate, too." Walnut's Chapter 11 bankruptcy actions were converted to Chapter 7 actions in August '94. The City of Buena Park gleefully seized their chance to FINALLY get their hands on
the Buena Pussycat-slash-Valuski-slash-Grand.
In summer 1995, a U.S. Bankruptcy Court judge approved sale of the theater to the City for $300,000, a sum that would be recouped under a plan to sell the property to a Ted Jones Ford auto dealership. By October 1995, the Buena Park theater was closed down and boarded up, for good this time. It was torn down in December.
Donna Bagley, who'd sued the Buena Park Pussycat in the early '70s, was 83 years old when she saw it finally torn down. She'd organized FORCE – Friends Of Respectable Clean Entertainment – in 1972. The group of around 30 local residents shrunk the following year, after Walnut sued her and the City for two million dollars, for interfering with its operations. Those who remained on point to protest the theater called themselves Mrs. Bagley's Night Riders. The Walnut suit was eventually settled out of court. Buena Park cop Lt. Jim Schoales recalled all the times he had to enter the theater and view the films, in order to gauge which were "obscene" and fill out reports to judges being asked to authorize legal actions against Walnut. "I probably saw those films
[Deep Throat and Devil in Miss Jones]
at least 50 times," he told the
O.C. Register
(12-4-95). "I do remember the first time the District Attorney's Office and the judge's office saw the [Throat] film. They were shocked. It was the first time outside of some smoke-filled bachelor party that they had ever seen a film showing full, graphic sex."
Buena Park Theater manager Edward Bailey grew so tired of police taking his
Deep Throat
prints, he locked one copy in an office safe. Cops simply brought in a safecracker, while Municipal Court Judge John Smith stood outside the theater, on the sidewalk, and signed three search-and-seizure orders. During the peak of the theater's legal problems, Vince Miranda had joked that the Buena Park police department had more
Deep Throat
prints than the film's own national distributor. The destruction of the town's long embattled Pussycat truly marked the end of an era, for both Walnut and Buena Park, though at the time neither was looking back at the theater's reign with any degree of fondness.
A few months later, Greg Vasic of the F Street Bookstore announced his hopes to build an adult bookstore in Buena Park........... He's lucky he wasn't tarred and feathered and run out of town on a rusty rail. Walnut's bankruptcy cases were discharged/dismissed in February 1996. Shortly thereafter, the company was hit by the IRS with a $182,294 tax lien, but the company tried to keep at least a few plates spinning.
The Santa Monica Pussycat
at 1442 Second Street was once known as
the Hitching Post Theater.
It became a Pussycat in late 1970, the thirteenth 'Cathouse in the chain. In late summer 1995, this Pussycat briefly stopped showing X-rated movies, when Beverly Hills chiropractor Dr. Shahin Ravery took a short lease on the property and renamed it the Asia Theater. The locale screened foreign language Iranian films for just over a month. However, Ravery told the
L.A. Times
(9-19-95) he had to close, due to equipment problems and "foul smells" – the theater reopened as a Pussycat in early September 1995. City officials cried their own "foul," complaining that the brief diversion into non-X meant the Pussycat was now a "new" business at the locale, and thus no longer exempt from a 1981 ordinance banning adult movie theaters in Santa Monica. This tactic failed, however, and the theater remained an X-house until 1997, the last remaining X-rated house in Santa Monica. In late 1997, the locale was purchased by a Santa Monica real estate company, for around $1.5 million. When the company announced their intention to convert the space into an office building, Santa Monica Councilman Ken Genser told the
L.A. Times
(8-97) "Many people have been turned off by the theater's marquee and posters…we're hoping this will fit into the overall scheme of downtown improvement."
 It was one of Walnut's last two Pussycats in the L.A. region – only the Sunset Pussycat ran longer. The building was torn down in 2000, and eventually replaced with an Italian restaurant (as seen in this photo at left, posted by Ken MC at
www.cinematreasures.org
).
The theater housing the SECOND Pussycat in the chain - the Sunset 'Cat, opened in 1966 – was sold by Walnut in the late '90s. The new operators kept the two oval Ms. Pussycat signs out front until the locale was closed for good in late 2003.
(Sunset 'Cat during final months in 2003)
The Canoga Park Pussycat
at 21622 Sherman Way fairly thrived, until the 1994 Northridge earthquake anyway. This made it one of three different California Pussycats to be shuttered by earth tremors. It was torn down.
In early 1996, the new theater on the old Pussycat lot in Canoga Park was re-christened
the Madrid Theater,
a 499-seat live drama facility. "[The Madrid] will bring quality entertainment and revitalize the Canoga Park business district," said City Councilwoman Laura Chick.
The Oakland Pussycat Theatre
at 5110 Telegraph Avenue (51st Street and Telegraph Avenue), opened in 1914. It was originally known as the
L.D. Purdy Theatre,
and then
the Claremont Theatre.
It became
the Tower Theatre
in 1939 and was run by the Fox chain. For awhile, it was an art and foreign film house, until the Mann Theater chain took it over in the '70s.
Walnut transformed the 600-seater into a Pussycat in the mid-'70s, taking "Tower" off the marquee and installing Pussycat signage on all three sides. It reopened as a Pussycat on New Year's Day 1976 with a double bill of
Sensations
and
Seduction of Lynn Carter,
starring future disco star Andrea True.
(Miranda at opening of SF 'Cat)
In the late '80s, the Oakland/Tower Pussycat was in danger of being closed permanently, mainly over structural issues rather than from civic interference. After the Loma Prieta earthquake in October 1989, this last surviving Pussycat in San Francisco looked like it was going to remain shut down for good. To reopen and operate the Tower, Walnut tried to recruit the aforementioned Terry Wiggins, whose company was in the process of leasing and operating San Diego theaters like the Casino, Aztec, the Star in Oceanside, the Pussycat/Ritz in Hollywood, and others (most of which he transformed from Pussycats to general release houses). "They wanted Terry to reopen the Tower under the Star-Crest name," recalls Dan Whitehead. "We went up there, looked it over, and Terry refused to operate it. Told 'em the best thing they could do with it was turn it into a parking lot. Mr. Tate and Ted Morris were not at all happy, but it never did open again. I'd delivered the Sony projector, which is what we were using at the end of Walnut. We left it there, and it got ripped off."
The locked up Tower theater was sold to Howard Haller of Beverly Hills, who planned to reopen it as a bookstore. In January 1998, however, the Oakland theater caught fire and its interior was gutted. Fire investigators speculated that homeless transients had sought shelter in the building and accidentally started the blaze. The city of Oakland tore it down in December 1998, leaving the locale as a rotting empty lot for years.
A few years later, in May 2000, Temescal resident Jeff Norman mounted an art exhibition on the still-empty Telegraph Avenue lot, "Beyond the Pussycat: Nine Lives of a Neighborhood Landmark." The multipaneled installation traced the history of the property, including video interviews with the Pussycat's former manager, Bob McEwing of Alameda, who said that – back in the day - Vince Miranda had kept the theater so clean and well-lit, it was almost "puritanical." On the final day of the Telegraph Avenue exhibit, Norman used a portable screen to show a Buster Keaton film that had been exhibited in the theater -- then called the Tower -- in 1924.
In 1998, Jonathan Cota and Barry Hartsfield (Tate's one-time estate conservator) -- as the Tate Group, Inc. -- tried launching a hot-dog chain called
Red's,
with their first locale on the corner of Hollywood and Western in L.A. Patterned after Tinseltown hot-dog hotspot Pink's. Despite novel Route 66-inspired signage, Red's failed to take off. Later in 1998, Walnut borrowed $341,000 against mortgages in San Diego. The following year, it borrowed another $120,000 in San Luis Obispo and took out a $350,000 mortgage loan in L.A. In March 1999, the company renewed its bankruptcy application, with the process finally completed in December 2001.
In
National City,
Walnut had withdrawn from managing
the Paris Pussycat
in the mid-'80s. Former
Aztec Theater
owner Wesley "Andy" Andrews leased the 500-seat property from Walnut and kept it open under the Pussycat name until the late '90s, after all but the last few California 'Cats had closed. National City purchased the property (which included an adjacent furniture store also owned by Walnut) for $1,066,000. The theater by itself was valued at around $336,000, according to county tax records. "I guess you can call it progress," Wesley Andrews told the
San Diego Union Tribune
(8-4-98). "I don't know that there's anyway to fight it." Mayor George Waters padlocked the National City Pussycat for good in July 1999. According to the
Star News
(7-17-99), Vice Mayor Ron Morrison found an old 1971 reel in the projection room, from a Walt Disney film rather than a porno. "It was probably used in case of a raid," he reportedly quipped. The National City Pussycat sat abandoned and ignored for awhile, like so many other formerly thriving X-houses all across the country. The building was later bulldozed to make way for an intended student-resource center dubbed the University Education Village.
On September 23rd, 1999, longtime Walnut attorney
Stanley Fleishman
died at Cedars-Sinai Medical Center, of pneumonia and complications from surgery to remove a benign tumor. His daughter Bette told reporters the 79 year-old died in his sleep. Fleishman, though physically handicapped from a childhood bout with Polio, had forged a stellar career as a First Amendment advocate and civil liberties lawyer. He was one of the first attorneys ever to argue an obscenity case before the U.S. Supreme Court in the late 1950s – in later years, he frequently pleading cases for Walnut and others from the steps of the Capitol in Washington, DC.
Around a dozen of his free speech cases reached the U.S. Supreme Court, including his defense of eventual porn kingpin
Reuben Sturman,
who'd been sentenced to 25 years hard labor for distributing an all-text dirty booklet called
Sex Life of a Cop
(see Reader feature
"Battle of the Peeps: Confessions of a Local Pornographer"
for the comprehensive and hitherto untold scoop on Sturman's hold over local peep show operators). Fleishman had also been the "staff lawyer" for porn paperback publishers Greenleaf, and for Miranda's friend Earl Kemp, whose movie
Adultery for Fun and Profit
was a California Pussycat staple, rumored to have been partly financed by Walnut Properties. He was later involved in constitutional law and civil rights for the disabled. In 2001, around $15 million in Walnut assets all over the state (mostly properties) went to litigants
Charles Perez and Kathy and Michel Harouche,
in a "trustee's deed" covering various judgments obtained against Walnut. A woman named
Brenda Farley
also won a lot of judgments against Walnut, apparently relating to outstanding payment due, as well as money she'd loaned the company. "Brenda Farley was married to a German guy named Hans," recalls Walnut projectionist Dan Whitehead. "She owned a construction company for him, and Hans was applying to be a legal citizen. They did a lot of work for Walnut, but then there was some sort of flap about a check for a lot of money to repair the elevator at the St. James Hotel disappearing. It seems to me that it was about $15,000, give or take, so there was a big falling out between them and Walnut." Walnut (Jonathan T. Cota, president) tried to save the company's former
headquarters at 5445 West Sunset Boulevard
in July 2001, by transferring ownership of its second floor from Walnut Incorporated to the George Tate Living Trust. The entire property ended up being transferred in April 2002 to TK Theaters, Incorporated, in lieu of a $1,110,000 debt.
In 2001, Cota lost control of the the flagship West Hollywood Pussycat at 7734 Santa Monica Boulevard – aka
the Monica 'Cat,
where
Deep Throat
had screened for years - to Santa Monica-based development firm Calstar Arvada, which for a time converted the theater space into offices. Or at least, it SEEMED Cota had lost the property. However...
Low-budget film legend
Roger Corman
lent Cota a hand in September '01. Corman brokered a deal with Calstar Arvada to purchase the entire 17,000-square-foot office building on 2nd Street between Broadway and Colorado Avenue, for $6 million dollars, on behalf of an undisclosed limited-liability company. Though the property's actual buyer was also unnamed by brokers Christopher Houge and Evan Meyer of Insignia/ESG, the locale soon reopened as an X-rated theater, being operated by none other than
Jonathan T. Cota,
of the indefatigable, unsinkable, incredible shrinking Walnut. Apparently, Cota's Walnut wagons had circled so tight, there was only one wagon left.
Original Pussycat co-founder
Dan Sonney
– who lensed some of the first sexploitation films in the U.S. – died March 3rd, 2002. His family had been in the movie biz since 1919, when Sheriff Louis Sonney arrested a train robber and used the reward money to make a movie about it,
the Smiling Train Bandit.
Sonney shot sexploitation films for nearly 40 years. His evocative titles include
A Virgin in Hollywood
(1948),
Knockers Up
(1963),
My Tale is Hot
(1964),
The Notorious Daughter of Fanny Hill
(1968),
Trader Hornee
(1970), and
Love Moods,
and early nudie cutie created with one-time filmmaking partner David Friedman, his Pussycat Theater co-founder. He often produced films under the name Semore Tokus. The 86 year old writer/producer/director died of heart failure at age 86. In December 2002, Walnut lost a judgment of $2,643,333.00 to Ralph and Nancy McLaughlin in Porterville, CA, over unpaid rent and damages relating to a property Walnut had kept tied up for a proposed multiscreen theater since 1992, through Tate's death and the multiple bankruptcy filings.
Jonathan Cota threatened to file a lawsuit against pop performers
the Pussycat Dolls
in 2004, for infringing on the trademark he claimed to own on the Pussycat Theatre logo. Not that the Dolls were using a similar logo, but Cota claimed their name traded on his own "well-known, world-famous mark."
The suit appears not to have been pursued, after the U.S. Patent Office declared the Pussycat trademark to be "abandoned." "Cota was a vain and shallow person," says Dan Whitehead. "One time, he showed up at the Strand with Tate and Ted Morris in the limo. I was up on a scaffold relamping those ceiling fixtures. I climbed down and said to Cota 'Hey, they must be working you real hard, huh?' He asked why I said that, to which I replied 'Because you look so tired and worn out.' It bothered him so bad that he got back in the limo and laid down on the back seat. Naughty, naughty me. I did things like that every chance I got. When Mr. Miranda was still alive, there was absolutely nothing Cota could do." Walnut Properties was still being divvied up in tax sell-offs in 2006, when the city of Baldwin Park obtained a Walnut property at 4024 East Pacific Avenue for $20,355 (assessed value $107,374).
Deep Throat
star
Linda Boreman
(aka
Lovelace
) maintained for many years that "When you watch
Deep Throat
, you are watching me being raped." Below letter from Linda dated 1986 restates the claim yet again ----
Then, she surprised everyone by posing for a nude spread in
Leg Show
magazine.
After an accident, Linda died April 22, 2002, at the age of 53. According to the documentary film
Inside Deep Throat,
Linda watched the movie for the first time in many years, shortly before she died, commenting that "I wonder why everyone made such a big deal out of it?"
Deep Throat
director
Gerard Damiano
died in October 2008.
Marilyn Chambers
died in April 2009.
 (Latterday Throat memorabilia, including promo items from the documentary film Inside Deep Throat, a comic book, DVD of the ill-fated softcore sequel, and ad for a recent "rock opera" stage production)
As oif 2009, the
'Monica Cat
Pussycat Theatre on Santa Monica Boulevard in L.A. is still open and being run by Jonathan T. Cota.
The chain's former flagship house switched to gay porn, as the name was changed to the Tomkat...
 
...and then the name was changed to Studs.
 The original Pussycat sign has been reinstalled, somewhat defaced to now read "Studs." According to David, "Cota wasn't using the old oval at all, the plexiglass had been reversed and left up there to rot for years. I wrote and spoke to him about getting the sign, to renovate and keep it for myself. Three weeks after my inquiry, the old marquee was back up."
 
Cota -- whose voice is on the theater's answering machine -- has not responded to interview requests.
 
Not long ago, Cota launched a website, www.pussycatoriginal.com. "He's trying to sell product with a b-stardized version of the Pussycat logo," says Tim David of the slightly altered catwoman design gracing various T-shirts and mugs on the site.
It would seem an ignoble final chapter, for an outlaw dynasty that had once infused at least a patina of respectability - and a plethora of glitzy showbiz pizzazz - to a lowly popart form widely considered by even its aficionados and defenders as down and dirty. 'Pending your take on what constitutes "dirty," anyway -
In late 2009, David stumbled across news regarding Vince Miranda's half-brother – and David's biological father – Robert Mattias. "Other than a brief encounter in the '80s, I have never seen Bobby," emails David. "To be honest, I really could not have picked him out on the street. So I have always been curious of what this evasive man looks like......anyway, I have located a recent pic [below]."
"He was awarded the Vending Distributor of the Year award, and this photo was attached to the article written about it. I am totally amazed at how much we look alike." As of summer 2010, California's last surviving Pussycat is operating multiple screens, gay and straight. Admission basically includes unlimited time inside the "historic" theater, which serves coffee and hot dogs among other snacks. Sex-orientated websites indicate the locale has again become a popular place to engage in public sex, both heterosexual and homosexual. Sunday nights are said to be particularly well attended….
 
We'll give the last word (for now) to Tim David: "You know, I have a six-inch-square version of the Pussycat logo tattooed on my shoulder. The name Miranda is on my calf as well."
 
"I guess it's my way of remembering Vince."
********************************************
THE CALIFORNIA 'CAT HOUSES
--- listed more or less in the order in which they opened as Pussycats. Dates reflect their X-rated Pussycat incarnations. It should be noted that Walnut still ran many of these locales before and/or after their 'Cathouse days, with some theaters going back and forth between adult and mainstream fare at various times. A few were leased to non-Walnut operators, but maintained Pussycat signage (such as the National City and Sunset 'Cats in their final years), while some others were leased FROM non-Walnut owners. 1st – LA Hill Street 'Cat (formerly Bards Hill Street and the Town Theatre), 444 South Hill at 5th, Los Angeles - open March 1966 to 1985 2nd - Sunset, 1508 North Western Avenue (Sunset Blvd at Western), Los Angeles (as of around 1970, Walnut's office would be located nearby at 5445 West Sunset) – open 1966 to late '90s 3rd - Lyric, 7208 Pacific Blvd, Huntington Park – open 1966 to ? (ads show until at least 1977) 4th – Park Pussycat (formerly the Canoga and Park Theatre) - 21622 Sherman Way, Canoga Park – open 1967 to 1994 (already showing nudie cuties in 1966) 5th – Movie (formerly the Star Theater), 345 East Ocean Blvd, Long Beach – open 1967 to ? (ads show until at least 1977) 6th – Garden (formerly New Grand and United Theater), 305 East Lincoln Avenue, Anaheim – open 1967 to 1983 (demolished in 1983) 7th – Torrance Pussycat (formerly the Stadium Theatre), 1653 Cravens, Torrance – open 1967 to 1991 8th - Paris Pussycat (formerly the Bush, National, and Aboline Theater), 930 National City Blvd, National City – open 1967 to July 1999 (Walnut had been leasing it out since the mid-'80s, with Pussycat remaining on the marquee) 9th - Pussycat San Diego, 4th Avenue at F Street, San Diego – open 1968 through 1981 10th - Monica Cat, 7734 Santa Monica Blvd, West Hollywood (first Pussycat after Miranda/Tate/Walnut bought 50 percent of the chain – all subsequent openings spearheaded by Walnut rather than Friedman/Sonney) - open February 1970 11 - San Jose Cat 1 (formerly the Camera Theatre), 366 South First Street, San Jose – open 1970 to 1975 12 - Buena Cat (formerly the Valuskis and the Grand Theater), 6177 Beach Boulevard, Buena Park, open early 1970 to 1994 13 - Santa Monica Pussycat (formerly the Hitching Post Theatre), 1442 2nd Street, Santa Monica – open late 1970 to February 1998 14 – San Francisco Grand, 2665 Mission, San Francisco - 1969 to 1970 (short term) 15 - Oakland Regent Cat, (formerly the Newsreel, Peerlex, Imperial, and Regent Theatre), 1118 Broadway, Oakland – open 1972 (though earlier screening nudie films as the Art Cinema) to 1986 16 - Ventura Cat (formerly the Mayfair Theatre), 793 East Santa Clara Street, Ventura – open 1972 to 1989 17 – Ritz Pussycat San Bernardino (formerly the Ritz Theater), 423 North E Street, San Bernardino – open 1972 to 1973, then general features before becoming a Pussycat again from late 1974 through the early '80s 18 - Eagle Pussycat (formerly the Yosemite and Eagle Theatre), 4884 Eagle Rock Boulevard, Eagle Rock – open 1972 through 1979 (though went back and forth between X and mainstream) 19 - El Cajon, 330 West Main Street, El Cajon – open 1972 to August 1989 20 - SF Guild Cat (formerly the Studio and Egyptian Theatre), 1069 Market Street, San Francisco – open late 1972 to 1987 (though showing nudie cuties and adult "arthouse" movies as early as 1968) 21 - Sacramento Cat 1 (formerly the Studio, the Plaza, and possibly the Encore Theatre), 1227 K Street, Sacramento – open 1972 through late '70s/early '80s (not to be confused with Sacramento 2/World Theater or the North Highlands 'Cathouse) 22 – Sacramento Cat 2 (formerly the Plaza, Roxie, and World Theater), 912 9th Street, Sacramento – open 1972 to 1973 23 - Fontana Pussycat (formerly the Arrow Theatre), 16779 Arrow Blvd, Fontana – open 1972 to 1979 24 - Escondido Pussycat (formerly the Ritz Theatre), 309 East Grand Ave, Escondido – open 1972 to 1976 (manager arrested over throat in 73) 25 - San Jose Cat 2 (formerly the Gay Theatre), 400 South First Street, San Jose – open 1973 (busted for Throat) to 1988 or 1989 26 - Hollywood Cat (formerly News View Tele-View Newsreel Theatre and the Ritz), 6656 Hollywood Blvd, Los Angeles – open 1973 to 1988/89 27 - SF Centre, next door to Guild, San Francisco – open 1973 to 1987 28 - Balboa (formerly the Ritz), 705 East Balboa Ave, Newport Beach – opened 1974, screened porn until late 1976 but operated by Walnut until 1979 29 - North Highlands Coronet Cat (formerly the Coronet Theatre), 4949 Watt Ave, North Highlands, Sacramento (northern Pussycat regional manager headquarters) – open 1975 to mid-'90s (continued to screen X long after Pussycat) 30 - Orcutt Cinema Cat, 1155 East Clark Avenue, Orcutt – open mid-'70s to 1981 31 - Inglewood Cat (formerly the Cine Theatre), 226 South Market Street, Inglewood – open 1975 to mid-'80s 32 - Guild North Hollywood, 5161 Lankershim Boulevard, North Hollywood, opened 1976 to 1983 33 – Lankershim North Hollywood, 7532 Lankershim Boulevard, North Hollywood – opened early 1977 to mid-1977 34 - Oakland Cat (previously the L.D. Purdy, Claremont, and Tower Theatre), 5110 Telegraph Avenue, Oakland – open January 1976 to October 1989 35 - Concord Cat (formerly the Enean and Concord Showcase Theatre), 1965 Colfax Street, Concord – open 1976 (already screening X at the time) to 1983 (purchased by Mitchell Brothers) 36 - Whittier Pussycat (formerly the Wardman Theatre), 7038 South Greenleaf Avenue, Whittier – open 1977 to 1987 37 - Lakewood Pussycat (Lakewood Theatre), Carson Street (later 4501 Lakewood Boulevard), Long Beach – open 1977 (two screens in mid-80s, one all-age and the other adult) to at least 1987 38 - Fox Riverside Cat (formerly the Fox, Fox West Coast, and Riverside Theatre), 3801 7th Street (later renamed Mission Inn Avenue), Riverside – side theater called Lido run as a Pussycat, open mid-1976 to ? (1986?) 39 - Roxy Cat, 320-C South Kellog Way, Goleta – open late '70s to mid-'80s 40 - Oceanside Towne Theater (short term), Oceanside – open late '70s to early 80s 41 - Pasadena State Cat (formerly the Florence and State Theatre), 770 E. Colorado Boulevard, Pasadena – open from 1984 to 1989 42 - Stockton Bijou Cat (formerly the Fox(?) Bijou Theatre), 157 West Adams Street, Stockton – open 1982 (though showing X since 1974) to 1993 43 - San Luis Obispo Cat, San Luis Obispo (formerly the Log Cabin Theater) – only open as a 'Cat for brief periods from early '80s to mid-'80s 44 - Fresno Cat (also known as Venus Adult Theater), 56 North Van Ness Ave, Fresno – open '80s to '90s 45 - Towne Cat, 1433 The Alameda, San Jose - X-rated from 1971 – 1984 (but only part of the Pussycat chain for a short period) 46 - California Theater Pussycat (formerly Miller's California Theatre), 810 South Main Street, Los Angeles – open 1985 to 1988 47 - Oceanside Star Theater, 402 North Coast Highway, Oceanside - open as a Pussycat 1988 to April 1989 48 - Oceanside Palomar Theater, 314 N. Coast Highway, Oceanside (short term) 49 - Oaks Drive-In, Paso Robles – open late '70s to early '80s (showed porn in the winter, sometimes advertised as a Pussycat) 50 - Plaza Cat, 323 Horton Plaza, San Diego (short term 70s) 51 - Aztec Cat, 665 5th Avenue, San Diego (short term early '80s) 52 - Casino Cat, 643 – 647 5th Avenue, San Diego (short term early '80s, spent most of 1983 as a 'Cat) 53 - Bijou Cat (aka Cinema X), 5th Avenue, San Diego (short term '80s) 54 - Off Broadway/Cabaret/Lyceum (formerly the Hollywood Burlesque Theater), 316 – 316 F Street (Third and F), San Diego (short term off and on circa 1976 through 1983, sometimes also carrying the same Cinema X signage seen at the Bijou on 5th) ********************************************
VINCE MIRANDA, DEEP THROAT, AND THE MAFIA
Deep Throat
director Gerard Damiano was once asked why he sold his stake in
Throat
to men with reputed Mafia connections. He replied "Do you want me to get my legs broken?" There have long been rumors about the Mob controlling all
Deep Throat
screenings for a number of years, taking a huge cut of the proceeds but offering chosen theaters a lot more than mere exclusivity (ie "protection," from both rivals and city officials).
So how did Vincent Miranda land a seeming exclusivity to
Deep Throat
in California? The Pussycats weren't "connected." At least it doesn't appear so. Although……… One-time El Centro theater operator Steven Lane posted an essay at
http://losangeles.broowaha.com/article.php?id=1363
, which mentions Miranda and infers some sort of conspiratorial network controlling his access and proceeds RE screening
Deep Throat
. I shared his quotes with Walnut insiders, who disputed much of Lane's account. However, the guy was in the theater biz with Miranda, and he has a few things to say about his experience in the Throat/Walnut clan that bear listening to with an open mind ----- In 1973, Lane operated the Crest and the Fox theaters, in downtown El Centro, as well as a theater in the nearby town of Brawley. "So one day, I was having lunch with my friend Vince Miranda, close to his office on Western Avenue [Hollywood]. Vince and I were both involved in a 'charity' that we each held near and dear, The Variety Club International…Vince was a real character, but a true gentleman."
"At the time of our lunch, the phenom porn flick
Deep Throat
had just opened in some theatres across the U.S. and Vince was telling me how he had grossed over $100,000 in one theatre in Hollywood, in a week. That was an astounding figure for any theatre, much less a porno palace." "I wanted 'in,' a phone call was made, and a few days later a brown paper bag with $10,000 in greenbacks was given to a certain 'gentleman' at a coffee shop in Hollywood. The terms of the proposed 'engagement' were laid out very clearly." The gentleman reportedly told Lane "Yoouse, get one print of the film. The $10,000 is a deposit against 50% of whatever yoouse gross in your theatre in El Centro. One of our 'associates' will be at the front door 'helping' you count the patrons as they enter…If the cops grab the print, it costs ya $2500 to get a new one, if the cops throw you in jail and take the print, it's on yoouse....once you have earned the guaranteed deposit, you pay our 'associate' 50 cents on the dollar every night." Lane prepared to open
Deep Throat
in downtown El Centro a week later. With only around 36 hours until the screening, he says the town's police called him with this message: "Steve, I just want you to know, that if you attempt to show that trash in our city, you and your manager will be arrested within five minutes of the start of the film. We will seize the film and you WILL spend, at the very least, the weekend in jail. I have in my hand, a warrant executed by the county judge---Plain and simple, that is what is going to happen." This put Lane in the position of either losing his $10,000 deposit and $2,500 for the confiscated print, or going to jail, which could be far more expensive. He instead chose a third option – he moved Throat to another theater run by his company, in nearby Brawley.
"On Friday morning," he says, "we simply put
Deep Throat
on the theatre marquee and called the radio station to let them spread the news." Despite some ambiguous threats from Brawley city officials, according to Lane, the screening went on as planned that Friday evening. "I personally drove the print down to Brawley so that if there was an arrest it wouldn't be an employee," says Lane. "I knew it was all good, when I got in range of KROP and heard the news announcer telling its listeners 'I am standing out in front of the Brawley Theatre, with two hours to show time and the line is already down to the Western Auto store.'" (A distance of about two blocks) "The film played for 5 weeks and, when we did the math later, we discovered that over five times the listed population of the city of Brawley had crossed the threshold into the forbidden land of porn."
Walnut projectionist Dan Whitehead has doubts that Miranda (or his partner Tate) ever worked directly with organized crime figures. "They both were too in love with money - Mr. Tate in particular - so I can't imagine them willingly sharing it with anybody. Of course, they may have had no choice. I just don't know, and am sure I never will." "When [future F Street Bookstore founder] Greg Vasic was the district manager for Walnut, he used to deliberately let people think there was a mafia connection. I don't know if it was either for some percieved 'prestige' on his part, or if it was to make people leave him alone." "That, also, I'll never know."
***********************************************
BONUS: More vintage porn theaters of the '70s thru '90s
 
***********************************************
NOTES FROM JAS
Many of the illustrations in above article are from my two books
Triple-X Cinema: A Cartoon History
and
Sexploitation Cinema: A Cartoon History.
For a long and detailed history of downtown San Diego's grindhouse row theaters in the '60s/'70s, and about the life of Vince Miranda, check out this Reader cover feature
Before It Was the Gaslamp: Balboa's Last Stand
---
http://www.sandiegoreader.com/weblogs/bands/2008/jul/23/before-it-was-the-gaslamp-now-with-50-more-content/
And if you're interested in a complete and comprehensive history of all the San Diego drive-in theaters thru the years, here's another Reader cover story,
Field of Screens
---
http://www.sandiegoreader.com/weblogs/bands/2008/aug/01/drive-in-theaters-in-san-diego-complete-illustrate/
Several of the old theater photos and some of the historical info about them come courtesy
www.cinematreasures.org
, one of the finest and most comprehensive websites for movie theater lovers. Many of the vintage San Diego movie ads come courtesy of
www.myspace.com/sandiegocinerama
. For a detailed - and fascinating! - history of the Off Broadway when it was still the Hollywood Burlesque, I direct you to an award winning article by local historian Jaye Furlonger, which includes photos of the venue, of vaudeville and burlesque cast members, and of owner Bob Johnson and family:
http://www.sandiegohistory.org/journal/v51-1/pdf/2005-1_hollywood.pdf 
************************************************
WHY THE PORN INDUSTRY DESERVES TO DIE - A BRIEF ESSAY BY JAS
Modern day porn movies are notorious for their ridiculous and idiotic titles. Looking at a porn star's list of film names would have been funny to me a few years ago - now, it's just sad and disturbing to realize that such low common-denominator basement-level trashiness serves as some lovely young lady's "resume." Looking at such a list makes me think the porn industry deserves the virtual death it's experiencing circa 2009 - There's nothing sexy or "outlaw" about today's porno movies - it's such a far cry from the early days of so-called porno chic, when patronizing a porn theater (let alone working in the porn industry) was a radical, brave, and even socio-political act. Perhaps '70s porn only achieved a PATINA of mainstream Hollywood respectability, but at least many of those filmmakers and performers ASPIRED for something more, for something elevated and outlaw and unseen in our then-repressive society. Some of them even succeeded. Now that the leash has been off all these years, all the pornsters aim for is pissing down the basement steps. The reason porn has become unprofitable isn't necessarily because of its free proliferation on the internet. The reason is because 99 percent of this hideous stuff really IS worthless, in every sense of the word. I pity the people still churning out this crap, and I fear for the dispositions of their souls if they don't knock it off, whether by choice, inspiration, circumstance, luck, or by being forced to quit by the continuing collapse of the porn industry and an ability to make money at it - I still have fond memories of the original wave of porn theaters and films, and I marvel at photos and recollections of the Times Square Pussycat era - entire city blocks full of flesh palaces, with giant marquees touting sex, sex, and more sex. It was a necessary and utterly exciting time and manner in which to throw off so many societal shackles. But we have (hopefully) moved on and far past all that - the porn wars were won way back when Nixon failed to federalize a national obliteration of porn. Now, the porn industry SHOULD be relegated to the relevance of ancient Rome's vomitoriums, or blacksmith shops, or milkmen, Fuller brush door-to-door salesmen, and so many other once worthy and necessary endeavors that are now useless (or even dangerous) in our modern society. Since everybody has a camera in their phones now, and anyone can upload to the net, let them film themselves having sex and load up YouPorn or Pornhub or Pornotube or any of the other half million free porn sites, and we can all watch each other screwing if we want to. For free. No "industry," no "porn stars." If you think about it, that should have been the aim of porn all along - giving sexual freedom (and the freedom to watch sex) back to the people. To everyone. Not just to 60s hipsters with film projectors in their basements, or 70s adventurers lucky enough like me to stumble thru ShowWorld in Time Square, or to the first early 80s VCR fans whose demand launched the video age (driven, of course, by porn). The internet has achieved this leveling of the playing field. Now it's time to retire everyone's number - Damiano, Chambers, Lovelace, and my old boss Vince Miranda are dead. The porn industry is almost dead. But sex will always be #1 on the hit parade, as it was long before porno films and as it will be long after people finally refuse to pay salaries to dimwits and lowlifes and creatively bankrupt misogynists doing what all people do anyway - have sex. The sexual revolution has been won, or at least nearly so (the final battle probably being over gay marriage). Sex can finally go back to being just that - sex. Not porn. Film it if you want, watch the film if you prefer, but building an industry or a career around just cinematic/videographic sex? Give mercenary sex-for-cash back to the prostitutes and pimps who can no longer delude themselves into adopting alterna-titles like "porn stars" and "movie directors." Sex will always sell, but porn - which is at best a mere funhouse reflection of sex - deserves to go the way of the vomitorium (and don't even get me started about the many similarities between those two outdated, useless, and ultimately unhealthy institutions) ---- JAS 6-28-09 ***********************************************
RELATED BLOG ENTRIES:
"Before It Was The Gaslamp: Balboa's Last Stand" - Cover story 6-21-07: In the late 70s/early 80s, I worked at downtown San Diego's grindhouse all-night movie theaters, for the owner of the Pussycat Theatre chain, Vince Miranda - this detailed feature recalls those dayz, the death of the Balboa Theatre, etc.
http://www.sandiegoreader.com/weblogs/bands/2008/jul/23/before-it-was-the-gaslamp-now-with-50-more-content/
 
"Battle Of The Peeps" - feature article about a weird gig I had in the mid-'80s, running a strip club called Jolar, for the nation's second biggest pornographer, Harry Mohney (Deja Vu Showgirls founder).
http://www.sandiegoreader.com/weblogs/bands/2008/oct/23/battle-of-the-peeps---an-insider-history-of-san-di/
"Field Of Screens" - Cover story 7-6-06: Complete theater-by-theater history of San Diego drive-ins thru the years, including a few which screened X-rated fare for awhile.
http://www.sandiegoreader.com/weblogs/bands/2008/aug/01/drive-in-theaters-in-san-diego-complete-illustrate/
************************************************ ************************************************
Like this blog? Here are some related links:
OVERHEARD IN SAN DIEGO - Several years' worth of this comic strip, which debuted in the Reader in 1996: http://www.sandiegoreader.com/photos/galleries/overheard-san-diego/
FAMOUS FORMER NEIGHBORS - Over 100 comic strips online, with mini-bios of famous San Diegans: http://www.sandiegoreader.com/photos/galleries/famous-former-neighbors/
SAN DIEGO READER MUSIC MySpace page: http://www.myspace.com/sandiegoreadermusic
JAY ALLEN SANFORD MySpace page: http://www.myspace.com/jayallensanford