Lake Murray Reservoir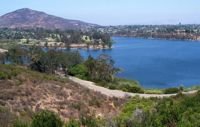 Lake Murray Reservoir offers shore-fishing, boat-fishing, and duck-feeding fun galore. Visitors can rent boats or kayaks (first come, first served) and purchase fishing permits or bait in the concessions office. A 3.2-mile paved path around the reservoir provides joggers, walkers, and bicyclists a 6.4-mile out-and-back from the path's start to the dam gate. Or bring picnic goodies and take advantage of the ten barbecues and 64 picnic tables around the lake.
Upcoming Events
Tuesday, November 20, 9:00 a.m.
Every Sunday
Related Links