The Day Bob Dylan Called Me, Wild Man Fischer Interview, and My Best, Worst, and Fave Celeb Encounters
Dylan, Pee Wee Herman, Wild Man Fischer & more
The Good, Bad and Ugly Interviews ---------
Contents:
1 - The Day Bob Dylan Called Me (?!)
2 - My Worst Interviews: How NOT To Interview A Celeb
3 - Corky Laing interview
4 - Edgar Winter interview
5 - Joey Molland Interview: Badfinger Meets John Lennon, George Harrison & Todd Rundgren
6 - An Interview With Wild Man Fischer
---
---
A PHONE CALL FROM BOB DYLAN (??)
This happened to me 2/12/01 -----------------
"Is this the number where ahh kin reach Mr. Jay Allen Sanford?" asked the man on the phone with the twangy voice.
Assuming the caller on my company's 800 line was ordering Rock 'N' Roll Comics back issues, I had pen in hand and an order form ready to fill out. "I'm Jay. Can I help you?"
"Well hahh," said the caller, "Ahh'm Bob Dylan, an' I was hopin' I'd be able to talk to ya."
I smiled, admiring the passable impression and writing "Bob Dylan, ha ha" atop the order form. "Hey yourself, Mr. Dylan. To what do I owe this pleasure?"
"You kin call me Bobby," he replied. Yeah, right, like Dylan would say that. And how hard can it be to drawl out words and end sentences in an upward register that emulates Dylan's laconic voice?
But I wondered, of all pranks to play, why this one? And why on me? "Ahh just finished reading the comic books you did about me. Ahh hardly ever read stuff like that all the way through, ahh jes' skim over 'em, but ahh gotta tell ya, ya got a lot of yer facts right on, lot more than I woulda thought. Y'know ahh've always liked comic books an' all so what a great idea. Art wasn't so great though. Didn't look much like me."
Still positive I was being clowned, and waiting for the punchline, I mentioned that he and I have – or rather had - a mutual friend. Rick Danko, former bassist and violin player for Dylan protégés the Band, had been married to the sister of my editor at Soundwaves magazine, an east coast entertainment rag I write for. Having met through Soundwaves, Danko and I occasionally got together and corresponded, plus he'd sometimes request feedback regarding audio tapes he'd send me with songs from projects of his which rarely seemed to go anywhere.
"Oh yeah, shame the way Ricky wore hisself out like that. His old lady [mentioning Danko's wife by name] must feel purty shot down, having to deal with all that." I think that's what he said. Or maybe he said "partly shat on" or "party shut down" or something else that apparently concerned Danko's 1999 death.
My attention was focused on the other part of his sentence, the part where he'd mentioned Danko's wife by name. Pretty obscure trivia for even a dedicated Dylanolgist to cough up, especially without advance knowledge of my own connection to Danko.
"Ya'd think he woulda learned, after what happened to Ritchie," he added, apparently referring to the 1986 suicide the Band's keyboardist and singer Richard Manuel. "But [long pause] that's how it goes when the party never ends." Or maybe he said something about a "ghost" and "parting ever friends" or "partner at the end"...my caller was kinda hard to understand.
Kinda like Dylan on his satellite radio show.
We talked briefly about Danko. "Last time I saw him was in Berlin," said the caller, "few years back, when he an' I were both doin' some shows...he was kinda messed up and really heavy, y'know, bigger than I'd ever seen." I was just fixing up the tape recorder I use for phone interviews when he asked "Are you tapin' this call or anythin'?"
"I'd like to start one up, if I have your permission," I said. I was actually entertaining the actual notion that I was actually talking to the actual Bob - er, that is, Bobby - Dylan.
"Nah, yer a reporter. Kinda, anyways. Yer the media so, nah, don't do that. I don't care if ya use something I say but, really, I'm not sayin' much." Which was true, and I could tell he was ready to wrap up our conversation. I mentioned that one of my favorite Dylan albums was the live Budhokan set, rather than a typical fan pick like "Blood On The Tracks" or "Nashville Skyline."
It almost sounded like he chuckled (does Dylan "chuckle"?!") before he replied "Yeah, not many folks ever say that, man, but I always liked that one too. Hey, one last thing - you guys make a lot of bread doing these comics?"
"None of us are rich," I said, "but it pays the rent, and sometimes we can afford a pizza at the end of the month."
"How'd mine sell compared to the ones ya did on the Beatles?"
"Yours did about the same numbers as the Beatles," I lied, caught by surprise. I was reluctant to lay a bummer on a guy who had just about convinced me, with his Beatles allusion and his naming of Danko's wife, that he was indeed who he said he was.
"That's pretty cool, then. Good luck, man," and the line was dead. I never got the chance to ask for a contact number or email address in order to send information and updates about the comic line…and, of course, to assist in confirming my caller's identity.
I quickly dialed the service provider for our 800 phone number and asked for the most recent origin number. As sometimes happens, the source information was blocked at the caller's request, with the exception of an area code - 518. Upstate New York.
The caller mentioned being at home...and doesn't Dylan still have a house up there in Woodstock?
---
MY WORST INTERVIEWS: HOW NOT TO INTERVIEW A CELEBRITY
I hear it all the time. "Wow, I wish I had your job - you get paid to have fun and hang out with famous people!"
What folks don't seem to understand is that 1) just cuz someone's famous, doesn't mean they're fun, and 2) the job of writing about celebrities is exactly that, a job. It's not "hanging out." We earn those nosebleed seats, preview passes, screener videos and stale backstage boccaburgers, baby, it's hard work getting publishable quotes outta your average creative type.
There's a mutual disdain and distrust between them, the "artists," and us, the press. They're tired of tabloid reporters and of fielding the same old ill-informed questions and we're tired of having to manufacture an interesting story from their self-serving PR spiel. Remember the scene in Cameron Crowe's "Almost Famous" where even neophyte bottomfeeders in the celebrity biosphere have already ascribed reporters "the enemy?"
Over the course of about twenty years writing biographies (some authorized by their subjects, others not) and scribbling for rags like the Reader, Starlog, FilmFax, Cult Movies, Rock 'N' Roll Comics and others, I've had plenty of celebrity interviews go horribly askew, caused by everything from stupidity (as often as not my own) to setting to circumstance to outright sabotage.
Worst beginning for an interview: "I know you, you're the ass---- who spelled my name wrong on the cover of your magazine." Roger McGuinn [4-29-91, the Bacchanal, Clairemont Mesa]. I'd written an article about the one-time Byrds guitarist for the now defunct Soundwaves magazine, which misspelled his name "McGwinn" on the cover. I pled innocent to having a part in the editorial snafu and McGuinn-with-a-U agreed to talk to me, but only if I could spell his last name aloud (I could and did) and answer a trivia question - "Name one song I wrote, and if you say a Dylan song I'm walking away" (my "Chestnut Mare" reply got me the interview).
(Me holding up Rick Danko)
Worst disappointment: There I was, backstage at a Bob Dylan concert [7-24-91], the lucky winner of a press pool draw. Not only that but I was accompanied by a musician friend of mine, Rick Danko, who'd once been a member of Dylan's former backing group the Band. Score! Danko promised to get me exclusive access to the reclusive Dylan, who was keeping to himself in a well-guarded enclave of trailers. Over the course of about an hour, a guy kept coming out from Dylan's trailer to tell us "He's almost ready for you two, just a few more minutes." During that same hour, Danko managed to ingest, imbibe, inhale or absorb various recreational substances of differing degrees of potency and consistency, from gasses to powders to liquids, to the point where he was leaning against me and holding onto my shoulders just to keep from falling over. An effort which eventually proved fruitless.
When the trailer guy finally came over to say Dylan was ready to visit with his old friend and his friend's reporter buddy, Danko was sound asleep and dead to the world, lying on the grass, his head propped up against a cement cinderblock. With only one of us ambulatory, I was refused admittance into the inner circle of trailers. Danko and I stayed friends for years after that but he always insisted that we DID go into the trailer and talk with Dylan, even bragging about getting me the interview and accusing me of ingratitude for not being more thankful, so vivid were his apparent hallucinations. I've often wondered if Rick also saw a Dylan concert in his head that night while somnambulant in Satori - if he did, I hope it was better than the half-assed show I caught over here on this side of the cosmic veil (after pouring Danko into the backseat of my editor's car for a night-long "nap"). I would have liked to have at least asked the renowned poet/jester "Dude, don't you remember the lyrics to your own songs anymore?!"
Worst locale for an interview: Tijuana bordello [1-8-94] - A few hours before the Mighty Mighty Bosstones were scheduled to play Iguanas in TJ, singer Dickey Barrett wanted to take a walk with me and find a good place to chat. We ended up at a Zona Norte whorehouse called the Chicago Club, where loud salsa music drowned out my taped interview. Most of the conversation ended up being with swarthy club prostitutes anyway, as the two of us took turns describing the most outrageous and deviant sex acts we could think of, asking each woman "So how much would that one cost me?""
Worst health hazard: After sitting for a lengthy interview [May 1990], Paul Reubens AKA Pee Wee Herman offered me a tour of his L.A. home, a memorabilia-stuffed museum full of vintage toys and advertising, 3-D cameras and Viewmasters and other pop culture kitsch. Opening a small plastic garbage can full of snot-thick green goo, he suddenly became playful and held the stuff over my head, giggling "Look out, the Green Slime is coming!" Goo dripped wetly from between his fingers and suddenly the viscous fluid went kerplop onto my skull.
Immediately apologetic, Reubens tried to assist pulling the gunk from my shoulder-length hair but it just got more matted-in. Then I felt a burning sensation and my eyes began watering as if exposed to ammonia - the green slime, I found out later, was nearly a decade old and the chemical breakdown was having decidedly unpleasant interaction with my scalp, hair and eyes. The photographer accompanying me whisked me to a hospital, where I was attended by a middle aged nurse who luckily remembered the alcohol-based concoction often called upon to treat green slime related mishaps of the early 80s. Reubens was still apologizing the next day when he phoned to make sure I'd lived to tell. He kindly picked up the tab for $975, which covered the cost of my hospital visit and of the hair stylist later called upon to "fix" those spots where slime-encrusted hair had been excised from my shaggy 'do. The resultant haircut can only be described as a cross between a mullet and a Banzai tree and my scalp still itches like hell anytime I see something both green and gooey ("Honey, how come you always pick your nose and scratch your head at the same time?")
Worst timing for an interview: Kurt Cobain, shortly before or possibly during a heroin overdose [5-2-93] - When I called the Seattle phone number given to me by Nirvana's publicist, I was expecting to reach Kurt Cobain, to discuss a proposed Nirvana comic book. The person who answered the phone spoke only a few words - "Yeah, what do you want?" - before lapsing into fits of giggles and then long silences. I hung up and dialed back but the line was busy all afternoon. The following day, I found out Cobain had overdosed on heroin the previous afternoon - no followup interview was ever arranged and the "official Nirvana comic book" never happened.
(Aja with her edition of Carnal Comics)
Worst dueling diva dilemma: While editing an adult oriented line of very-graphic novels called Carnal Comics, I was scheduled to meet in L.A., at different times on the same day, with Aja and Pamela Des Barres - the former a legendary porn star and the latter known as "the world's most famous groupie," whose book "I'm With The Band" famously detailed her liaisons with members of Led Zeppelin, the Who and dozens more. It was to be my decision which starlet would be featured in her own mass market comic book. First, there was lunch with lubricious Howard Stern Show fave Aja, during which I mentioned my upcoming meeting with Miss Des Barres. "My God," Aja grimaced, "how can that woman do what she does? I mean, ----ing guys just 'cause they play guitar? At least with me, it's my job, my profession. I'm great at what I do, I get paid well for it and then I go home feeling good about it all. She's nothing but a screwed up slut with delusions of grandeur!"
During dinner with Des Barres, I dropped Aja's name and said I'd met with her that afternoon. "What a filthy little thing," Des Barres frowned. "When I have sex with a guy, it's because there's something about him I'm already attracted to. I know and respect his music, I feel something from him and I want to share some of myself with him in return. That girl's nothing but a porn slut - hand her a few bucks and she'll do it with anybody. That's just plain nasty." Carnal Comics ended up publishing the Aja comic, which went into three additional printings, but passed on doing a comic version of Pamela Des Barres' "I'm With The Band."
Worst question that got the best answer: Asked of Joey Ramone 11-6-95, backstage at the Sports Arena: "So do giant mice still have to wear earplugs at your concerts to avoid exploding?" The obscure reference to a recurring gag in the film "Rock And Roll High School" elicited a chuckle and a quote much more sparkling than the query merited - "No, but the roaches do!"
Worst question ever, period: "When did you first realize you were a one-hit wonder?" Asked of Eric Denton [8-99] of the San Diego based Monroes , whose one and only hit record "What Do All The People Know" ("All the people tell me so, but what do all the people know.") came out in late 1981. Denton 's reply - "What kind of question is that? How am I supposed to answer? Nobody ever says to themselves 'I'm a one-hit wonder, my life and career, it's over.'"
Worst phone interview: Actress Traci Lords, former underage porn star and B-movie cult icon, was available for an interview, but only during my afternoon shift managing a music shop called Robert's. I gave her publicist the store number for Lords to call.
"Robert's, this is Jay, may I help you?"
"Uhhhhh, is Jay there?"
"This is Jay, can I help you?"
"I thought you said this was Robert."
"This IS Robert's. I'm Jay. What can I do for you?"
"Who's Robert?"
"You've reached Robert's. Can I help you?"
"Yes, can I speak to Jay?"
"This IS Jay. Who's calling?"
"You said you were Robert."
"No, I said this is Robert's. I'm Jay."
"That's who I'm looking for. Jay."
"I'm Jay. You're speaking to Jay."
"Okay. Then why were you pretending to be Robert? I'm so confused."
And indeed she was. Shortly after we figured out who each other was, Lords terminated the interview because I hadn't signed the faxed agreement forbidding me from asking questions about her adult film career. It was fun for a moment anyways, playing Abbott to her Costello (or Cheech to her Chong - "Dave's not here, man").
(Stan Lee not punching me)
Worst awkward meeting: Before I agreed to write the unauthorized biography of Marvel Comics figurehead Stan Lee, co-creator of Spider-Man and the Hulk, I should have thought about the fact that Lee and I would likely come across each other on the comic convention circuit, promoting our respective endeavors. My bio raised a lot of still-open questions about who really "created" Marvel's best known characters, scripter Lee or illustrators like Jack Kirby and Steve Ditko who dispute their former boss' recollections as to who deserves the most credit, not to mention compensation, the bulk of both having long since been claimed by Stan Lee. This revisionist look at the foundation of Marvel's eventual empire caused a lot of discussion and controversy in both the mainstream and comic industry trade press.
Sure enough, Lee and I ended up scheduled side by side, signing autographs at the San Diego Comic-Con. A small crowd gathered as I was introduced to him as the author of his unauthorized bio. Cameras flashed and onlookers seemed to be expecting (or at least hoping for) fisticuffs to erupt any moment, such was the public animosity the book had stirred. Lee reached out, shook my hand.and told me "I'm sorry." I was mystified. Why was HE apologizing to ME? Was he sorry to have met me? Sorry the bio exists? I asked what he meant - "I'm sorry," he said, "that I didn't lead a more interesting life, because perhaps then your book about me would have been more interesting." This gentlemanly way of telling me that he didn't think much of my work came accompanied with a diplomatic smile that stayed plastered coolly on his face the whole time we posed for photos together.
I'd come prepared with a copy of the bio in question, which I pulled from my briefcase and asked if he'd autograph. Hey, it's Stan "The Man" Lee, okay? And I figured if his hands were busy signing my unauthorized biography then he couldn't punch me in the head. He graciously did the deed (signing, not punching), we mugged for a few more snapshots with me holding up my prize and then we parted, never to cross paths again - other than the personalized letter of rejection I later got when I applied for job at his [since failed] internet company Stan Lee Media, signed "Tough luck, True Believer!"
Worst sabotaged introduction to a rock star: Meeting Doors guitarist Robbie Krieger [10-11-98], introduced by an unfriendly (to me, anyways) local promoter - "Robbie, this is the guy who wrote the Doors comic book you never got any money from."
Worst insult or threat from a rock star: Axl Rose [9-30-92 Jack Murphy Stadium] to publicist Tom Holtz, pointing at me - "If that mother------ steps over the line and comes on our side, I don't care who invited him, I'll smash his ------- face!" I was backstage as a guest of co-headliner Ice-T of Body Count, who was unaware of the bad blood between Rose and I stemming from a Gn'R comic book I'd written. Just a few months previously, in a cover feature for the April '92 issue of Rolling Stone, Rose had singled out my Rock 'N' Roll Comics #43 to badmouth - "A comic book says how Izzy comes to me and says 'you know, I just don't feel I'm up to this.' And I go 'Yeah, and you're scared, too, aw ----.' Well, that ain't the way it went down." (The scene was laid out according to events described to me by Izzy himself).
Backstage at the stadium, someone in the Gn'R encampment pointed me out to Rose and informed him that I was the guy behind said comic book. He went ballistic, having to be held back as he hurled increasingly profane insults and threats my way, both amusing and flattering me whereas I suspect his intent was to frighten, or at least intimidate. Later, while Gn'R played onstage, I crossed over to the group's wagon train of busses and trailers, snuck into their catering tent and scattered around a dozen copies of the comic book that had so incensed Rose, for the band's post-performance enjoyment. Nine years later, I mentioned this during a chance encounter with Slash and he was nearly apoplectic with laughter. "Dude, I thought Axl's ----ing head was gonna explode when he saw those comics!" Ahh, the power of the press.
Worst actors from the worst movies: "Vampira" (real name Maila Nurmi) is probably best known for appearing in the so-called worst movie ever made, Ed Wood Jr.'s "Plan 9 From Outer Space." Nurmi agreed to an in-depth in-person chat with me at L.A.'s Glamourcon convention (November 1995) for an article about horror TV hosts - her glamour ghoul Morticia Addams-style character debuted on TV in April 1955, hosting late night horror movies shown on KABC channel 7 in L.A., predating copycat Elvira by decades (even Elvira's name rhymes with Vampira's). I also wanted to ask about her fabled friendship with James Dean (who told reporters that he thought Nurmi was a genuine sorceress, before finding out she was a mere horror movie hostess).
After the young actor's death in September 1955, Nurmi claimed to the press on several occasions that she was in contact with Dean's departed spirit: "The Ghost Of James Dean" was a 5-page cover feature written by Vampira herself for Borderline magazine in January '64. When asked about this, the 74 year old actress was put off by my query and reluctant to discuss Dean at all. I asked about an article from the February '57 issue of Whisper Magazine, a cover feature entitled "James Dean's Black Madonna" - "What did you think when tabloids published rumors that you were a jilted lover who put some kind of curse on James Dean shortly before his fatal car crash?"
Nurmi stiffened in both poise and tone. "The gossip magazines made that story up, after I wouldn't talk to them any more about Jimmy," she said icily, adding "I'll have you know that I personally destroyed the only known photograph of James Dean and I together, just so that people like you couldn't accuse me of cashing in on my friendship with him." This belied previous interviews she'd given but I pushed on, asking about her failed infringement lawsuit against Elvira (1989 Nurmi v. Peterson - Nurmi lost because the court ruled "character likeness means an exact copy, not a suggestive resemblance"). This served only to get her more agitated - "As far as I'm concerned, she stole the entire 'Vampira' concept from me, that's all I'll say."
With two strikes against me, I figured what the hell, if looks could kill I would have already been wearing a toe tag. "Is it true your TV show was cancelled in early 1955 because parents complained that you promoted witchcraft and because you made a joke on the air saying 'My sister was lynched for raping a snake'?" This oft-repeated rumor first turned up in 50s magazines like Whisper and Confidential and I hoped to finally get either a confirmation or denial of its veracity, straight from the sorceress' mouth, as it were, but she gave me neither. Instead, she stood up and turned swiftly on the heels of her sensible black shoes, marching away from me without another word.
Her tablemate at Glamourcon, 63-year old Conrad Brooks, also had a role in "Plan 9" (as "Patrolman Jamie") and he sat nearby watching as my chat with Vampira abruptly ended. "You can interview ME," he offered with a hopeful grin, putting his arm around my shoulder with unnerving familiarity. My assignment was write an article with some kind of "cult movie star" angle so I said "sure" and went to start my tape recorder. "No, wait, you have to buy one of my movies first," he insisted, pushing a VHS copy of "Baby Ghost" into my hands, an apparently homemade Casper knockoff that, when I tried to sit through it later, made the worst entry in Ed Wood's inept oeuvre look like "Citizen Kane." It ended up costing me $15 ($10 for the video and $5 for an autographed B&W photo) to talk to Conrad Brooks but at least he told me a colorful story about the time cross-dressing counterculture hero Ed Wood burst into tears because his favorite bullet brassiere had shrunk in the wash.
(With Conrad and "Vampira" at Glamourcon)
Worst interruption or distraction: Courtney Love's cootchie [Civic Theater 12-12-94] - Backstage at 91X's Christmas concert, I was trying to have an earnest conversation with legendary crooner Tom Jones, but seated on a bench just opposite where we stood was Hole singer Courtney Love. Love kept lifting her short raggedy dress to her chin every time Jones looked in her direction, knees akimbo far more than was necessary for us to ascertain that she wasn't wearing panties and that her hygiene routine apparently didn't include razors or wax. Love winked at Jones with every flash but the Welsh sex symbol, to his credit, didn't even acknowledge the dark and frightening pelvic forest she was trying to lure him toward. That is until just as I was turning off my tape recorder to leave, whereupon he leaned over and whispered in my ear "On the bright side, I don't have to worry about her throwing her undergarments at me!"
Worst misunderstanding: In February 1989, I was one of several people being considered to write a mass-market biography of Gene Roddenberry, the writer/producer to thank/ blame for the revered/reviled Star Trek phenomenon. Roddenberry and his wife, veteran Trek actress Majel Barrett [Nurse Chapel on the original series], sent word that they wanted to meet with me and with writer David Alexander at separate occasions, to get a feel for our respective approaches to the project. My interview took place over a poolside brunch at the Beverly Hilton Hotel and all seemed to be going well at first. Roddenberry was explaining how he wanted this to be an unbiased "warts and all" account when he excused himself to visit the men's room. This left me in the position of making small talk with his wife, who at the time had a recurring role on Star Trek: The Next Generation as Lwaxana Troi, the flamboyant mother of Enterprise crewmember Deanna Troi.
I mentioned to Mrs. Roddenberry that I enjoy the way her character is portrayed as being far into the Autumn of her life, yet still shown as very sexual, amorously pursuing a twitchy Captain Picard and taunting him with a rotating roster of competing suitors, once even going into pheromone-frenzied "heat" and, in another episode, turning up nude on the Enterprise promenade. "Yours is one of the most sexual characters on the show," I was telling her, just as Roddenberry stepped back up to our table.
He apparently misheard me - "For chrissakes," Roddenberry bellowed loud enough to make the orange juice in my glass ripple like the scene in Jurassic Park where T-Rex is approaching. "I walk away for five minutes and come back to find you hitting on my wife and telling her she's the sexiest thing on Star Trek!" At first I thought he was pulling my leg, impressing me with acting skill hitherto unsuspected on my part. But then he was grabbing her arm and nearly yanking her to her feet, before either Mrs. Roddenberry or I could clarify, muttering "This is why I never bring my wife out in public any more." Before a reaction could so much as register on my face, they were off the patio, out the doors and making their way toward the valet parking lot, leaving me with a breakfast bill of $57 for three orange juices, muffins, coffee and two fruit salads.
David Alexander completed his nearly 600 page love letter to Roddenberry after the Star Trek creator passed away in 1991 and the book became a mid-level bestseller. I ended up scripting two much-less-circulated comic book bios about Roddenberry and his (quite lovely) wife, both of them unauthorized but neither unflattering. Majel Barrett recently autographed a copy of her comic for me, apologizing for the way her husband's jealousy resulted in me losing a primo writing gig. "God love him," she said with weary affection, "he believed I was the most beautiful creature on Earth and was convinced every other man in the world wanted to steal me away from him."
(Gene Simmons wearing Hard Rock Comics shirt, back when he still liked us)
Worst and most unsettling wrap-up: "Let's come up with something that we can all make money on, and that way our attack dog lawyers won't have to go after you and drag you like carrion to my doorstep." - Gene Simmons [8-2-93]. This was pretty much the final word in a taped phone conference between Simmons, myself and the publisher of Revolutionary Comics, where I was managing editor at the time. Our company had previously produced an unofficial, unauthorized issue of Hard Rock Comics about Kiss.
Simmons "unofficially" liked our comic and, instead of suing us, wore a Hard Rock Comics T-shirt on the cover of "Kiss Alive III" and then phoned our office for the above referenced conference. He was proposing a "joint publication" between the band and Revolutionary, albeit under vague threat of attack dog litigation over the earlier unsanctioned comic. Simmons and RevCom never quite came to an agreement about the joint publication and Kiss ended up producing the new bio comic themselves, published in their "Kisstory" hardcover book. They hired the same creative and production team from our company's Kiss comic book to do it, essentially getting themselves a Revolutionary comic without having to pay Revolutionary Comics. Oh well, at least I didn't end up getting dragged like carrion (or maybe he meant "carry-on," as in luggage?) to Gene Simmons' doorstep (where he seems to have installed a revolving door, judging from the umpteenth Kiss lineup currently failing to sellout arenas on their umpteenth "farewell" tour).
Worst interview subject: Dr. Dre [4-8-92] - The NWA lyricist didn't give up a single usable quote during this taped phone chat regarding his debut solo album "The Chronic." My article instead ended up being about how many times the rapper said "You know what I'm sayin'" without actually saying anything - 178 times in just under twenty minutes, averaging once every six to seven seconds. I still got paid for the article, which is why Dre was the worst interview subject but not the worst interview ever.
Worst interview ever: Arthur Lee [7-23-94] - I met with the leader of legendary 60s L.A. band Love outside the now-defunct and then-funky Flash Café in Mission Valley . About ten minutes into what seemed like a perfectly normal chat, Lee - who has a reputation for being, um, mentally unpredictable - suddenly shouted that I was a "lying son of a bee-yach" and that I wasn't really a reporter, I was an undercover police officer trying to trick him into admitting he'd done something illegal, on tape (I hadn't said a word about anything other than music). Lee snatched a $200 recording machine from my hands and smashed it to the ground, kicking it across the asphalt and leaving the unit in pieces before turning to flee into the building.
Randy California's band Spirit was also on the bill that night and California witnessed Lee's tantrum and the ensuing destruction from just a few feet away.
"You're lucky he only thought you were a narc," California offered casually as I bent over to pick up the busted remains of the most expensive tool of my trade. "He hates reporters a lot worse than he hates cops."
---
CORKY LAING INTERVIEW
I know, it seems like every day ex-bandmembers are getting together with other ex-members of other ex-bands, to form yet another soon-to-be ex-"supergroup." When diverse musicians with completely different backgrounds and experiences get together, the results can sometimes be an awful - albeit expensive – noise.
No matter how big-name the players are, you never know what you'll get, or if you'll still want it when you get it. The Firm with Jimmy Page and Paul Rodgers was as unexpectedly BAD as Queen with Paul Rogers was surprisingly GOOD.
(Very)occasionally, these musical amalgams can be quite startling, interesting, and even popular, as evidenced by the success of bands like Traffic and Asia. However, for every amazing one-off like Blind Faith, there's a hundred Power Stations, Tin Machines, and Rock Star: Supernovas.
The shortlived group Cork was one of those rare instances where the music lived up to the musicians, tho they sadly never caught on outside of a small fan cult.
Cork paired-up completely different generations, consisting of drummer Corky Laing (Mountain), bassist Noel Redding (Jimi Hendrix Experience), and comparative youngster Eric Schenkman (Spin Doctors) on guitars.
While they were still recording their first songs, I interviewed Corky Laing about the terrific rehearsal tapes I'd received from Noel Redding, who frequently sent me new music to preview (much of which never ended up being released).
"We're on the same wavelength is so many ways," Corky Laing said of Cork's three members. "It's going to be a very rhythmic band, manic music. It's Cork, so hopefully it'll float!" The band introduced itself in December 1997, playing dates in Canada and doing a whirlwind east coast tour before going into the studio to record.
"I think that's a healthy way to come up with stuff," said Laing, "better than just taking a month off to record. When you're a small trio, you've got to get out there and play, break the songs in. You have to suffer the road and the crowds. The key to rock and roll is desperation, denial and hunger. And we're pretty hungry!"
(From my personal archive – fax from Noel Redding complimenting our Jimi Hendrix comic book at Revolutionary Comics, and a signed page from the comic)
For their live sets, Cork performed favorites by Mountain, Hendrix and the Spin Doctors, to be sure. When I saw them in New London, Connecticut, the following year, we were regaled by classic staples like "Mississippi Queen," "Hey Joe," "Jimmy Olsen Blues" and even "Tomorrow Never Knows" and even "Eight Miles High."
Three great musicians, jamming on time tested tunes, but Laing was hoping that Cork's NEW music would catch the crowd as well. "We definitely want to do something that lasts and has direction, but we don't want to be precious about it. It's got to be a bit ugly, if you know what I mean. I want it to still sound a little greasy."
(Laing & Schenkman)
Laing knows about sounding ugly and greasy. The Canadian born drummer began his career as a teenager by playing onstage with The Inkspots at a summer resort. He initially played with jazz based bands, as well as specializing in Latin and cha-cha rhythms. "I used timbales, instead of tom toms. Then, when the bands I was in started to do more rock and roll, I figured what the hell, it's all in the eighths. I didn't have a problem turning off the snare. More drummers probably should."
He met Leslie West while playing in West Hampton, when West was still with a band called the Vagrants. He became close friends with the mercurial, offbeat guitarist, a feat few other musicians seem capable of sustaining for long.
"Our relationship is based on trust and understanding," Laing told me. "I don't trust him, and he doesn't understand me!"
(Mountain playing Woodstock)
Along with Leslie West and Felix Pappalardi, he and Mountain became the prototypal hard rock trio, coming along to further blaze the trail forged by the disbanded Cream (a band Pappalardi played a great part in shaping). Debuting at the Fillmore West in 1969 right before playing the Woodstock Festival, they stomped and bellowed and blew the doors off for two and a half turbulent and productive years, releasing four bombastic albums.
It was not a smooth ride. "Felix and Leslie had their differences in terms of positioning, and I had to be like the Henry Kissinger of the band, be the mediator."
Some great songs emerged from their chaotic collaboration: "Nantucket Sleighride," "The Animal Trainer and the Toad," "Stormy Monday," "For Yasgur's Farm"...the band was unapologetically crude, abnormally loud, and outstandingly adventurous, popular with both hard rock and "progressive" fans.
Laing was involved with much of the writing. "We took melodies I wrote and roughed them up a little bit, made them more dramatic. Basically, Leslie would have these great licks. I would put in the fills and then Felix would come in and direct it musically. He'd make the songs bigger and broader, take care of the voicings."
Regarding Mountain's best known hit "Mississippi Queen," he says "I was really influenced by the Band, so that one was my impression of 'Crippled Creek.' It's the same backbeat, see, but Leslie took it pretty far, just came in and ripped it up."
Mountain called it quits 1972. "Nobody did any harm to anybody else. If anything, we did harm to ourselves. There was a lot of self-abuse. Plus it was the old ladies, it was drugs, it was greed, ego - everything the Russians hated about America, we were living it! When Felix wanted to announce a breakup, I never understood why we couldn't have just gone our different ways for awhile instead. That made no sense to me. We'd worked really hard to build all that up."
Laing stayed involved with West. "Philosophically, we went in different direction, but musically we were on the same page." The duo went to Island Studios in London to record, originally with the intention of forming a band along with Paul Rodgers (Free), Mick Ralphs and Overend Watts.
Things were going well until West invited ex-Cream bassist Jack Bruce to come in for a jam. "The next time I talked to Leslie," Laing says, "he told me that his dream was to be in a band with Jack Bruce. I thought we already had a good band going, especially with Paul singing, but Leslie said that Jack could sing too and off it went."
(Jack Bruce)
Jack Bruce broke up his own jazz band, and thus was born the musical conglomerate clumsily called West, Bruce and Laing. Booted, Ralphs and Rodgers would go on to form Bad Company, with Watts moving into Mott the Hoople.
"Our sound was a lot rougher than Mountain's," Laing told me. "Like 'Why Dontcha,' I wrote in just twenty minutes, and we jammed fiercely on it. We were flowing with ideas. We actually stayed together longer than Mountain had!"
However, after two studio albums and a 1974 live record, West, Bruce and Laing also passed into the ether.
Laing and West also played together on two Leslie West solo albums, "The Leslie West Band" and "The Great Fatsby," touring behind both of them.
Then there was the Mountain reunion, initiated by Felix Pappalardi in 1974. Laing joined up, though he couldn't be present when a live album was recorded in 1975. "I was sick, I got hepatitis in Nantucket. I ate some bad clams or something. It was too much money for them to turn down and they said 'what the hell, we'll do it without Cork.' I was never crazy about that record." (It was finally released in 1977, to lackluster acclaim).
Laing moved on to numerous projects, including a 1977 solo album "Makin' It On The Street," on which he also played guitar and sang. "Eric Clapton came down and played, Dickey Betts, Pete Carr, Clyde King - it was a great experience." Half of the album was co-written with novelist Frank Conroy
There was also a "lost album" recorded around 1978 with Ian Hunter. They called their short-lived band Pompeii. "We played with people like Mick Ronson [Bowie guitarist], Lee Michaels, Steve Hunter, Paul Butterfield, and we had Todd Rundgren producing." Their record label back-burnered the album's release, and it gathered dust on a shelf.
Through the eighties, Laing worked behind the scenes on various projects, including a Broadway show with Don Imus and performing with Kinky Friedman, Meatloaf and others. His band The Mix recorded for Word Of Mouth Records.
There was even another Mountain album with Leslie West, 1983's "Go For Your Life." "But we were too generic, trying to be too commercial. I quit in 1987. Leslie was at his worst, doing a lot of drugs. He was all paranoid and becoming a real character so I just walked out on that one. It was getting boring." Laing also became involved with music publishing, as well as running Polygram's Canadian A&R department in the late eighties.
In 1993, plans were underway for a Mountain boxed set, with West and Laing set to record several new songs for the project. "We were in London, all ready to go, but we couldn't find a bass player! Our manager Jim Davis suggested that we bring in Noel Redding, but we were all ready to leave for home. So we left the tape there and Noel came in to play some tracks, and it was just great! A real hip-hop shuffle."
This new-model Mountain embarked on a U.S. tour, which is where your erstwhile reporter caught up with them in San Diego, at a club just off highway 8 near Mission Valley called Banx (formerly Lehr's Greenhouse and a bunch of other places --- last I noticed, the building housed a seafood restaurant).
Says Laing, "I got along with Noel very well, but Leslie just tore him up, was really belligerent to him."
This was obvious to me while I was visiting with Noel after the set. Laing was clearly upset and it was evident that nobody wanted to even be in the same room with West, let along ride up to L.A. with him for the next night's gig at The House Of Blues.
My girlfriend Heather and I ended up giving Noel and his lovely lady friend Candace a lift to L.A. for what would turn out to be Noel's last ever Mountain gig. On the way, we stopped at the Rolando house where the local band Collage Menage lives --- it was fun to watch them all completely lose their minds when I walked in the door with Noel Redding, who was featured on a Hendrix wall poster near the couch where we all sat!
"Noel's a lovely man," said Laing, "a gentleman. Very easygoing. But Leslie was just really arrogant toward him. Luckily, Noel didn't hold anything against me and we kept in touch."
(Redding & friend, Laing, Schenkman)
At New York's Electric Ladyland Studios, in Fall 1995, Noel introduced Laing to Eric Schenkman of the Spin Doctors, who wrote most of the songs on "Pocketful Of Kryptonite."
"When he found out who I was," said Laing, "he was very friendly. I thought maybe it was just sort of a jive thing, but then we ended up staying in contact over the next year. He invited me to jam with him on The H.O.R.D.E. tour. When we jammed in New Jersey, everyone really seemed to get into it, especially the audience."
(Noel Redding)
While working on a proposed solo album, Laing called in Schenkman to play, and then Noel Redding was invited to join the mix (a recent Noel Redding Band lineup had included another Spin Doctor, Anthony Krizan). Laing says it was soon evident that the trio had the makings of a solid band. "I do a lot of the writing, and Eric's already put in quite a bit. Plus we're picking up a few songs from other people. Noel usually comes in afterward to do his bit, but it's on stage where we really have to boil it all up together and see if it's soup."
Unfortunately, the Cork album apparently wasn't fully cooked, or at least their taste never caught on with the public.
Noel Redding passed away May 11, 2003, at the age of 57.
Eric Schenkman , who'd quit the Spin Doctors in 1994, reunited with the group in 2001 - they released the album "Nice Talking To Me" in 2005.
Laing released an audio book in 2007 containing his memoirs, "Corky Laing - StickIt! Rockin Road Stories."
---
EDGAR WINTER INTERVIEW
I caught Edgar Winter at his high tech home studio in LA, where he's lived for around 15 years now. He was busily loading his keyboards and preparing to play in Japan and at Switzerland's Montreaux Jazz Festival, to play a set of songs from "Winter Blues." "It has most of the people I grew up with and love playing with. My brother Johnny, Rick Derringer, Leon Russell, Dr. John, the legendary White Trash horns. Willie Nelson was going to be on the song 'Good Old Shoe' but our touring schedules didn't match up so Leon did it instead."
"I didn't want to just record a typical collection of blues songs. People tend to think of blues as something old, that's already happened. What I wanted to do was show the diversity and variety of blues styles, and to demonstrate how it really has a pervasive impact on virtually every form of contemporary music that exist today."
"The record starts with 'Good Old Shoe' because it's the most primitive Delta gut-bucket back in the alley style blues, similar to what my brother Johnny plays. 'New Orleans' I wrote with Dr. John in mind [who plays on the track], more or less a tribute to Dixieland." The record also has examples of Texas guitar boogie shuffle, progressive jazz, snaky Stones style blues rock and even gospel. "I think gospel is one of the most overlooked influences in music. The whole screaming style of rock vocals, like call and response, is really derived from the charismatic black preacher singers."
Winter has been making all kinds of music since playing with his brother Johnny in the late sixties and then forming the prototypal hard rock band Edgar Winter's White Trash in 1971 and The Edgar Winter Group (with Ronnie Montrose) in '72. Following was a string of FM radio staples like "Keep Playin' That Rock 'N' Roll," "Free Ride," "I Can't Turn You Loose" (an Otis Redding cover) and of course 1973's #1 hit, produced by frequent Winter collaborator Rick Derringer, "Frankenstein" (originally the B-side of "Hangin' Around" until DJs insisted on playing the flipside instead).
The Edgar Winter Album (1979) and "Raisin' Cain" (1980) retained all the fire and ingenuity of classics like "They Only Come Out At Night" (1973) and "Shock Treatment" (1974), although public attention hasn't always matched the levels of critical acclaim.
In the early eighties, he shifted his focus to session work with Meat Loaf, Bette Midler, Tina Turner and others. He collaborated with Rhino for the immensely satisfying "Edgar Winter Collection" in 1993 and subsequent overlooked solo gems like "The Real Deal" and "Not A Kid Anymore" have kept him touring practically year 'round.
(Winter meets Jimmy Carter)
Winter reunited with Derringer in the early nineties for a well received tour. "It had been like ten years. That occurred more or less accidentally. We happened to be touring Japan at the same time and we thought, hey, why don't we do it together? A 'Live In Japan' record and video came out in the States that was actually unauthorized. We'd made a deal in Japan and then a separate deal in the U.S. and the record company [Cypress/Goldcastle] put it out here and we ended up having to pull the record."
Another unauthorized trespass occurred when DC comics, in a series called Jonah Hex, drew Winter and his brother Johnny (or at least two albino characters who suspiciously seemed like the Winters) into a comic strip sequence that the Winters found somewhat defamatory, causing a heavily publicized lawsuit. It wasn't like Edgar Winter needed media press to boost his career. Though his recording output had slowed, his songs were popping up in more and more Hollywood films.
(Jonah Hex comic with guest stars, albino brothers Johnny and Edgar AUTUMN)
"The first one was 'My Cousin Vinny.' I wrote the opening song 'Way Down South' [recorded for the soundtrack by The Fabulous Thunderbirds] just for that. And then 'Air America.' "Wayne's World II' [a re-recording of the instrumental "Frankenstein"], the Tina Turner movie 'What's Love Got To Do With It.'" Winter also did a song for the political spoof "Wag The Dog."
"They needed a song immediately," he says. "Mark Knopfler [Dire Straits] was doing the score and they put out the word to literally hundreds of people to come up with a song called 'Good Old Shoe.' They wanted an old twenties style Robert Johnson blues song. I was going on the road the next day so I just put down some slide guitar and some vocals and sent it over, thinking nothing of it, and they said 'This is it! We love it! We're not even gonna listen to anything else!' So I got to watch Willie Nelson and Pops Staple do the song and hang out with Robert Deniro and Dustin Hoffman." Winter's own version of "Good Old Shoe" is the opening track on "Winter Blues."
Winter's profile has been unusually high, with him turning up on the Letterman show and, yes, even in commercials. "Free Ride" was used for a Buick spot, but it's his appearance with actor George Hamilton in a Miller Lite promo which landed the twosome in TV Guide's Cheers And Jeers section (they got a Cheer). "I'm amazed at the attention that has drawn. Everywhere I go, people say 'Aren't you the guy from the beer commercial?' It's interesting to be recognized in that way."
So how did the unlikely pairing of the oh-so-white Albino and the prodigiously tanned Movie Star occur? "My wife Monique and I went to The Hamilton Club, an exclusive club near Beverly Hills. We met George one night and I sang a few songs at the piano. We sat around and swapped stories and he regaled us with inside Hollywood stories that were quite amazing and we talked until four in the morning. My wife commented on the chemistry between us, like the Odd Couple. Several weeks later, we got this call to do the beer commercial. We opened up the script and lo and behold there it was, 'Edgar Winter - Rocker, George Hamilton - Tanner.' The script was totally different from what it ended up being. We did it a hundred different ways. We knew one another just well enough that it was comfortable and fun and I think that shows in the commercial."
(Winter meets Hamilton)
Winter's recent setlists usually include new songs, plus mildly aged cuts like "Real Deal." "Plus we'll go all the way back to 'Tobacco Road,' 'Free Ride,' things from White Trash and of course the indestructible monster 'Frankenstein.' I've had younger people come up to me that think I wrote that one for 'Wayne's World!'"
Winter is proud of the way his song's popularity crosses generations. "Part of what I've tried to do throughout my career is to broaden musical horizons and to break down some of the musical prejudices. I don't see why people who love classical can't appreciate rock or why country fans can't listen to jazz. We're seeing more and more blending of influences. I like to see people from different musical backgrounds play. And blues is pretty much the universal music. I had a band with Leon Russell and we went on over to Moscow for an event called the Music Summit, to foster better international relations through music. They love blues in Russia. They think of it as the music of the common people, the proletariat. We'd go to clubs and the guys would know all of the songs in English!"
Not content to rest on past glories, Winter has a new album and tour in 2008. Rebel Road includes guest appearnaces from Slash, country superstar Clint Black (on vocals and harmonica) and Winter's equally legendary guitarist brother Johnny Winter. Beyond the all-star contributions, the 11-track collection marks a flourishing of the creative relationship between Winter and Curt Cuomo, who has worked extensively with classic rocker Eddie Money over the past ten years and whose credits include "Pyscho Circus" among numerous songs with Kiss.
"The idea was to make a classic American rock album similar to the kind I used to back in the 70s," says Winter. "I believe music is about following your heart as opposed to trends and second guessing What you think the public wants to hear. I wanted to put out an album that felt real to me, regardless of what's going on in today's music world. I think artists who play music that comes from the heart and that they believe in will communicate with people. What's missing in music today is not only real rock and roll, but the Southern style rock that Johnny and I grew up playing in Texas. Country music has come in to fill the vacuum of honesty and sincerity, and I wanted to contribute to this kind of musical integrity in my own way.
"The kind of music I'm playing on Rebel Road has meant so much to me over the years," he adds, "and it was great working with so many talented musicians on bringing it to life. I think it will resonate with fans familiar with my early music and younger lovers of classic rock. There's something magical about the time this sound came from, when there was more musical freedom and songs reflected such powerful social changes as civil rights and the peace movement during the Vietnam era. There's a deep sense of humanity in classic rock that still resonates today."
---
JOEY MOLLAND INTERVIEW: BADFINGER MEETS JOHN LENNON AND GEORGE HARRISON
(Badfinger with George Harrison and his wife)
As cool as it is to hear the Badfinger/Paul McCartney song "Come & Get It" in that Buick Pontiac commercial every eight minutes, I can't help but laugh at how they leave out the more apropos lyric "Would you walk away from a fool and his money!" Not a ringing endorsement for Buick, at least not to anyone familiar with the song they're (over)using!
I'm a huge Badfinger fan. I was buying their '45s long before three of the four pivotal members died over the years (two by suicide). Back in the Stones' age, in Wales during 1968, they were called the Iveys. Signed to the Beatles' new record label, Apple, their first single "Maybe Tomorrow" peaked at US #67 in March 1969. The follow-up single "Dear Angie" was only released in Europe. They weren't exactly taking the world by storm.
In a newspaper interview, original bassist Ron Griffiths once mentioned that being on The Beatles label hadn't helped the band achieve any real success. Paul McCartney read this and went to 7 Park Avenue, where Badfinger lived and worked together. Giving them a demo of a new song, he said "Record this and you'll have a hit record." The song was "Come And Get It," which he'd written for Magic Christian, an upcoming Ringo Starr/Peter Sellers film. The group recorded it with Paul playing tambourine and producing, little realizing the song would be used to sell cars 37 years later.
Soon, Griffiths was out and Liverpool guitarist Joey Molland was in. Guitarist Tom Evans (also from Liverpool) switched to bass, and the lineup was rounded out by Mike Gibbins on drums and guitarist Pete Ham. Changing their name to Badfinger (to avoid confusion with a group called the Ivey League), the "Come And Get It" single (from the Magic Christian Music LP) was a huge top ten hit in both England and America. Beatles comparisons were inevitable and some accused them of shamelessly copping the Beatles' sound.
This constant matching against the Fab Four would prove their greatest boost - and their greatest hindrance. The single "No Matter What" (from No Dice) hit US #8, and suddenly Badfinger was hot. Their business manager Bill Collins (who'd represented Al Kooper and others) told the band that, with his help, they'd all become millionaires. Ironically, only Collins himself would ever approach that.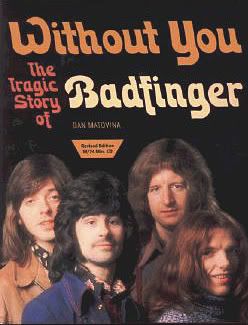 The group recorded in the big studio at Abbey Road, where The Beatles worked. "They had a cupboard in the corner and the Beatles' stuff was in there," Joey Molland told me when I interviewed him in Mission Valley at a local BeatleFair. "When there was nobody in the studio, we'd open up the cupboard with their stuff. Rub their anvil for luck."
Besides their obvious musicianship, Badfinger's vocal harmonies were sublime. They recorded themselves singing together instead of piecing together tracks. "We'd all be around the mike singing," says Molland. "We learned each other's phrasing. Pete's phrasing was a bit stiffer than, say, mine was. And Tommy had this kind of nice lilt. We knew where to step back and where to move forward. George Harrison taught us a lot about that when he produced the Straight Up record. He actually forced us to do that stuff, to stay in the studio for hours on end doing oooohs and ahhhs. He's a remarkable man I was such a complete Beatles fan. He talked to you very natural, you know...he was really regular and I was, like, well it was like talking to Jesus! I'm losing me mind and he's being all cool."
Among Straight Up's highlights is Molland's tender slice of perfection , the love ballad "Sweet Tuesday Morning." "In those days, for a guy to sing that kind of song, I don't know. I never saw Humphrey Bogart do that, you know what I mean? Or John Wayne or Clint Eastwood, none of them ever sang a love song. So it was kind of embarrassing."
Pete Ham was also crafting indelible pop gems, like "Baby Blue." "Pete was funny guy, very attracted to women. He never wore underwear on stage! Brilliant writer, so many great tunes. He was a worker as well. He'd be in that studio day in and day out. That's really what he focused on, writing songs. He'd pull practical jokes. He'd eat blood capsules and run down the stairs making noise and then lay down at the bottom and he'd have blood on him."
At the time, Harrison was planning the Concert For Bangladesh benefit and had to drop out of the Badfinger project. Todd Rundgren came in to finish the album. "Oh, the heebie jeebies," recalls Molland. "It was really weird, this fellow with red and yellow hair. He did make a big hit record, though, I'll give him that." Their association with Harrison continued, as Badfinger played rhythm guitars for George's All Things Must Pass album, as well as being invited to play at the Bangladesh show in August 1971.
"When you stand up in front of 20,000 people doing 'Here Comes The Sun' with George Harrison," says Molland, "I don't know what Pete was thinking, but I bet he wished he had underpants on that day!"
"One day," remembers Molland, "we get a call at the house on Park Avenue. It was Joe, John Lennon's driver. He said 'John's recording tonight and he was wondering if you'd do him a favor and come down and play some guitar on a couple of songs.' Of course we said yes...we went in [Lennon's house] and there was the ladder in the vestibule, the one you climb up with the magnifying glass. So we go into the foyer and there's a big staircase going up and the carpet was all black, the walls were all white. On the walls going up the stairway were these empty picture frames. Big beautiful gilt portrait frames. I remember a hammer hanging in this frame. I'm going, yeah, this is definitely Johnny's house, isn't it!"
"So we go down the hallway and into this billiard room...the door closes behind us and there's no door there! It was all library books, like one of those secret doors, so we were in there walking around for a half an hour. Finally one of the panels with the books swings open and we go into another room and that's full of Dr. Pepper. Crates and crates of it."
They finally got to Lennon's home studio. "We sit down and tune up and in comes Mr. Lennon and Yoko. He sits down on his stool, says hello to everyone and says 'The first song we're going to do is Jealous Guy.' He told everyone to keep it together, nice and simple. I put the headphones on and there's John Lennon sitting five feet away from me playing Jealous Guy, and it was unbelievable. We did the session, he said 'These Badfinger guys aren't bad now, are they?' He said we could f-off for awhile if we wanted to but we said no that's okay, we'll stay! So he did 'I Don't Want To Be A Soldier,' and we banged around on that for awhile."
"Day After Day" was a million selling single (US #4). At the same time, Harry Nilssons's version of Badfinger's "Without You" went to US #1. But in 1973, their record deal with Apple ran out and they signed with Warner Brothers. Apple, as a business, was falling apart anyway and would soon collapse. When the label went into receivership and the Beatles started suing each other, publishing rights and royalties to Badfinger's songs were held up in the same court proceedings.
In 1974, WB released the group's new LP, Badfinger, just as Apple released Ass, a compilation of material left off Straight up and tracks rejected by Apple. With two records out at same time, sales on both were poor. Then in March 1974, WB removed all Badfinger LPs from stores, filing a lawsuit against Badfinger Enterprises. Their business manager was accused of mishandling their affairs and the band would sue him (he'd sue them back).
The last album with all four pivotal members, Wish You Were Here, never even cracked the US top 100 (more's the pity, since it's merely fabulous). Personal problems also plagued the group, and they'd seen almost no income from their hard work. At one point, Ham quit the band (and then rejoined). Molland also quit, and Gibbins announced that he wanted to spend more time at home with his son Owen.
On April 24 1975, Pete Ham hung himself in the garage of his London home. He was 27.
"He believed in the people around him," says Molland. "He trusted people implicitly but unfortunately he put his trust in the wrong people. When he died, he was broke, his phone was going to be cut off, his wife was pregnant and she was going into the hospital. It was a really bad scene and there was nobody there to help him. He would not accept the fact that these people were doing this to him. You know, the manager was shopping him a solo deal. Like he was planning on the band breaking up."
"It's frustrating," says Molland. "You can't turn back the hands of time. The lawyers couldn't help, it was contractual interference. The management company couldn't help, the record company couldn't help because the last two records hadn't sold very well. And there was the Warner Brothers lawsuit going on. The manager was hopeless - he freely admits it now, he admits riding around in a limousine in New York and not reading our contracts. It's just stunning. These people to this day still kind of fob it off to some kind of gray area over there but the reality of it is that they were directly responsible for it."
After Ham's suicide, the band fell apart. Mike Gibbins moved back to Wales while Molland formed Blue Goose, then Natural Gas (I saw Natural Gas backing up Frampton on the Comes Alive tour - one of the only times I ever saw an opening band so thoroughly blow away the headliner!). Tommy Evans and Bob Jackson (who'd played keys with Badfinger on tour) formed the Dodgers and released several singles.
In 1978, Molland was working in LA, laying carpet. Evans was doing pipe insulation in England and the two of them decided to reform Badfinger. The resulting LP Airwaves is a minor masterpiece and they were back in 1981 for Say No More, recorded with Tony Kaye on keys (ex of Yes). But after a 1983 US tour, the group splintered once more.
Gibbins was married and living in South Wales. Evans was having severe financial problems and going to court, attempting to finally get royalty money from songs like "Without You." He told his wife Marianne that he was convinced the entire world was aligned against him.
On Nov. 19th, 1983, Tommy Evans was found dead in his Surrey England home. He'd hanged himself.
For the 1984 British Invasion tour with Herman's Hermits, The Troggs and others, Badfinger consisted of Molland and Gibbins, plus Bob Jackson, Al Wodke (bass) and Randy Anderson (guitar).
Molland moved to Minneapolis and put out a hard rocking solo album in 1985, After The Pearl. When I caught Badfinger live in '86, their amazing set list included a wonderful segue from "Without You" into John Lennon's "Mind Games." The poignant moment brought me near to tears, thinking about the great losses we've all suffered - Pete Ham, Tommy Evans, Lennon and so many others.
On October 4th, 2005, Mike Gibbins died in his sleep, at his home in Oviedo, Florida. Three of his sons play together in the Orlando-based band the Seven Sisters. Today, there's more Badfinger available than ever, and the group is finally getting the attention and acclaim it's long deserved. Rhino's Best Of Badfinger Vol. II was a hit, as was Rykodisc's Day After Day, a 1974 concert recording. Joey Molland formed his own label (Independent Records), releasing Timeless in 1989 (Gibbins appears on drums).
Molland still tours with a band he calls Badfinger. His 1992 solo record the Pilgrim may not a top seller, but I highly recommend it to anyone who loves Oasis, Jellyfish, Tears For Fears, Klaatu, or of course Badfinger (and I've never steered you wrong yet, have I?).
---
AN INTERVIEW WITH WILD MAN FISCHER
I have dozens of answering-machine messages from Larry "Wild Man" Fischer, onetime Frank Zappa protégé and Doctor Demento perennial. We became friends while he lived at various downtown flophouses in the late '80s and early '90s.
Fischer made occasional public appearances, including a 1988 performance at the San Diego Comic-Con with Bill "Lost in Space" Mumy's band. I helped the filmmakers behind DeRailroaded, a new documentary about Fischer, track down film footage of the concert. I was thanked for my efforts with a (collect) call from Fischer, whom I hadn't heard from in several years.
"They made a comic book about me," Fischer announced. (The Legend of Wild Man Fischer, released last year, immortalized tales such as the time Fischer supposedly took a dump in a fan's closet.) We chatted about mutual friends, and then Fischer asked if I've played any of his records for anyone lately.
I reassured him that, yes, I spin his stuff a lot and, yes, my guests are always amazed. Okay, sometimes horrified, but always amazed.
DeRailroaded recently aired on the IFC Channel and is now available on DVD. YouTube clip below is a bit of animation created for the cartoon, set to audio clips of Larry. All the imagery relates to his life and career. This is actually the full, unedited cartoon - only a portion of it appears in the DeRailroaded film.
The "mean bee" and "happy bee" drawings are by Larry himself. He drew the comic characters for me when he pitched a comic book series featuring his bi-polar bees (I think Flaming Carrot creator Bob Burden, a friend of Larry's considered publishing it). I lent the drawing to Rhino Records for a CD set I wrote liner notes for, only they never returned the art to me. I knew I shoulda sent them a Xerox.....
Long before David Peel, Weird Al, Mojo Nixon and The Rugburns, Larry "Wild Man" Fischer was carving out his own distinctive niche in the history of rock 'n' roll novelty and cult music. A street singer living on the obscure fringes of the L.A. subculture, in early 1968, Wild Man would sing anyone an original song for a dime. He offered these improvised and somewhat off-key ditties to anybody who'd listen, serenading unsuspecting passerbys with his most singular brand of certifiable loonyness.
Wild Man had been in and out of a few mental institutions, but he cut a charismatic figure, barely keeping his voice below a shout as he sang about his life, his dreams, his girlfriends, his family disowning him and any other subject that came into his head at any given moment. Disturbing and introspective songs, with lyrics which made it frighteningly easy to understand the sadness and desperation of Wild Man's merry-go-round world.
Already a cult figure among the city's rock 'n' roll intelligentsia, Wild Man came to the attention of another musical madman with an eye toward the satiric and outrageous: Frank Zappa.
Zappa had just recently begun his own record label, Bizarre, and something about Wild Man's rants intrigued him. In a move which seems strange even for Zappa, he put Wild Man in a recording studio. And let the tape roll. And roll.
Wild Man couldn't play any instruments, though he'd occasionally pick up a guitar and pound on it for sonic punctuation. He rapped and sang to empty air, about his mother and mental hospitals, about fame and circles and how he could move so fast that not even a cat could see him. Zappa filled up a double album of material and then brought in The Mothers to record some musical accompaniment for a few cuts. The GTO's (Zappa's groupies-turned-rock-stars) and wunderkind producer Kim Fowley helped out, and thus was born the album "An Evening With Wild Man Fischer."
Released in late 1968, "Evening With" was somewhat of a sensation, with songs like the a cappella "Merry Go Round" destined to become Doctor Demento staples. "Circle," with The Mothers, was even put out as a single, and Wild Man began playing fairs and clubs all over the country. Rolling Stone even lent credibility to Wild Man's growing rep with a positive review of "Evening With," saying that the double album "captures the total being of one strange member of the human community."
Wild Man would sing about his relationship with Zappa in later songs. He still complains that he never made money from the album and he can't recover the rights to his own masters, which are currently controlled by the late Zappa's wife, Gail. Yet he surprised most everyone by bouncing back in a big way. Then-fledgling Rhino Records was just working toward their first album release, and it was decided that an LP of new Wild Man music would be their premier project. Wild Man had already penned their theme song, "Go To Rhino Records," and next came the full length stream-of-consciousness experiment known as the "Wildmania" LP.
A comprehensive overview of Wild Man's recorded output is unlikely, since Gail Zappa has publicly proclaimed her unwillingness to release the "Evening With" masters, citing it as a poor example of Frank's work. Wild Man kept landing in off the wall projects, however. One new friend and compatriot named Mark Mothersbough, then of those robotic spudmeisters known as Devo, recruited him for an afternoon, to record a song (still unreleased) called "Fun With Your Body."
Except for the occasional concert, Wild Man withdrew almost completely from the music industry around 1985, and he's still disputing royalties owed by Rhino and Paramount (his lawsuit against Paramount was covered in Variety and elsewhere). He moved to San Diego to get away from the city where almost everyone seemed to know who he was.
Moving around between low key and low budget downtown hotels, he quietly became a San Diego street fixture, though he introduced himself only as "Larry" so people wouldn't connect him with his still somewhat famous Wild Man persona. In August 1988, Bill Mumy came to town for the big San Diego Comic Book Convention, along with a few musician friends, all of whom were also moonlighting as comic book creators. Their new band was called Seduction Of The Innocent, after a famous 1950's book which had tried to cite comics as the source of all juvenile delinquency.
Wild Man was coerced onto the stage long enough for an incandescent set which included his doo wop ditty "The Taster" and an a cappella rendering of "Merry Go Round" ("I'm getting a little sick of that song" he now says about his best known tune). The crowd was rowdy and responsive, even those who weren't familiar with Wild Man. His ever increasing volume, enthusiasm and his spasmodic on-stage body language proved infectious, and the audience handed Wild Man the most earnest and sustained applause of the evening. It was a rare performance, one of only two dozen or so "pro" gigs Wild Man can recall playing (he'd backed out on many more, becoming so undependable that few bookings were offered to him after so many no-shows).
Few are aware that, while in San Diego, Wild Man appeared in Rugburns video - the clip was only televised once, on local public access TV, and remains virtually unseen.
Wild Man was offered the chance to appear in the Rugburns promotional video by Bob Duffy, a friend of the band that Wild Man met at the local record store Garage Rock. The video project was being cooked up for the band's major label debut on Priority Records, "Taking The World By Donkey."
The longform promo was shot in various locations around San Diego, interspersed with live clips and interview sound bites with the group, but it is Wild Man's running narrative which propels the oddball project. After airing the one time, nobody at MTV or VH1 was clamoring to show the video, and it was shelved.
Today, Wild Man can't decide whether he wants to ever record again. There is, in fact, some question as to who would even offer to do the recording. His fan base was never large enough to give him hit records, though his notoriety and fame was and is widespread, especially among Zappa's legion of admirers. His psychological problems, like those suffered by Arthur Lee of Love and other Wild Man contemporaries who've never quite adjusted to the world around them, make it difficult for him to deal with the idea of getting back into the music industry.
I asked him if he was happier then or now. "That's a hard question to answer," he offers after a rare and thoughtful pause (Wild Man's non-stop verbal barrage is, by his own admission, overwhelming to many). "I was younger. But now I don't have all the pressure, I'm not always trying to track down royalties and get work. My fame kind of subsided after the seventies. Now I don't get depressed as much."
He did enjoy San Diego and says "I'd like to spend the rest of my life here!" He also likes San Diego 's yearly comic book convention, and even hopes to become involved in comics some day, perhaps with his good friend and biggest rah-rah supporter Bob Burden (creator of the well known Flaming Carrot comic book). He's been drawing primitive cartoons all his life, including illustrations for the jacket of his own "Evening With" debut.
To Wild Man, finding kindred souls in the cliquish comic book community was like finally finding himself a home on the Island of Misfit Toys, with all the other social outcasts and decidedly quirky comic fans and creators.
"I like the people in the comic business," he says. "They take me for who I am and I feel like I can relax at a place like the comic con. They're different from people involved in the music industry. I like them better because...because I'm not doing business with them!"
If he were to record another album, Wild Man does have new material. "I wrote this song the other day, about this guy James, he used to be in The Penetrators. I met him at a bookstore." He then sings me the verse of another new composition, "Nobody's Happy":
"I'm walking down the street and nobody's happy
Yes they are, yes they are
No they're not, they're not happy."
He sings with alternating glee ("yes they are") and glum ("no they're not"). Up and down, back and forth, from depression to manic joy and back again.
Another autobiographical insight from a man who wears his heart, his emotions, and his entire self on his sleeve like perhaps no other performer in rock history.
Wild Man Fischer is happy.
No he's not.
Yes he is.
(Rare unedited version of Wild Man cartoon from "DeRailroaded")
(Wild Man Fischer)
---